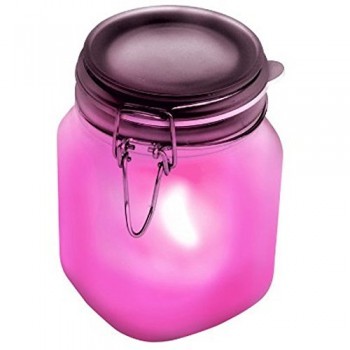 - 39%
SUCK UK Solar Sun Jar – Pink
Solar powered light – Official Suck UK Sun Jar will have two options on the panel; Charge and Auto
Beautifully designed into a traditional masons storage jar
The solar panel charges the light during the day and sensors switch on at dusk to create a warm mood light
$40.00 (as of January 15, 2018, 12:37 pm)
Save 39%
Suck UK's solar powered Sun Jars – store up the sunshine for the nightime!
At night your Sun Jar lights up automatically. In the day leave your Sun Jar outside – or in a sunny window for several hours to charge. Made with a traditional Mason Jar.
Inside the jar is a highly efficient solar cell, rechargeable battery and LED lamp. When the jar is placed in sunlight, the solar cell creates an electrical current that charges the battery over the course of the day. This energy is then used at night to power the LED lamp inside the jar. The light emitted is diffused by the frosted jar and gives the appearance of sunlight. Sun Jars work best in DIRECT sunshine!
When you first receive your Sun Jar, leave it in "charge" switch mode for up to 3 days in the best sunlight you can find! Then switch it to "auto" and your Sun Jar will glow once it is surrounded in darkness!
Please note that the Sun Jar will not light up until the sensor detects that it is nightime!
Official Suck UK Sun Jars will have a switch board with only TWO options – Charge and Auto – and will only be available in ONE colour at a time; Yellow, Pink or Blue
Solar powered light – Official Suck UK Sun Jar will have two options on the panel; Charge and Auto
Beautifully designed into a traditional masons storage jar
The solar panel charges the light during the day and sensors switch on at dusk to create a warm mood light
Suitable for both indoor and outdoor usage
Each sun jar comes in one colour – either yellow, pink or blue
Beautifully designed into a traditonal masons storage jar

Additional information
| | |
| --- | --- |
| Binding | |
| Brand | |
| Color | |
| EAN | |
| EANList | |
| ItemDimensions | 600, hundredths-inches, 400, hundredths-inches, 200, hundredths-pounds, 400, hundredths-inches |
| Label | |
| Manufacturer | |
| Model | |
| MPN | |
| PackageDimensions | 512, hundredths-inches, 835, hundredths-inches, 216, hundredths-pounds, 520, hundredths-inches |
| PackageQuantity | |
| PartNumber | |
| ProductGroup | |
| ProductTypeName | |
| Publisher | |
| Studio | |
Related Products