This article contains affiliate links.
Remember when Christmas was all about writing lists to Santa about what you wanted? Now Christmas is about writing lists for yourself about what everybody else wants.
That gets old fast.
Still, you need to pick up picture perfect Christmas presents for all of your family, your friends, your neighbors, your co-workers and boss as well as that guy who did your lawn last year. To help you get through this process as quickly and efficiently as possibly, we've put together a list of cool Christmas presents to gift everyone you know.
Once you're done, you can start checking off things on the list that matters: the stuff you want.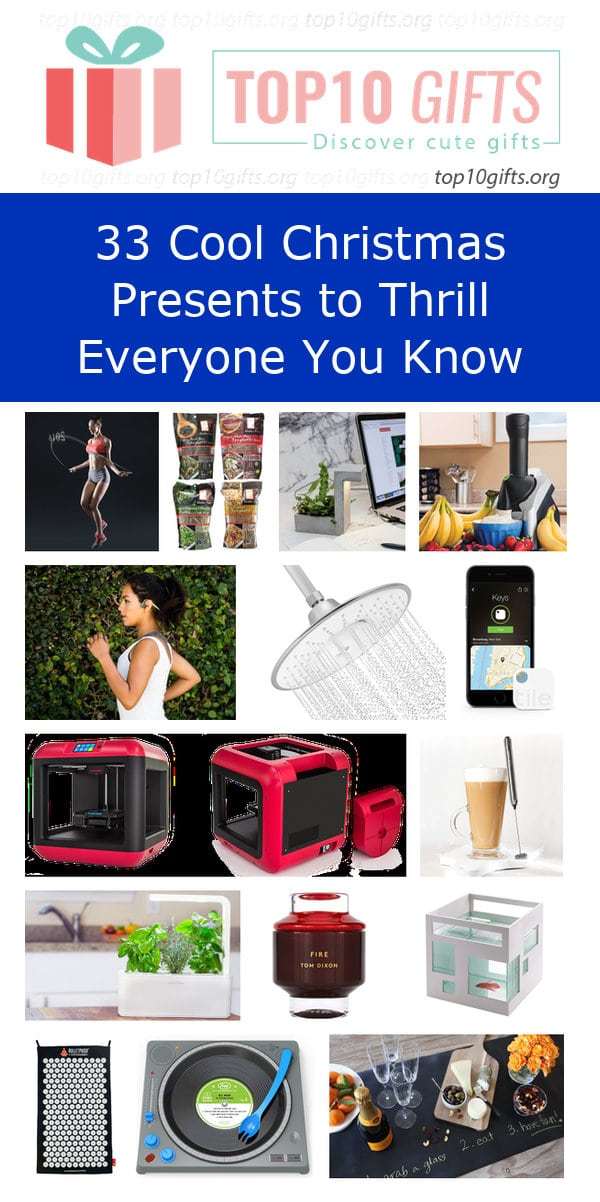 Titanium Bone Conduction Headphones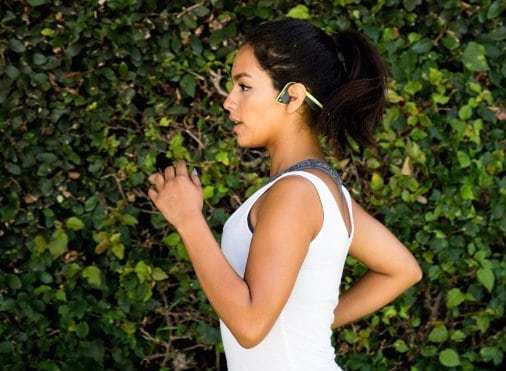 You know what's awesome? Walking and running around with your own music playing in the background. You know what's not so awesome? Getting run over because you didn't hear that car coming.
Enter bone conduction headphones. These marvels of technology create mini vibrations to send music and sound through the cheekbones and directly to the inner ears. This means you get all the pleasure of listening to your favorite soundtracks without compromising awareness of your surroundings.
Extra perks? These headphones are wireless and perfect to use during workouts.
Ceramic Eclipse NFC Ring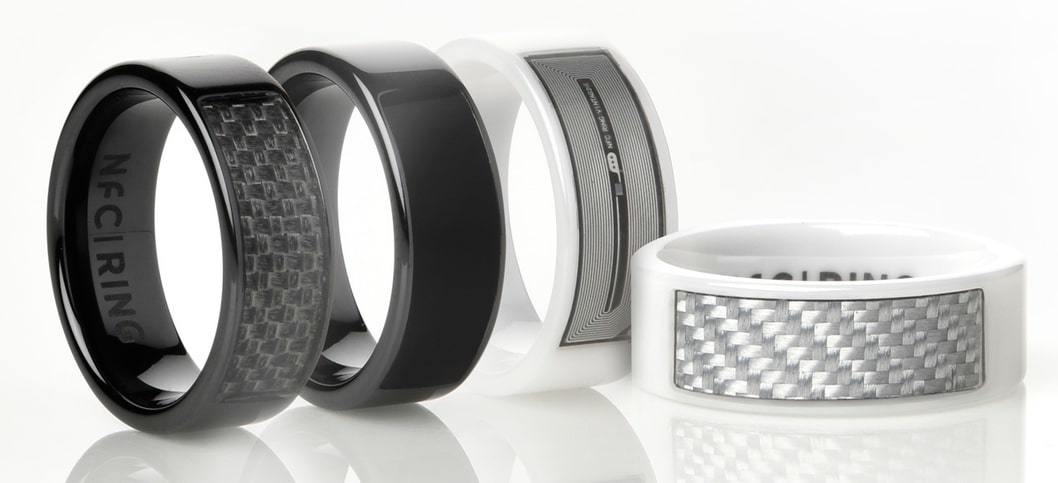 One ring to rule them all, the NFC ring can be used to unlock doors, mobile devices, transfer information and control applications.
What does that mean for you? You can "open sesame" your door without clunky keys. You can "fist bump" your information into other people's phones for quick contact exchanges. And you never have to input your cell phone passcode again.
Healthy Spaghetti Gift Set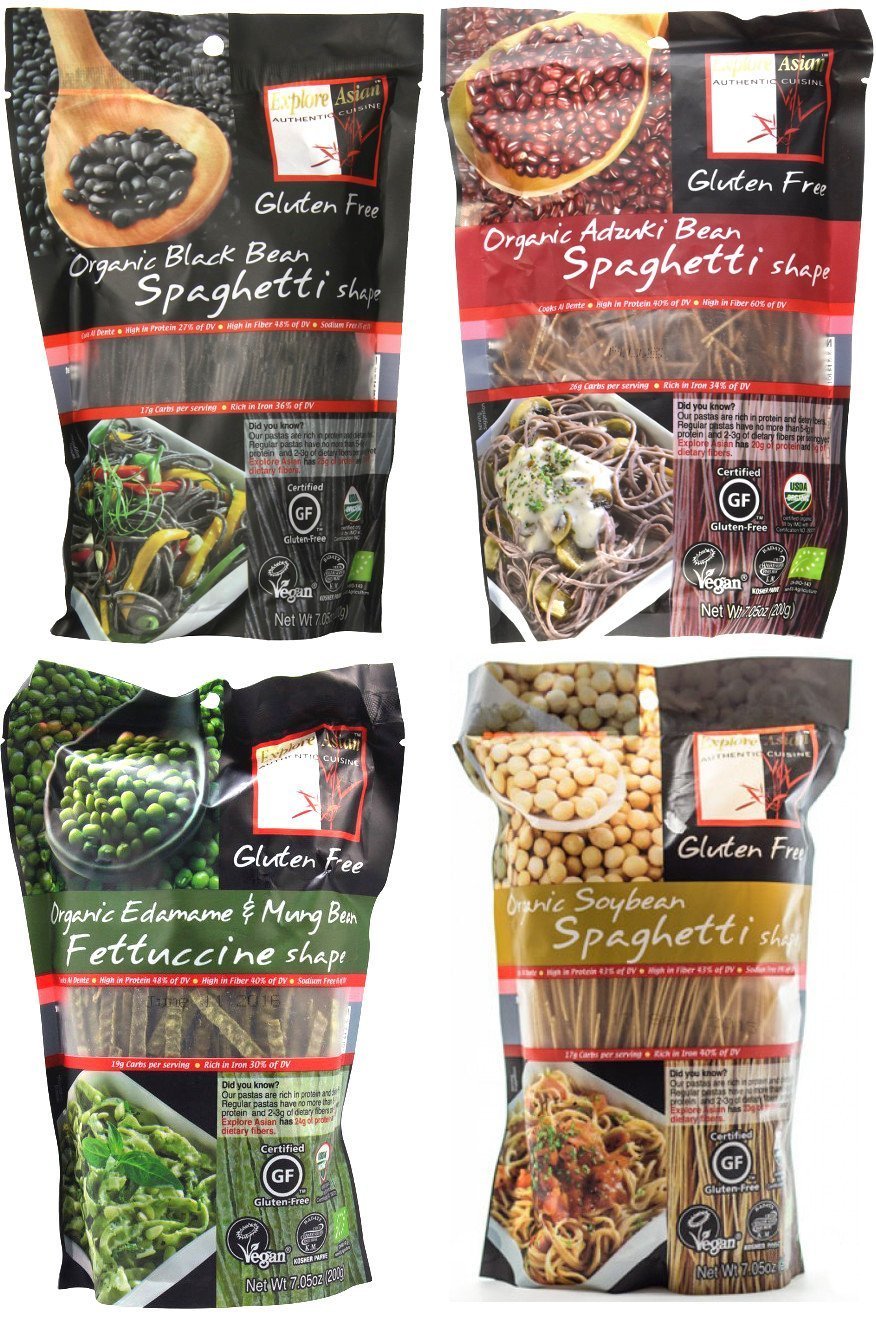 Pasta is a popular guilty pleasure of healthy folk but with this set of organic, gluten free, low fat, iron rich, high protein and high fiber pasta…you can leave out the guilt.
This 8-pack comes in unique flavors like Black Bean spaghetti, Adzuki Bean spaghetti, Edamame and Mung Bean fettucine, and Soybean spaghetti. The health nut in your life is going to love these.
Coravin Model Eight Wine System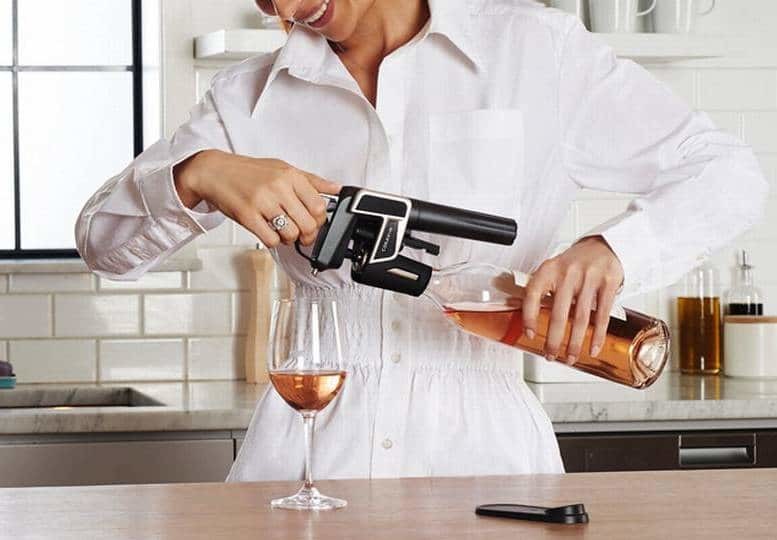 The Coravin Wine System allows you to enjoy wine without pulling the cork, which means you get to enjoy wine by the glass without compromising the rest of the bottle. An absolute must have for any wine lover!
LED Embedded Jump Rope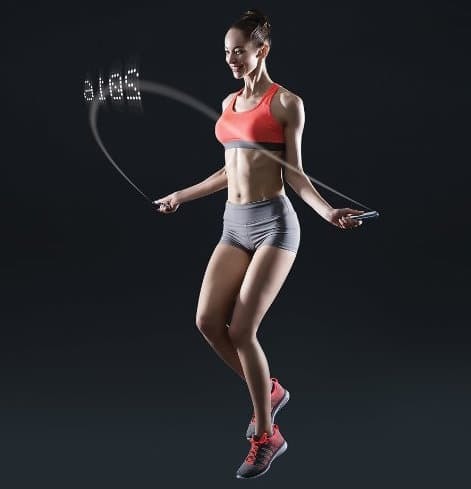 Everybody knows that jumping rope is a great, low-cost way to get an amazing cardio workout anytime, anywhere.
But let's admit it – it can get a little boring. After a few jumps, your mind wanders, you forget how many jumps you're at and it's easy to lose motivation to keep on jumping.
Well, that don't happen with this Smart Rope. This cool fitness gadget is no ordinary jump rope – it tracks your jump count, the calories you burned, how long you've been jump roping and how close you are to your goal. It even syncs with a mobile platform so you can monitor progress and compete with friends.
BedJet Dual Temperature Zone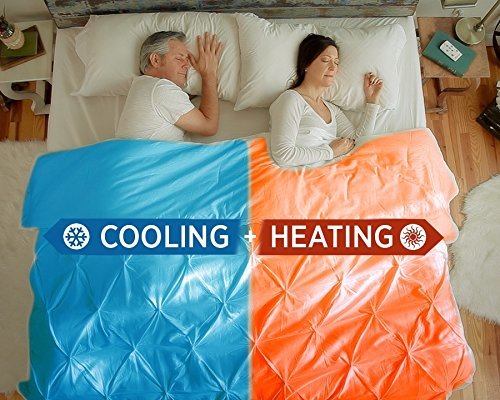 Say hello to the coolest Christmas present, literally. The BedJet Dual Temperature Zone provides on-demand, independent cooling and heating comfort to each half of the bed. That means the partner who likes thing hot gets deep sauna like warmth in seconds while the partner who keeps it cool gets ventilation cooling.
Pug in a Mug Silicone Tea Infuser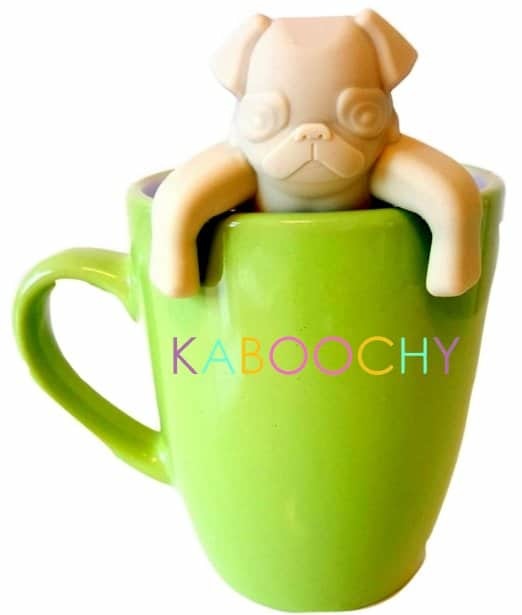 Every tea drinker absolutely needs one of these. Why? 'Cause it's a pug. In a mug. And it holds tea. What more could you want in life?
Digital Eye Massager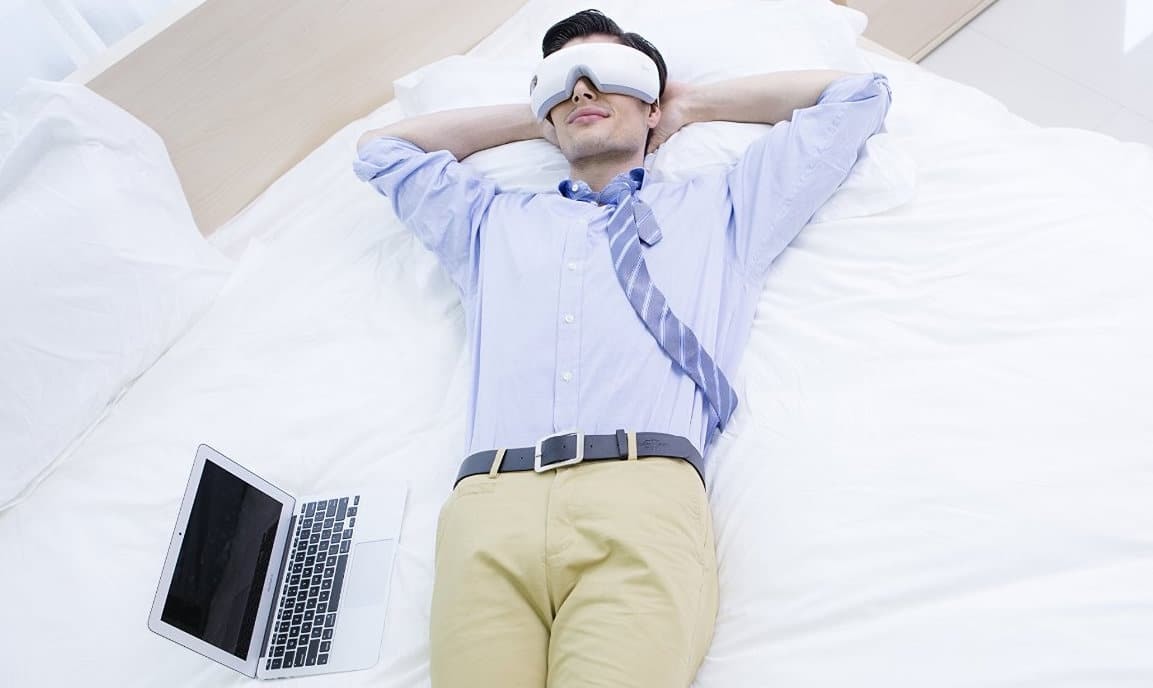 Relieve eye strain, dryness, sinus pressure and headaches whenever, wherever you need to with this delightful digital eye massager.
It uses a combination of intelligent air pressure, vibration, point massage and hot compress massaging technology to improve blood circulation that reduces puffiness and dark circles and instantly relax your eyes.
Chalk Board Table Runner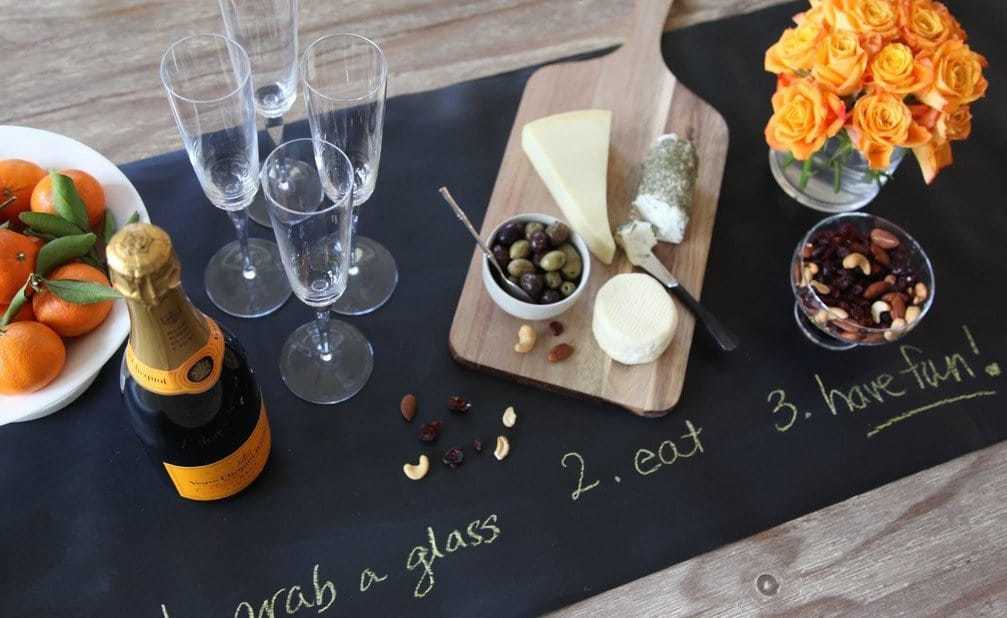 A fun and handy table runner that you can write or draw directly on! It comes with zero dust ButterStix Chalks which are food safe and can be used directly on the runner, plates, dishes, etc. Guaranteed to be a hit at any parties and get togethers!
Wake Up Light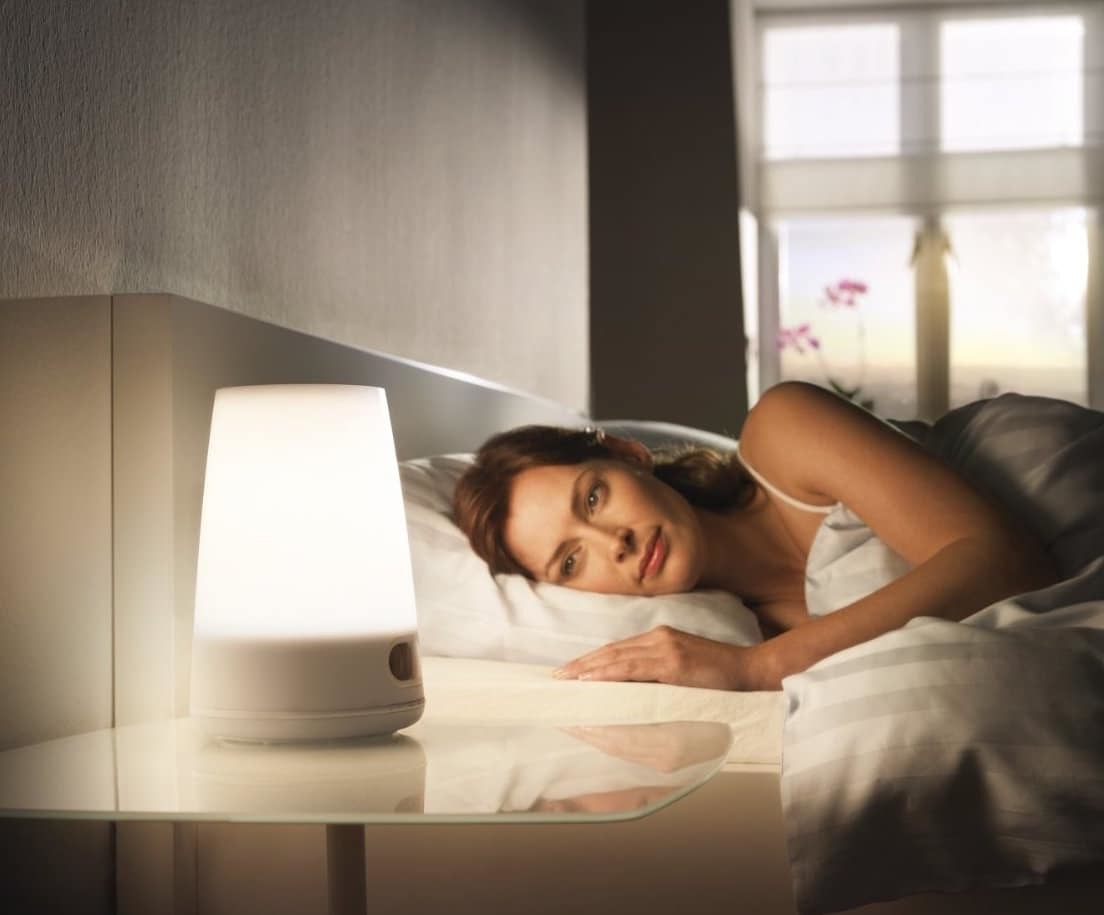 One of the most useful, feel good gifts you can give anyone, this gentle wake up light wakes you up in a natural way with a light that increases gradually.
Guaranteed to make waking up an actual joy.
The Complete Picnic Backpack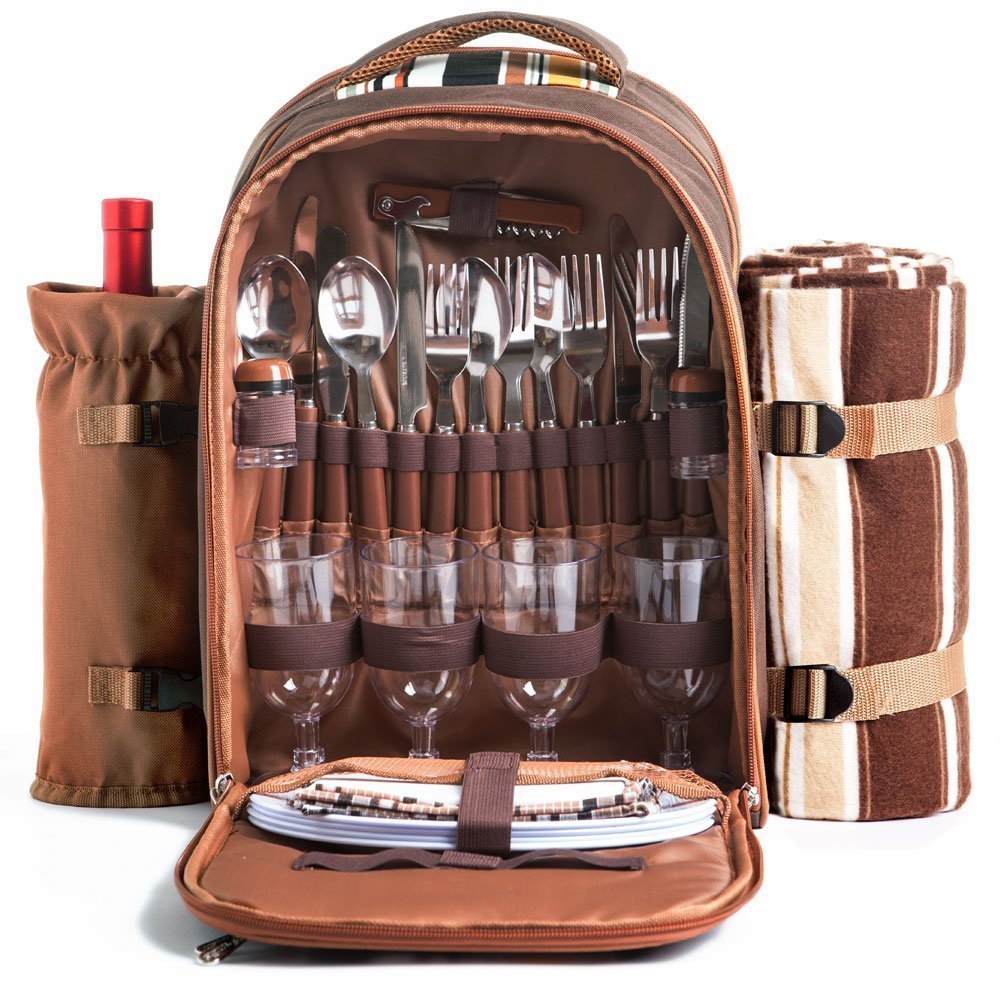 Picnics are fun. Know what isn't so much fun? Running around trying to gather everything you need for a fun-filled, care-free day at the park.
Truth is, preparing for a picnic is not picnic. But with this ready-to-go backpack, you'll never have to stress about it again. It includes all the cutlery you need to feed a party of four (including wine glasses!) as well as must-haves like salt and pepper shakers, a cutting board, a cheese knife and even a bottle opener for the glass of wine it holds.
Oh, it comes with a waterproof fleece blanket as well so that's…pretty much everything you need for a picnic.
Sea Doo Dolphin Sea Scooter
Shoot through the water with the propulsion device. Can travel at 2 miles an hour while submerged, and is perfect for any water sports lover. It is rechargeable and made with safety in mind. Overall, this is a unique gift for anyone.
LapDome Protective Laptop Case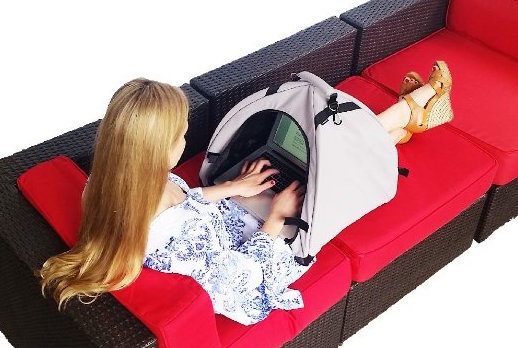 Know someone who's writing the next great America novel…from the beach? Help them do it in style with this super lightweight, collapsible laptop case that opens to shade and protect your laptop from the elements.
Also makes the most useful gift for workaholics!
GateKeeper Wireless Lock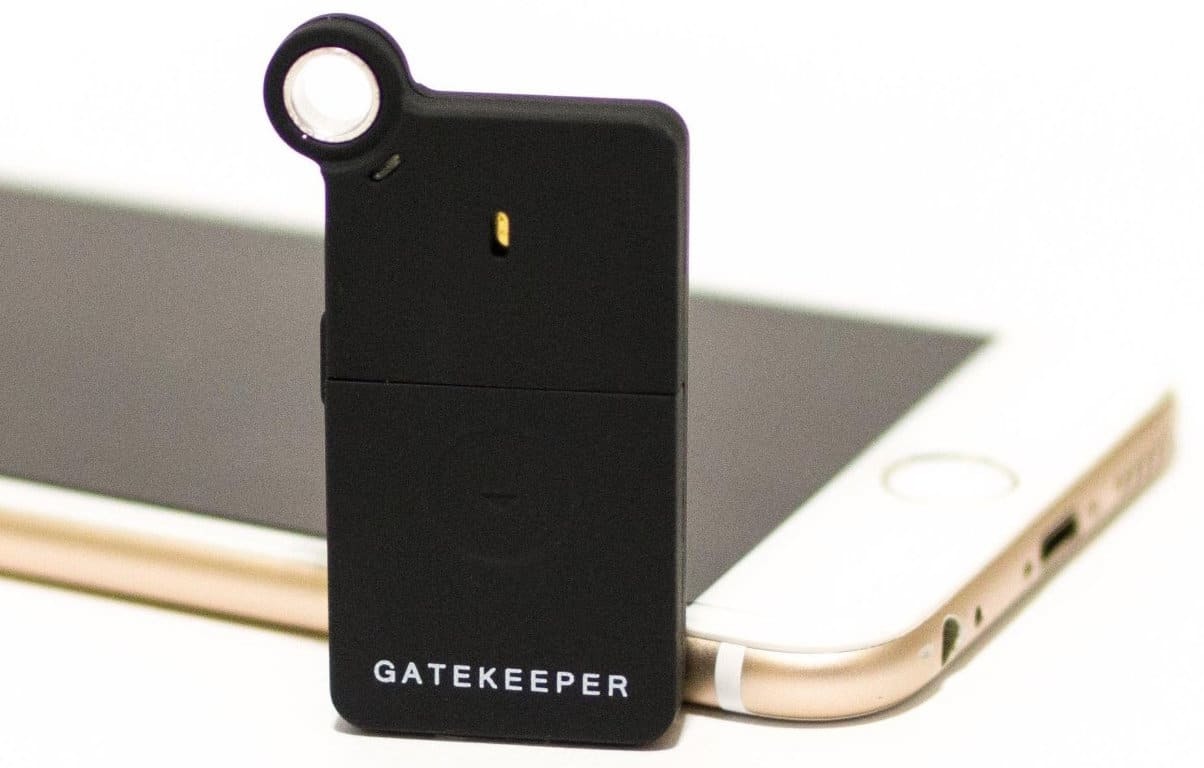 Having to type and re-type a bunch of passwords just sucks. So does having to worry about someone accessing private information on your gadgets when you're not around.
You'll never have to worry about any of that bullocks again with the GateKeeper. This nifty little gadget uses Bluetooth technology to secure your computer from unauthorized access each time you leave your desk.
It's able to sense each time you leave and automatically locks and unlocks as you return, eliminating tedious password management.
BulletProof Sleep Induction Mat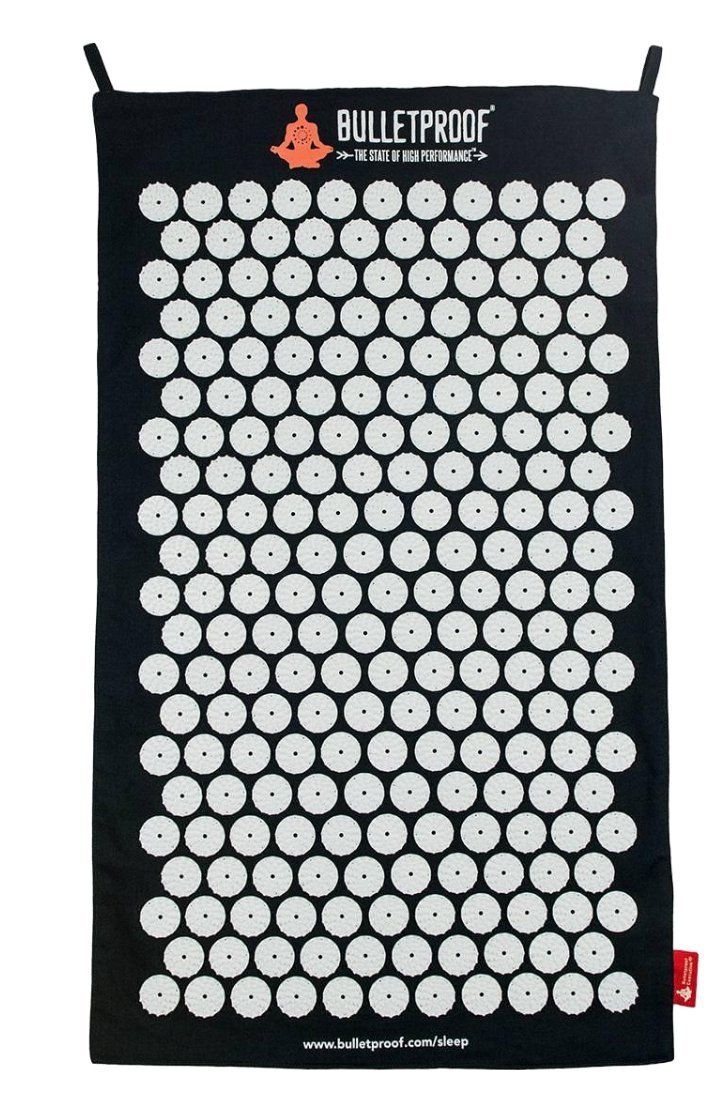 What the hell is a sleep induction mat, you ask? It's actually a pretty nifty device that stimulates acupressure points along your back to ease you into a deep relaxation. It'll help you fall asleep faster, feel more refreshed, and improve overall energy levels. Oh, and it's about the size of a pillowcase so can be rolled up for storage or travel.
Fire Scented Candle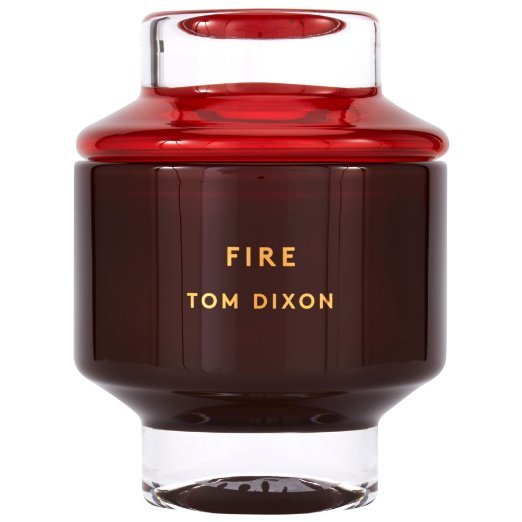 Still lighting plain ole' vanilla? Spice it up with this fire scented candle. Perfect for those without their own fireplace!
Nourish Digital Food Scale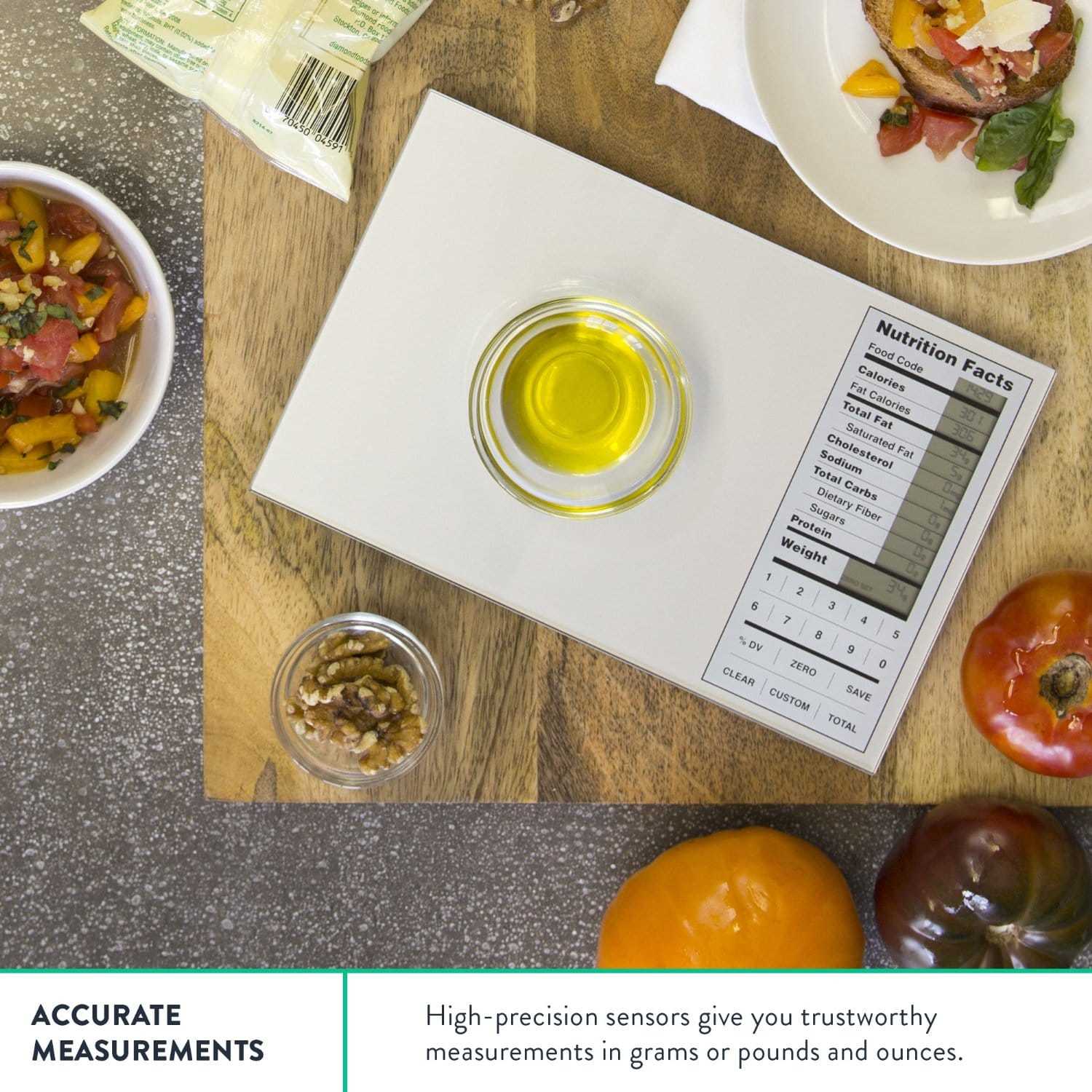 This freakin' awesome food scale gives you detailed nutritional info for 2,000 common foods, making it darn easy for the you to track everything you put in your body.
Night Sky Illumination Floating Device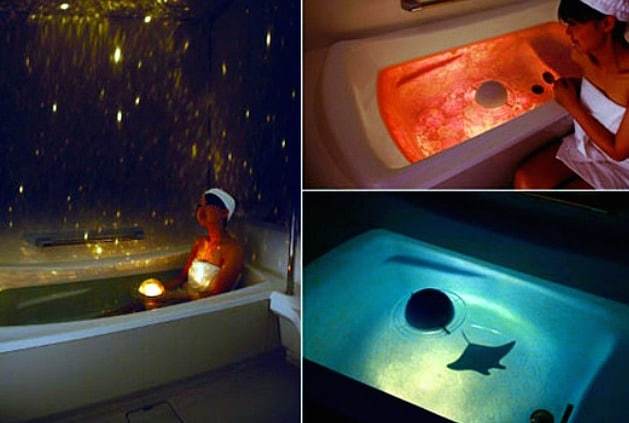 Know a bathing enthusiast? This is one gadget they'll definitely love to have! The Night Sky Illuminator has 3 modes you can switch between: Night Sky for sparkling stars all around, Deep Blue to create deep ocean lighting in bath water, and Rose Bath which projects rose petals all throughout the bath water.
Comfort U Total Body Support Pillow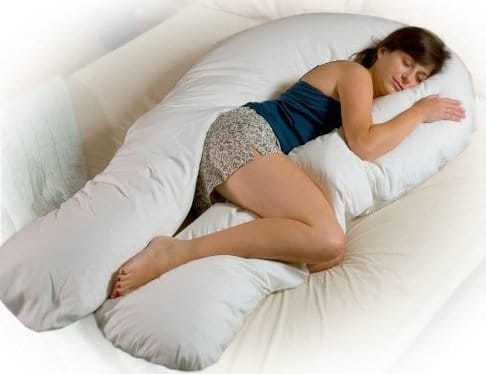 Get ready to meet the best pillow ever created. Seriously, once you try sleeping with this marvel of a pillow, you'll ditch all the others. The Comfort-U is generously oversized to cradle your body and help eliminate tossing and turning. It also keeps your neck, shoulders, back and hips aligned all night long.
Overall, the perfect pillow.
Hand Crafted Wood Bluetooth Speaker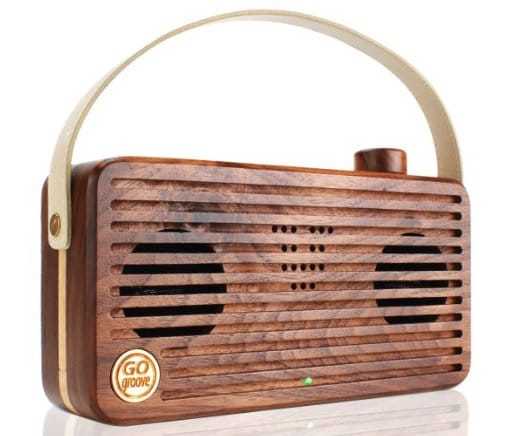 Blast your tunes in style with this retro wooden bluetooth speaker. Especially love how it comes with a handle for convenient transport.
Dachshund Bookends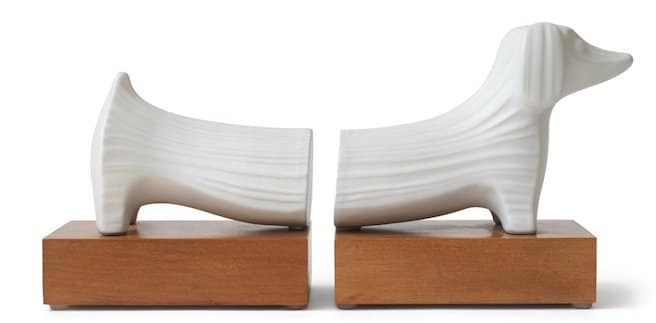 The cutest way to display your books and keep them in place. Perfect for dog lovers.
Chrome 2 Slice Toaster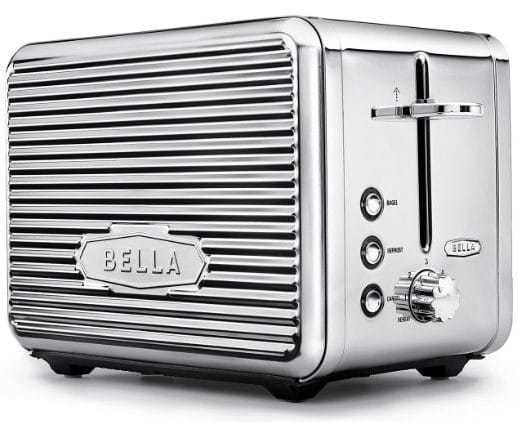 Feel like a boss every morning with this polished chrome toaster.
Cute Kitty LED Night Lights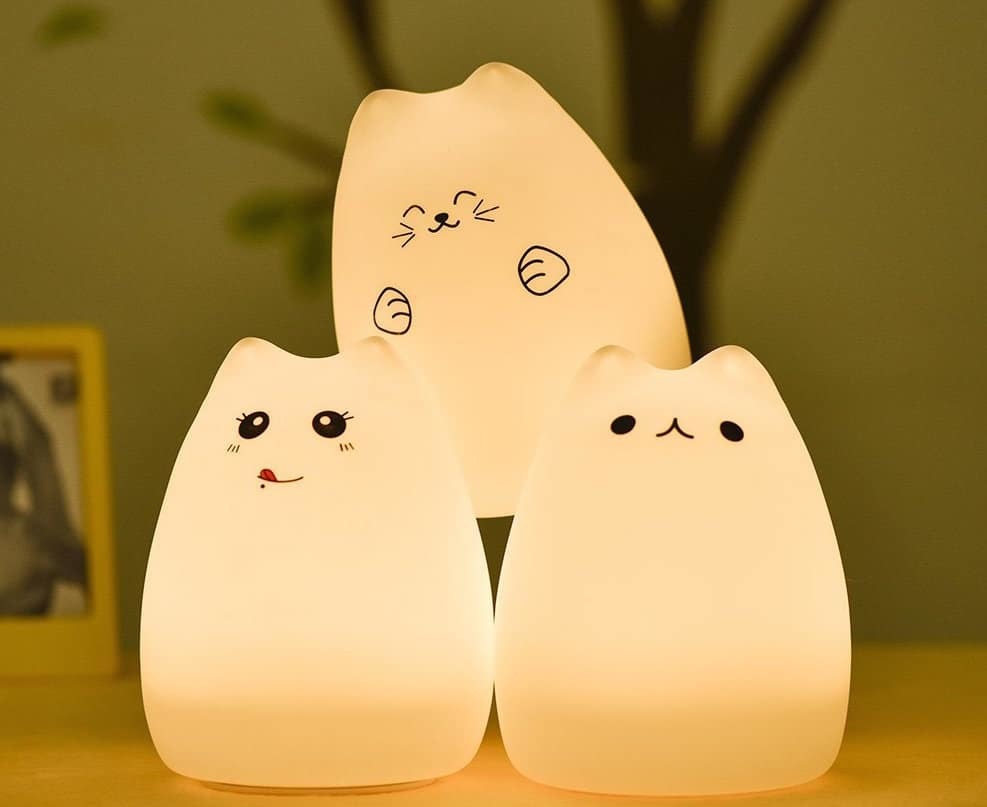 Why use a boring night light when you can have adorable kitty shaped night light? Purrfect for cat lovers.
Silhouette Cameo Electronic Cutting Tool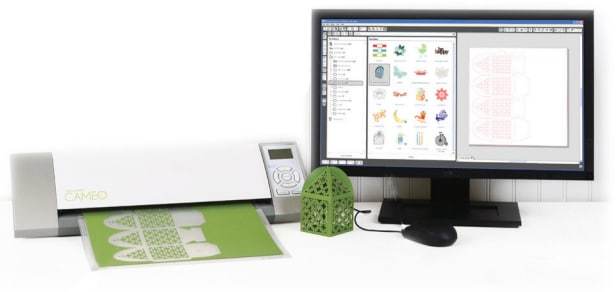 Create scrapbooking pages, personalized cards, custom apparel, vinyl decor and a whole lot more with the Silhouette CAMEO. Makes a perfect gift for DIY-ers and crafting enthusiasts!
Kovot Personal Fondue Mugs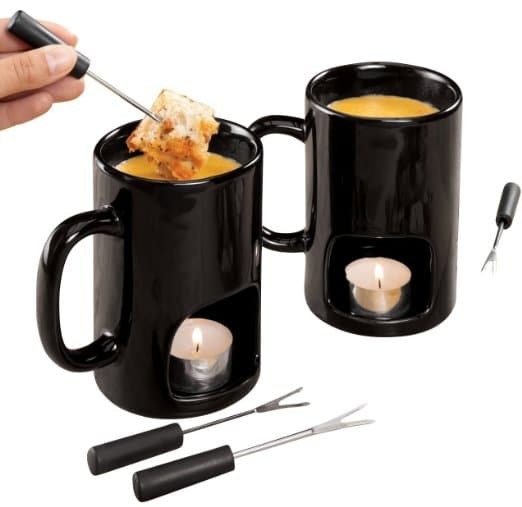 Sometimes, you just want some fondue without having to find the nearest restaurant or fire up a full fondue pot. Well, all you need to get your fondue on with these personal fondue mugs is some cheese and a little tealight.
Umbra FishHotel Aquarium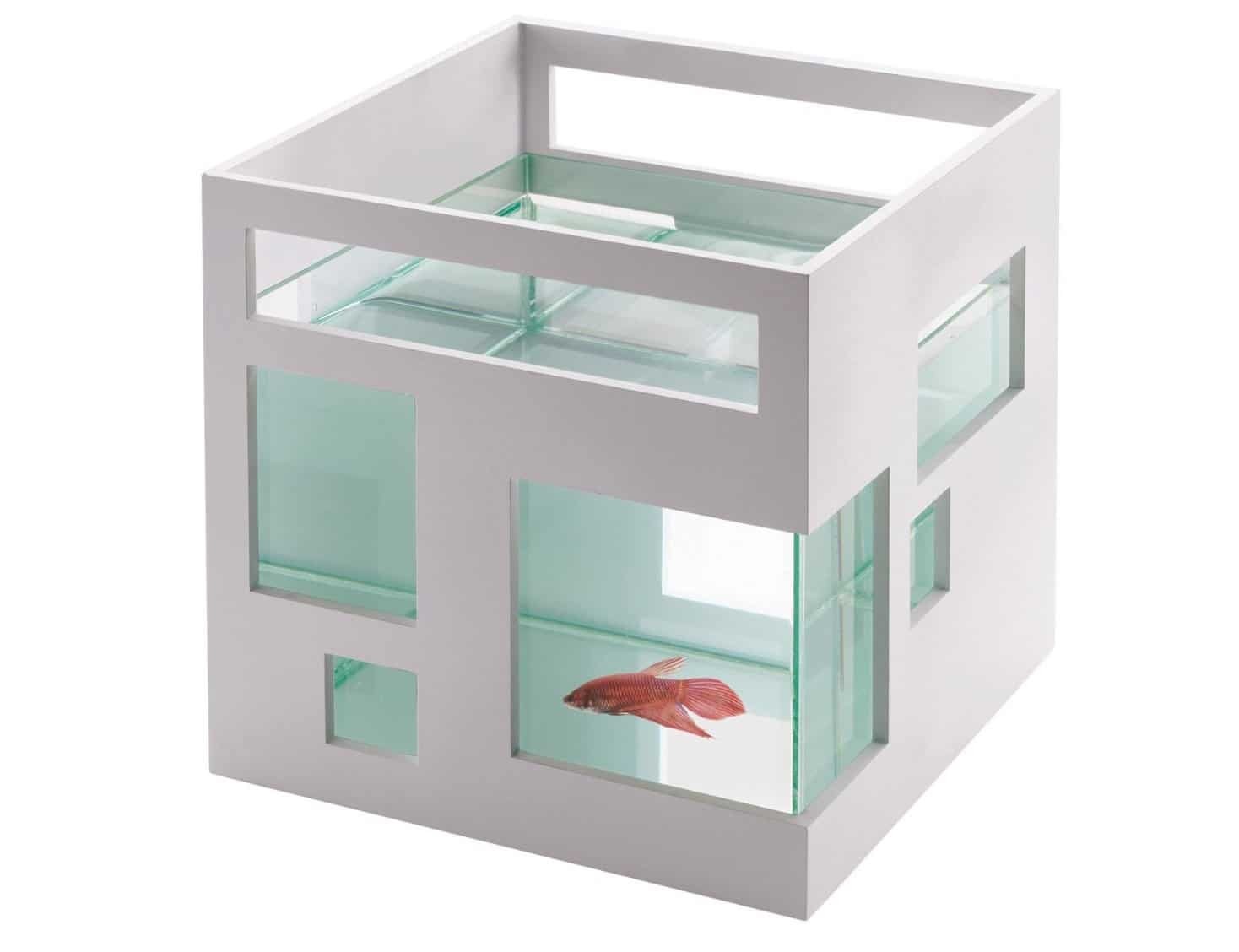 Keep fish in a unique and stylish tank. These 7.5 x 7.5 x 8 inches' tanks are stackable allowing for unique arrangements. Each tank can hold one beta fish.
Spiralizer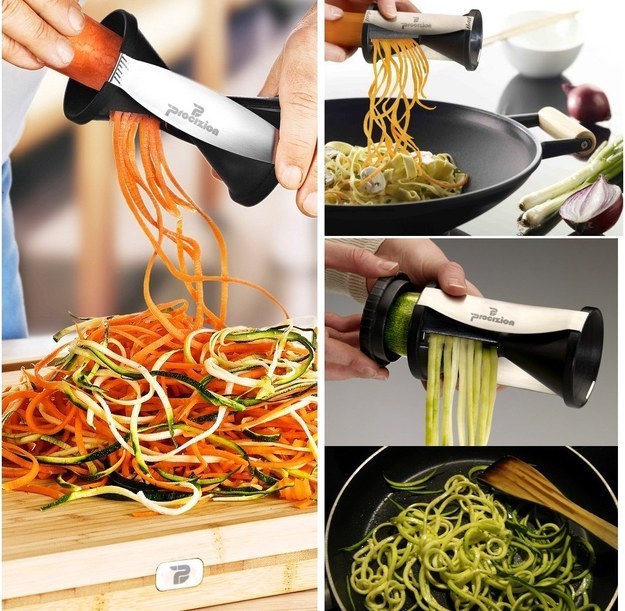 What is up with all the health nuts and their avoidance of all things carbs? Whatever it is, help them enjoy their favorite pasta dishes while staying clear of carbs at the same time.
Revolights Bicycle Lighting System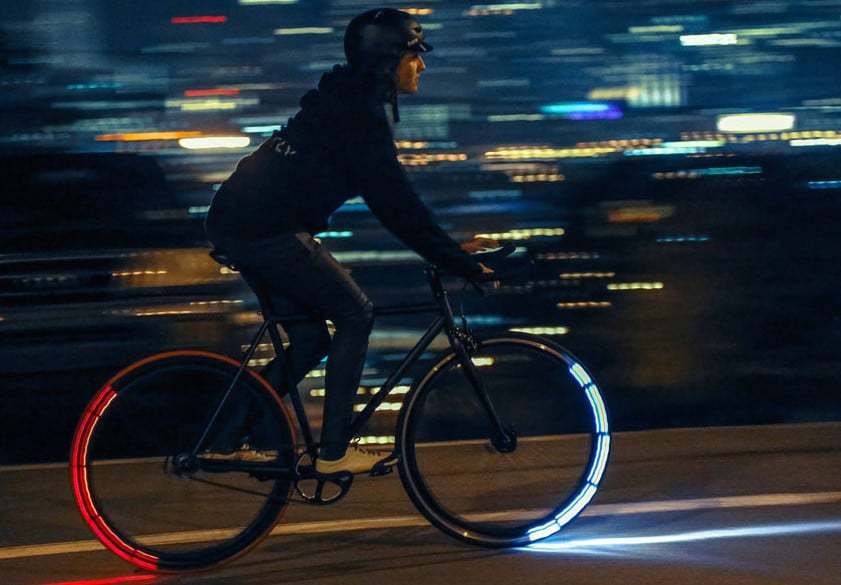 Voted "The Best Bike Lighting System in the World" by Men's Journal Magazine, Revolights feature LEDs that synchronize to your speed to create a legal headlight, functional brake light and unmatched 360 visibility for your bike.
H2OVibe Shower Jet & Speaker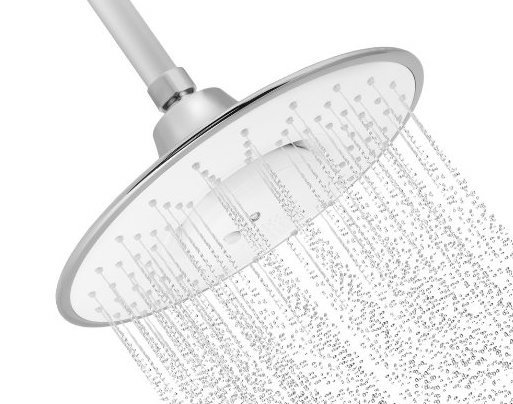 Who doesn't enjoy singing in the shower? And now you can play your favorite tunes to sing along to with the H20Vibe Wireless Speaker which attaches magnetically onto the showerhead. You can also pop it off and take it with you once you're done!
Cooper Cooler Rapid Beverage & Wine Chiller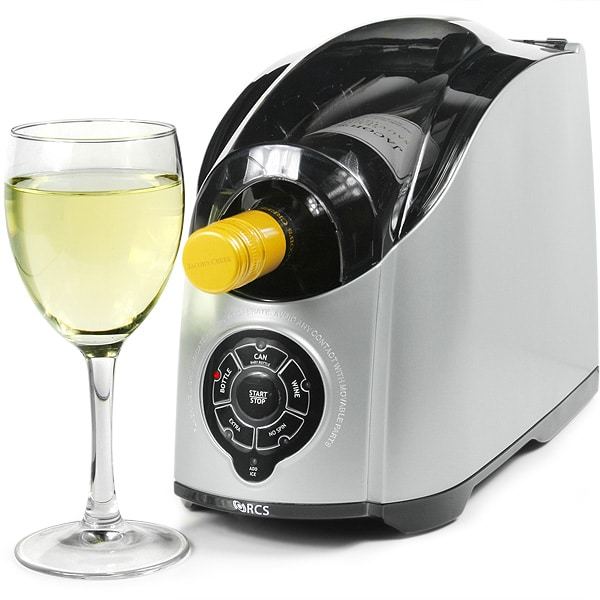 You bring home a 6-pack from the grocery store and can't wait to have an icy cold sip…but your fridge just isn't up to the job. Fortunately, with the Cooper Cooler, you can chill a can in 1 minute and a while wine bottle in just over 6 minutes. The can is sprayed with ice water as it is rotated. Brilliantly useful.
Gerber Bear Grylls Ultimate Serrated Knife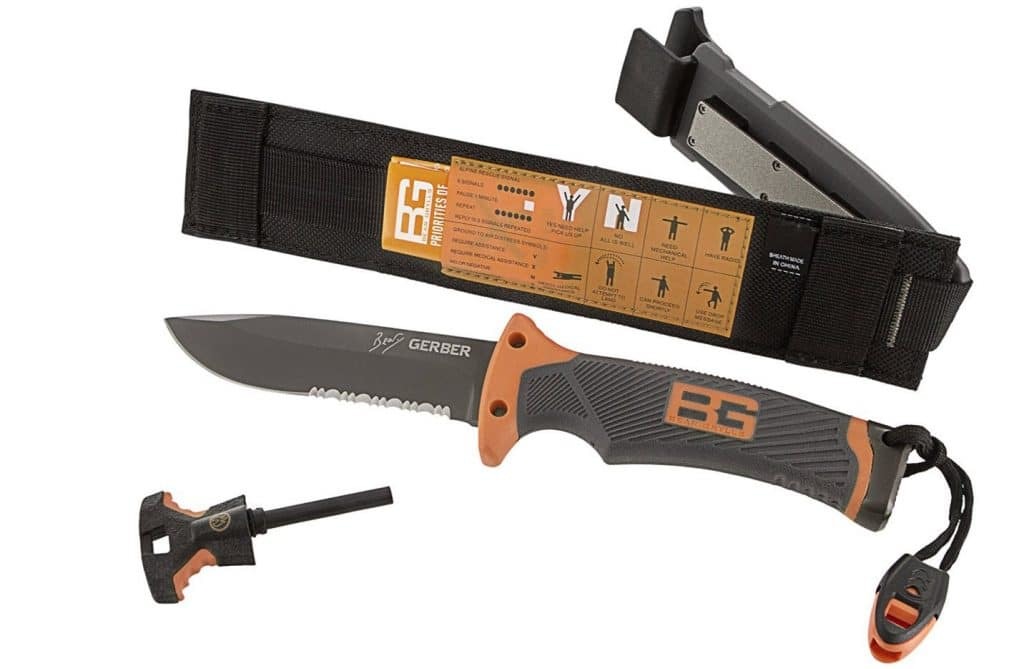 Made for the adventure in any man this knife is the be all. There is an integrated fire starter and the serrated blade can chop though wood and there is an inbuilt emergency whistle.
Click & Grow Indoor Herb Garden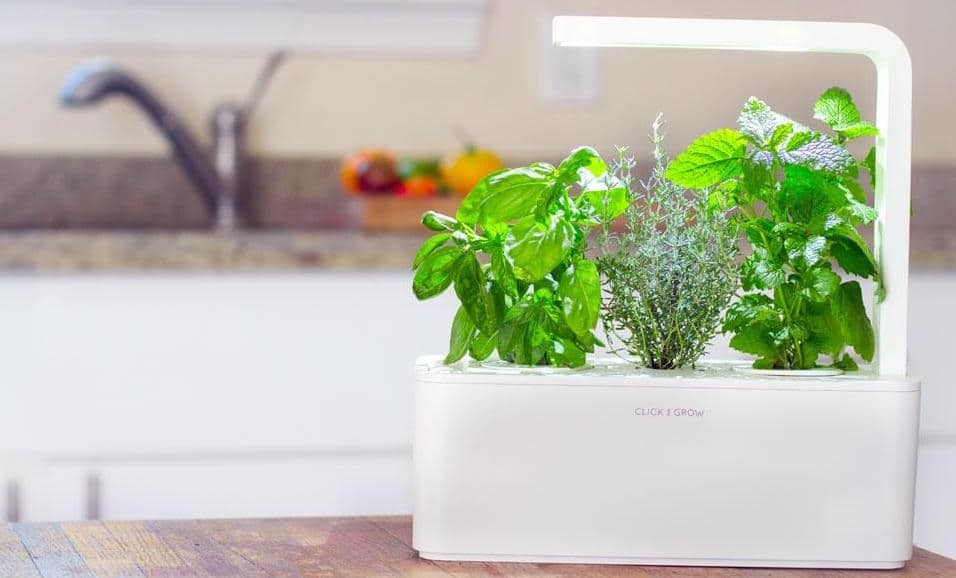 Never be out of fresh herbs ever again with this Click & Grow Herb Garden – no green thumb required. It comes with an LED grow light and everything you need to grow your own fresh herbs all year round!
Ambi Remote-Controlled Climate Control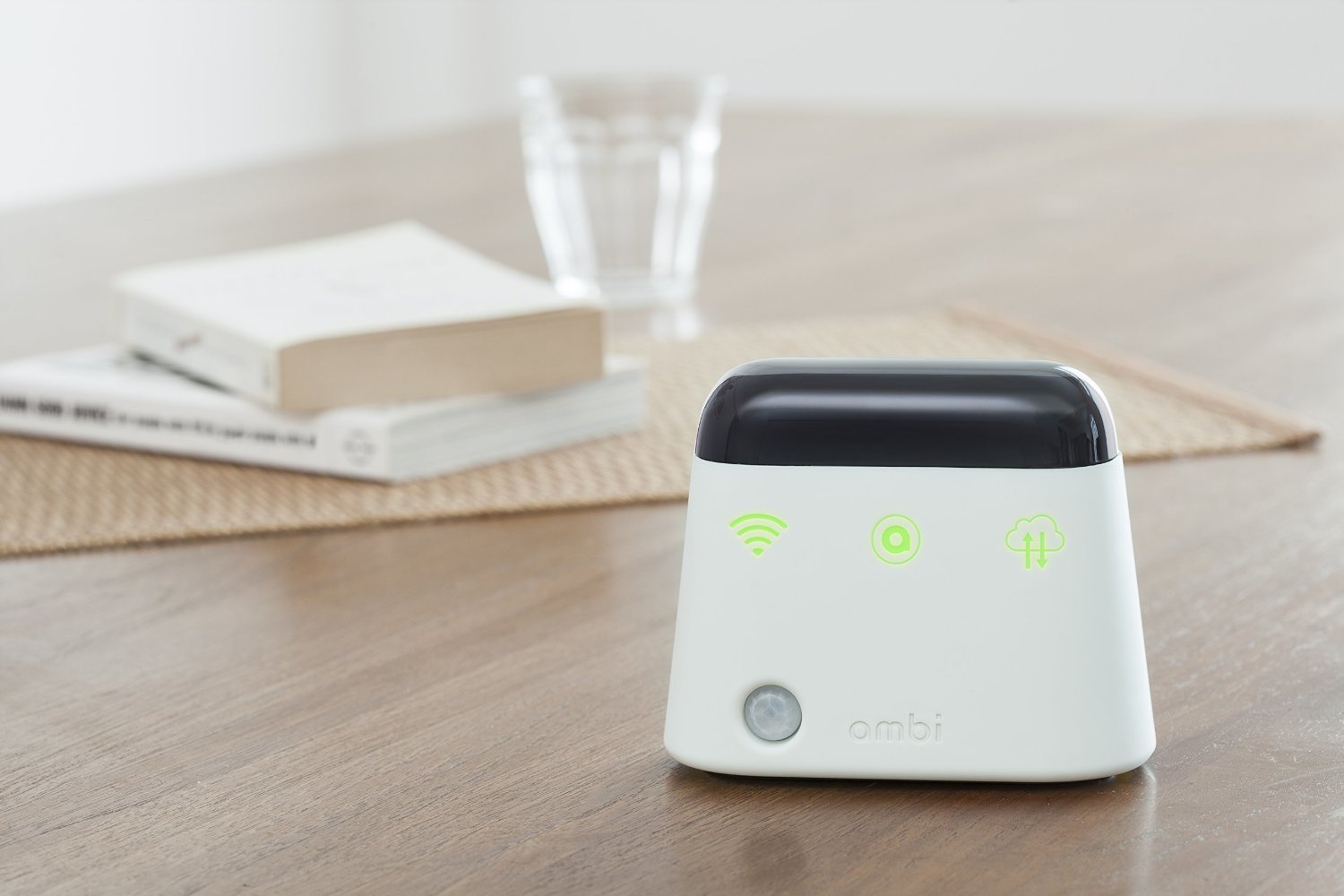 Really love these people? Get them an Ambi. It's one of the most useful things they'll ever own. It hooks up to your AC so you can control it from wherever you are. Forgot to turn it off when you rushed out of the house in a hurry? You can switch it off using the mobile app.
House been left alone in hot, humid weather all day? Get it nice and chilled before you get home. Get cold during the middle of the night? Adjust it in advance so you sleep comfortably 'til the morning.
Seriously, this device is just the best.
Milk Frother Wand with Stand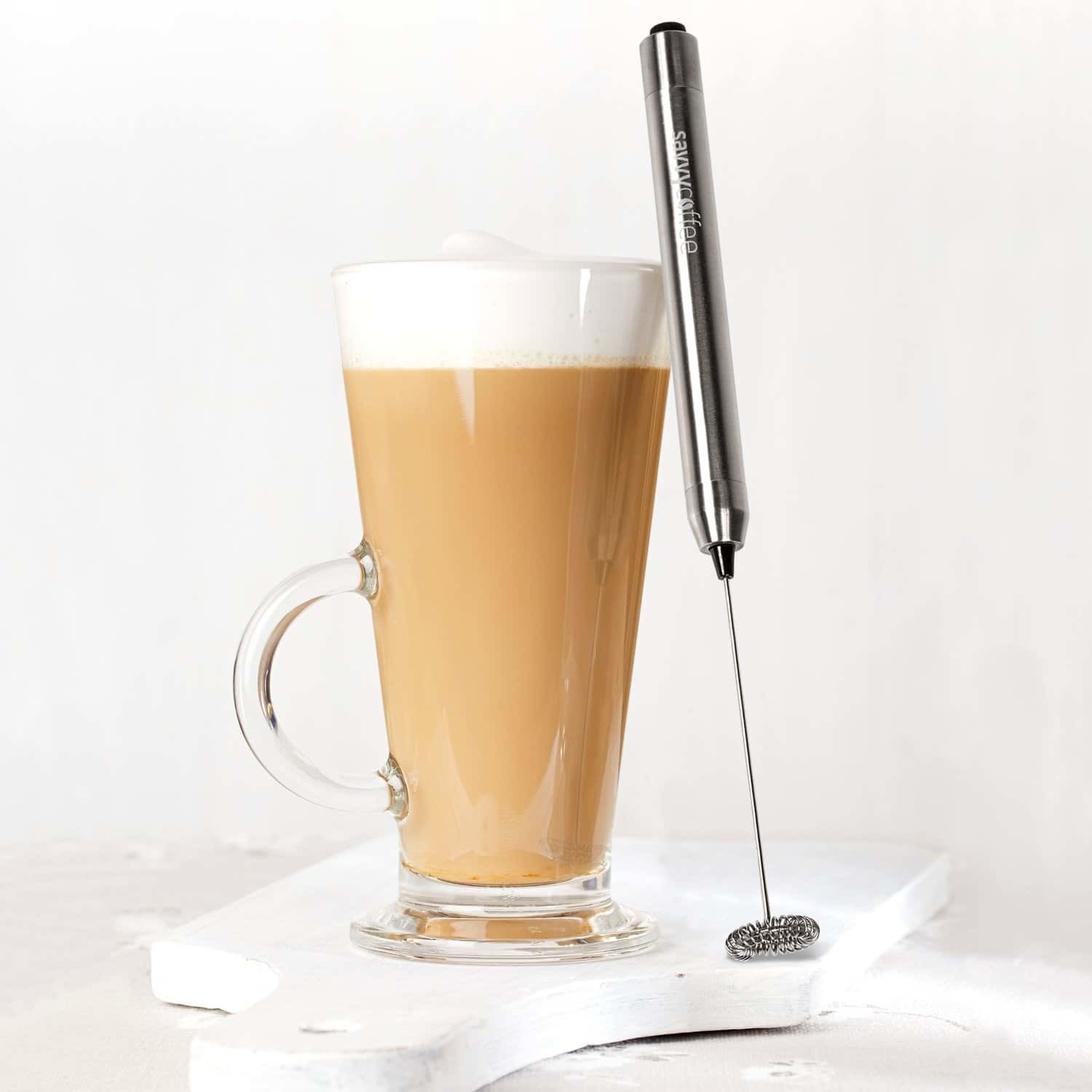 Make every single cup of home-brewed coffee as deliciously frothy as you'd expect at the poshest cafe. This awesomely little handheld frother whips up luxuriously lovely foam in under 20 seconds!
Beautifully crafted in stainless steel and it comes with its own stand.
FlashForge 3D Printers

3D printing is the future. FlashForge is a great beginner's printer that allows for easy handling Connected through a USB cable this printer is budget friendly and provides an excellent introduction to 3D printing. One roll of colored filament included.
Bamboo Bath Caddy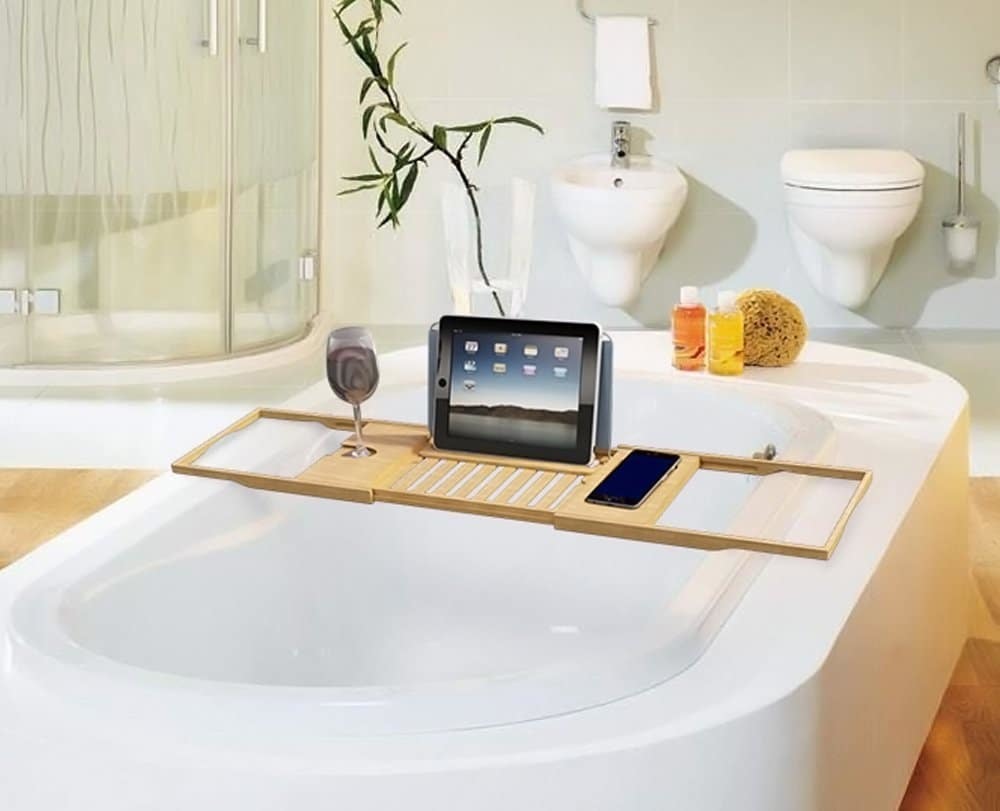 Who doesn't bathe with a glass of wine and their iPad nearby? Help your hosts avoid the catastrophe of going off grid whenever they soak in the bathtub with this luxurious little bath caddy.
Tile Phone and Key Finder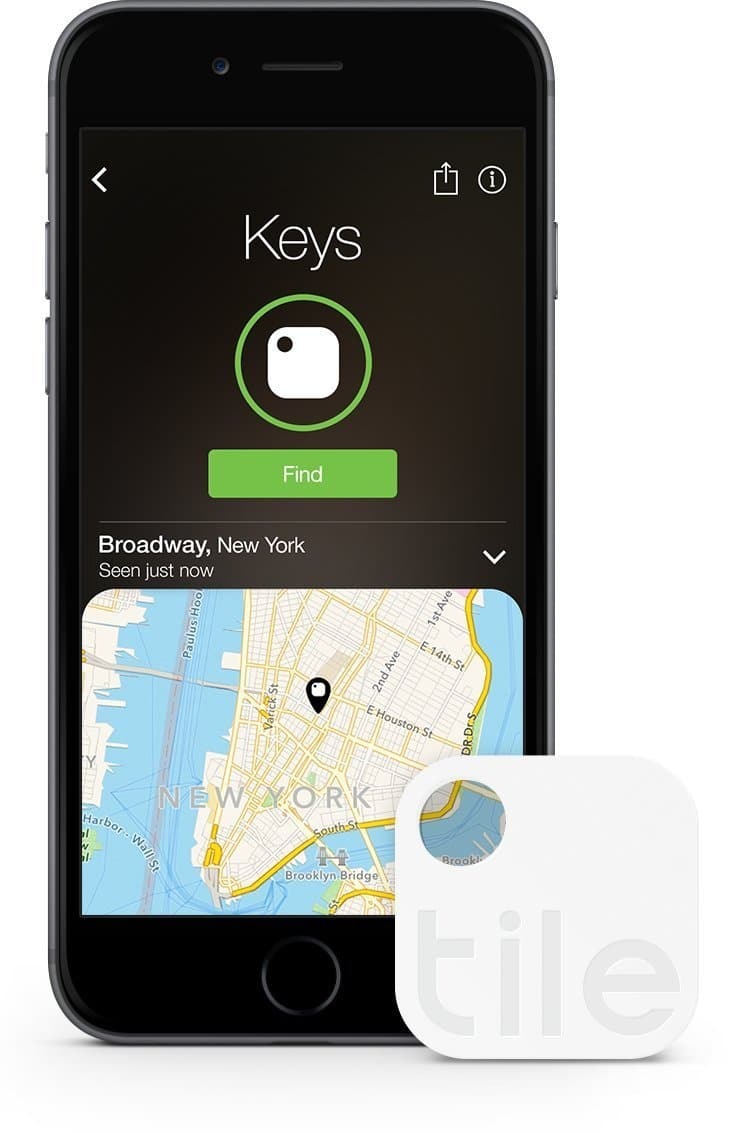 The best gifts are the ones that are actually useful, like this little device that'll help your hosts locate their keys, their phone and anything else they regularly misplace.
Frozen Soft Serve Maker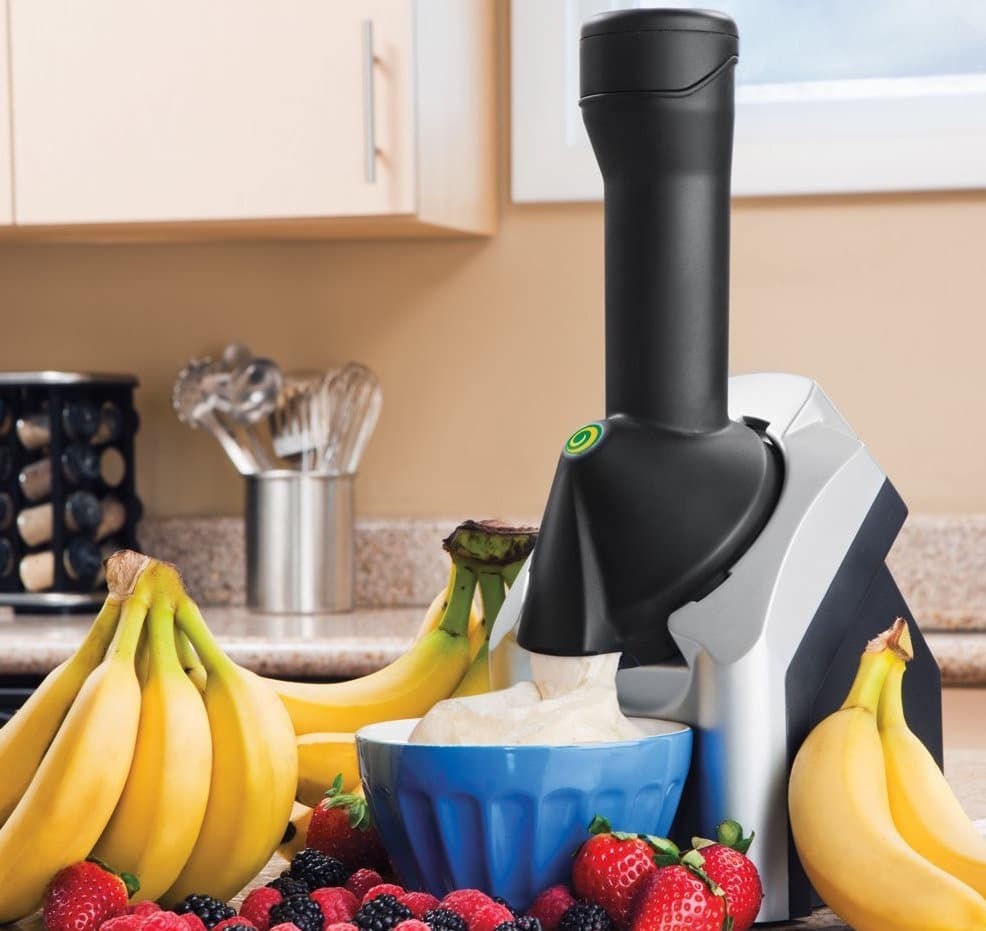 Instantly whip up yummy and healthy frozen desserts without any of that extra gunk – fat, sugar or preservatives.
Dinner DJ Dining Set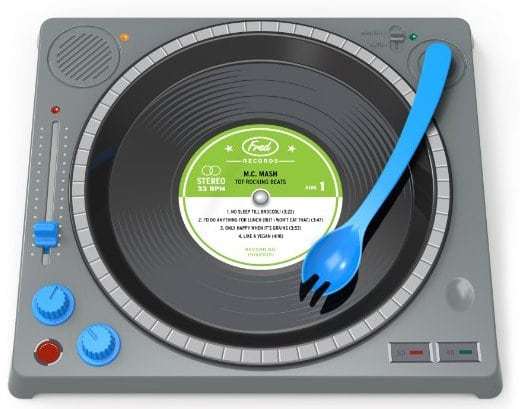 Spruce up the dinner table with these fun DJ dinner plates. Perfect Christmas gift for kids!
Matcha Starter Gift Box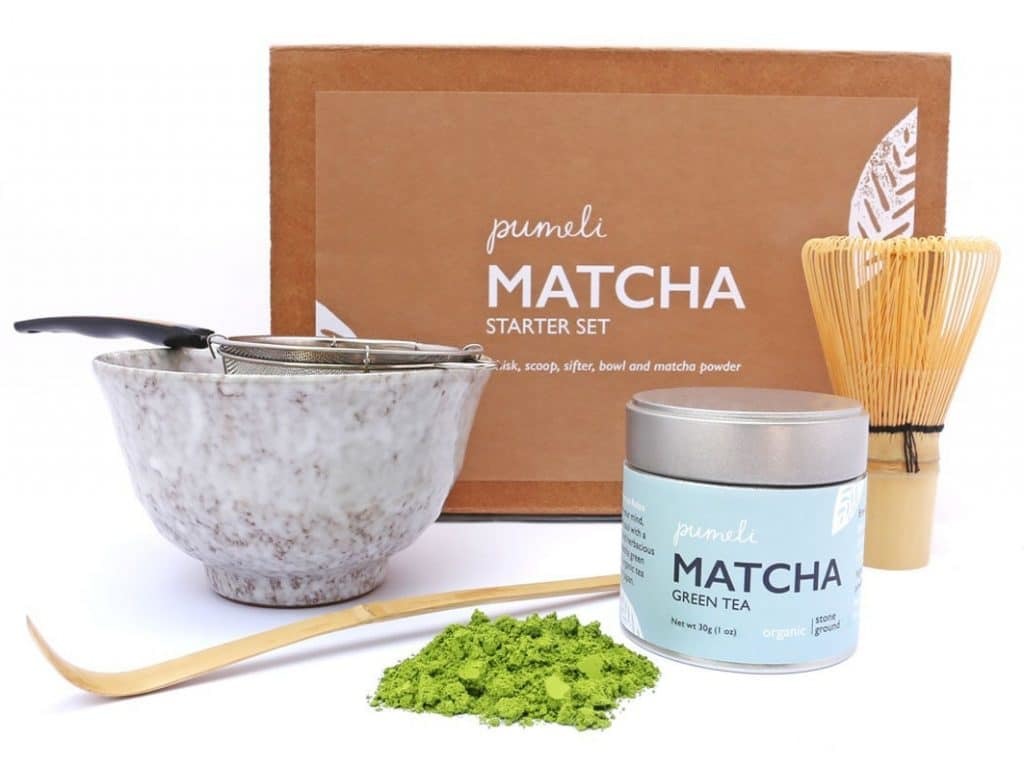 Every health nut worth their weight in kale has heard of matcha and its marvelous health benefits. And it is pretty amazing, we got to say. An energy boost without the caffeine jitters? A boost in mental alertness? A heap ton of antioxidants?
Sounds good to us. And your health nut will love it, too. Especially since this gift set comes with everything they'll need to whisk themselves a cuppa, tea ceremony style!
English Bulldog Umbrella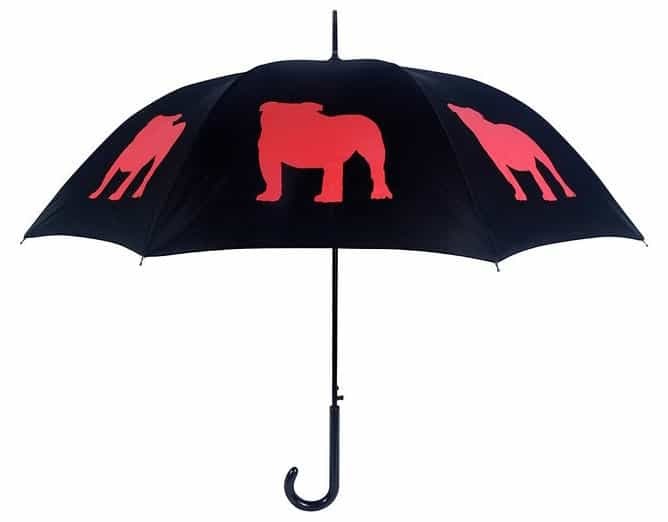 Make every rainy day a fun opportunity to take these English bulldogs for a "walk!"
Planter LED Lamp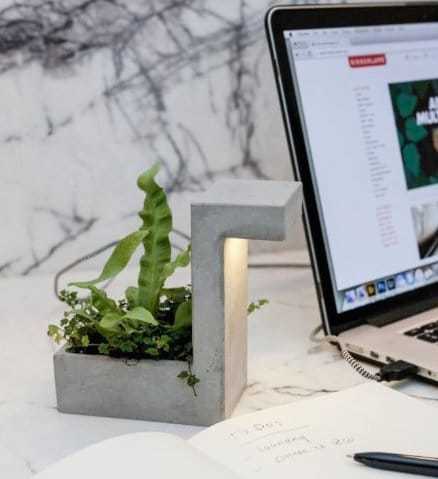 You know what every desk needs? A little green stuff and a lamp…both of which are included in this awesome little LED planter lamp.
Repurposed Skateboard Sconce Lamp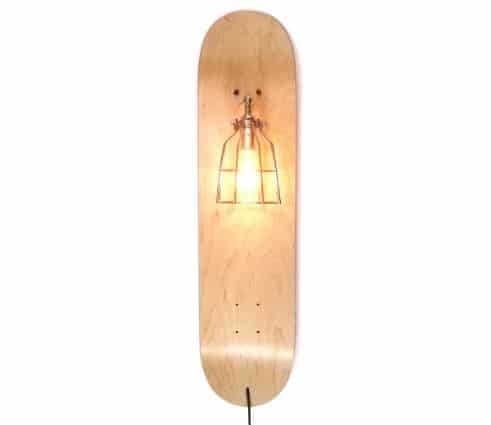 Know a skateboarder who could use a little help in the home decor department? They'll absolutely love this skateboard lamp!
CoffeeSock DIY Cold Brew Kit
Health nuts can be caffeine addicts too. But they don't drink just any old coffee – they prefer things like cold brew, which is less acidic and doesn't upset the body's delicate pH balance (tell them that, they'll be impressed). The CoffeeSock Kit comes in a mason jar and includes a cotton filter. Organic, of course.
Music Angel Levitating Bluetooth Speakers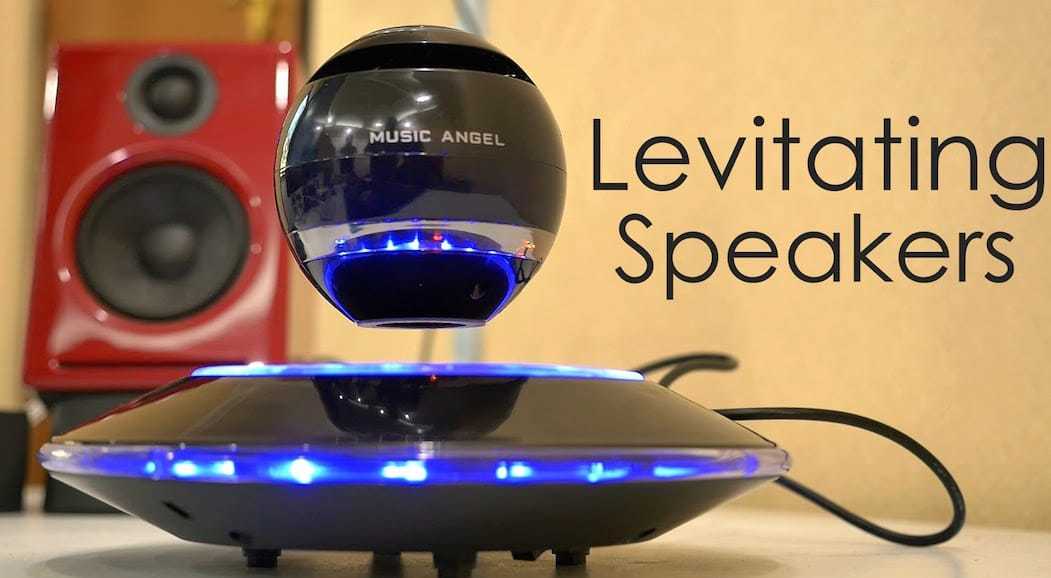 Play music in a whole new way with this levitating speaker. It allows for undistorted sound, LED flashing and high-tech capabilities. Pairs easily with Bluetooth to any device. Comes in two colors. Nothing like it on the market.
Find it here!