This article contains affiliate links.
Remember when Christmas used to be endless exciting? You'd write your letters to Santa and count down the days to the big day, getting yourself so worked up you could hardly fall asleep. Know one way you can get that sort of giddy anticipation back? Think of the most creative, best stocking stuffers to knock the socks off of everyone you know.
Here's a handy list of stocking stuffer ideas that will help you do just that…
Bar10der 10-in-1 Ultimate Bartending Tool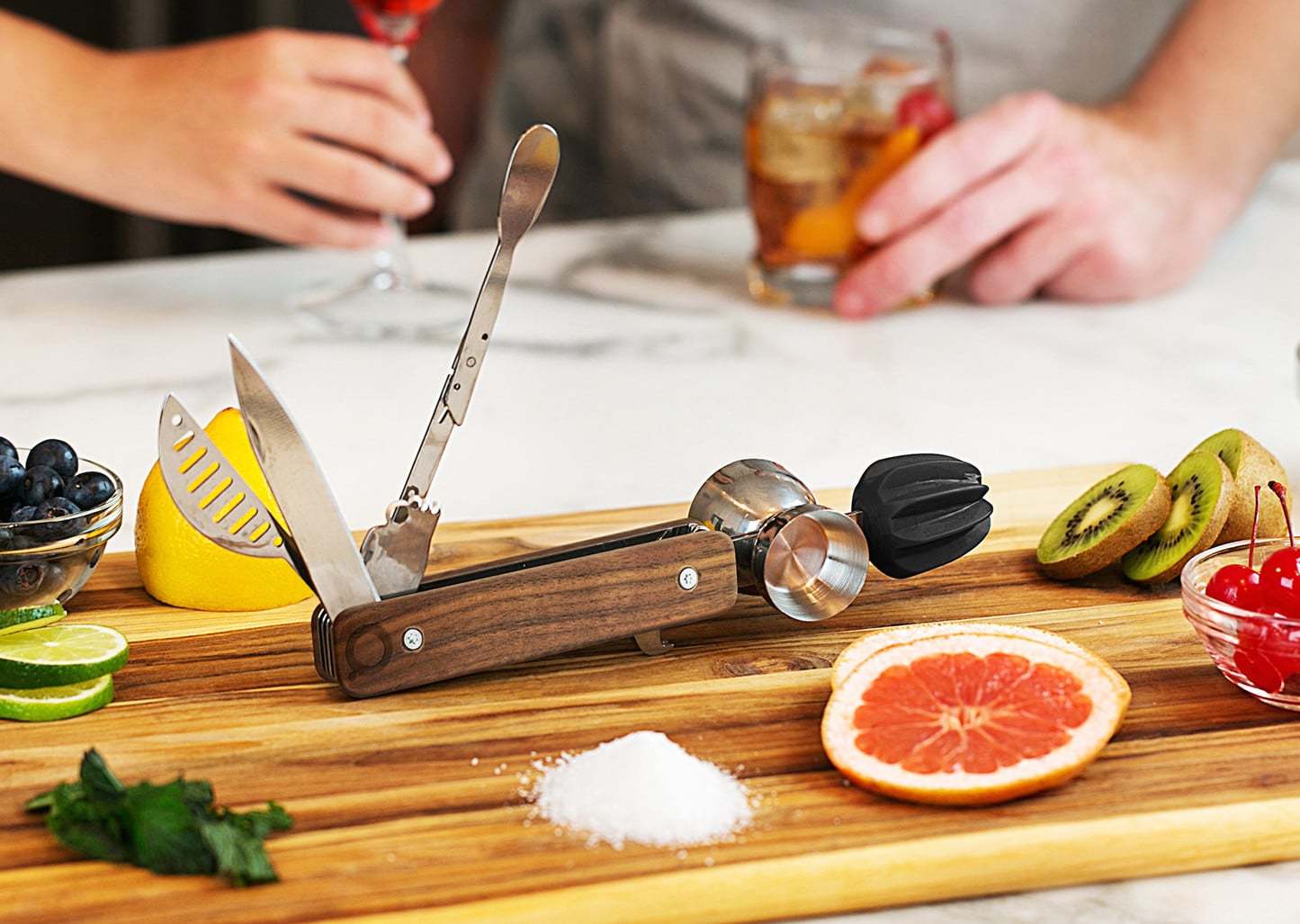 Made of high quality stainless steel and available in several colors, this 10-in-1 ultimate bartending tool includes a Muddler, Knife, Reamer, Stirrer, Strainer, Corkscrew, and everything else your at-home bartender needs.
Bacon Candy Canes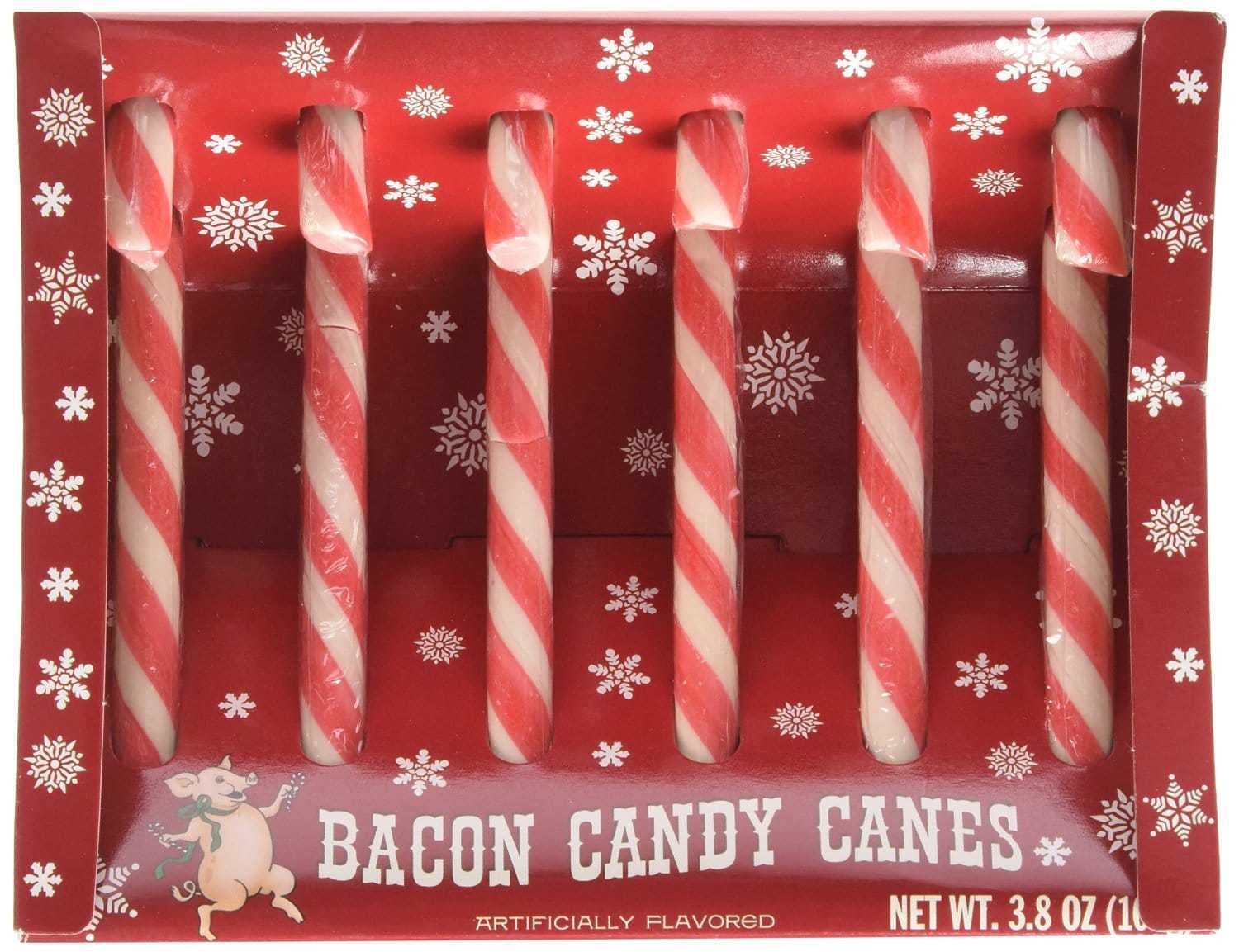 Love bacon? Love candy canes? Well, they're going to love these bacon flavored candy canes. A fun stocking stuffer the whole family will love – and there's enough to go around!
Corkcicle Color Wine Chiller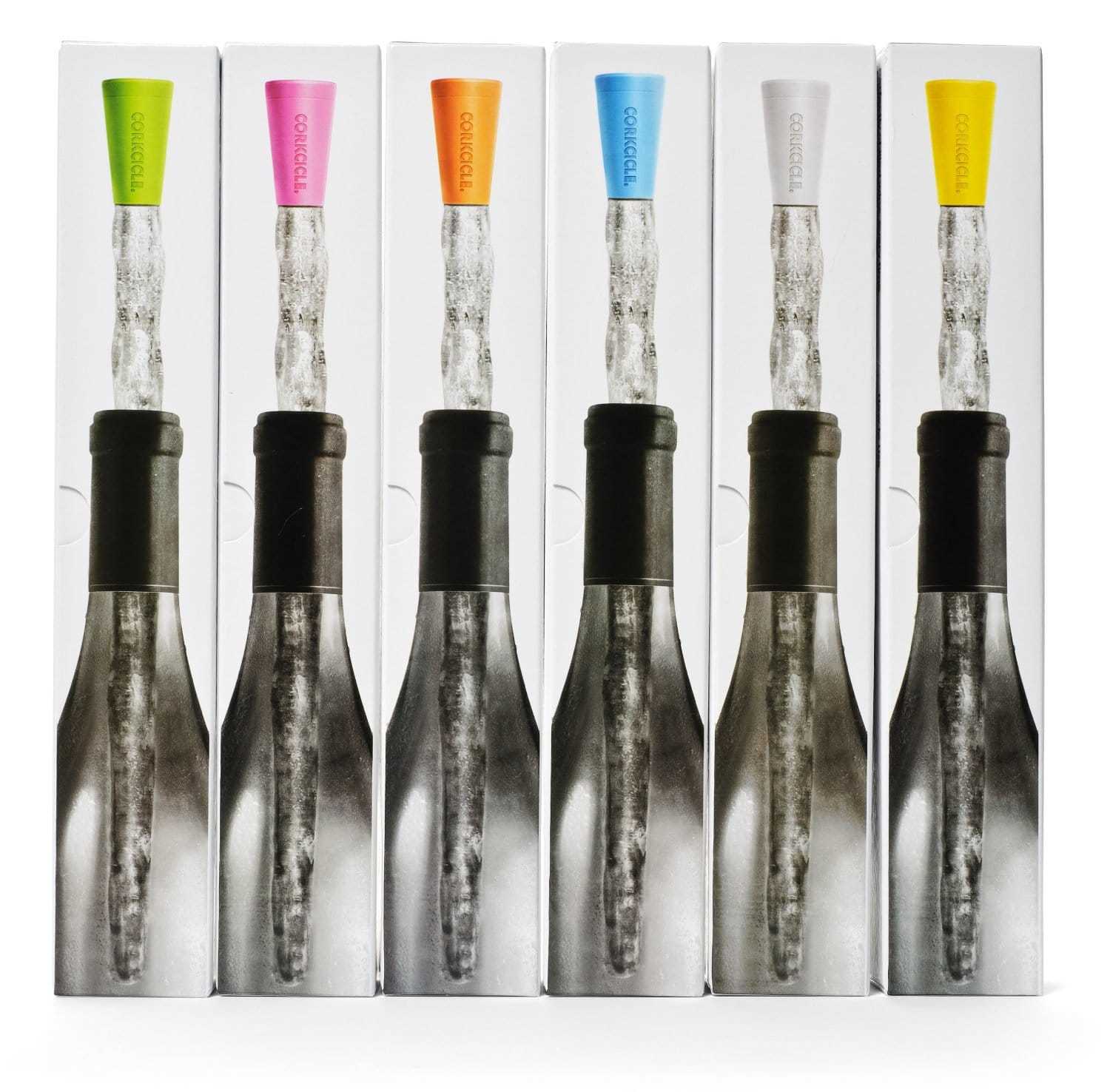 The best stocking stuffer for a wine lover? The Corkcicle, which makes sure their whites stay chilled 'til the last sip.
Acorn Bluetooth Portable Speaker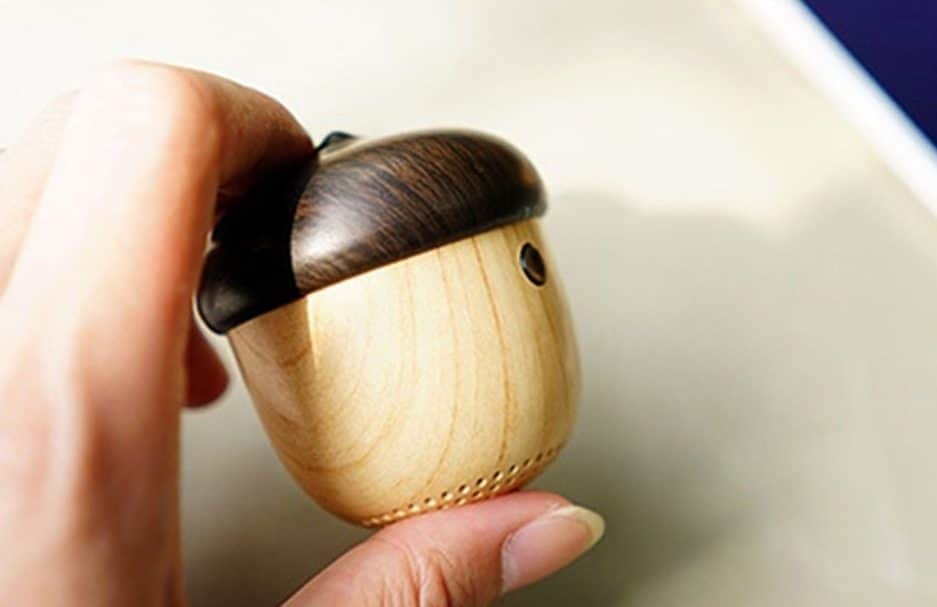 Hand crafted from high quality bamboo, this portable acorn speaker works with iPhones, iPads, tablets, and any other bluetooth device. Cute and functional – the perfect stocking stuffer.
Granite Whiskey Chilling Stones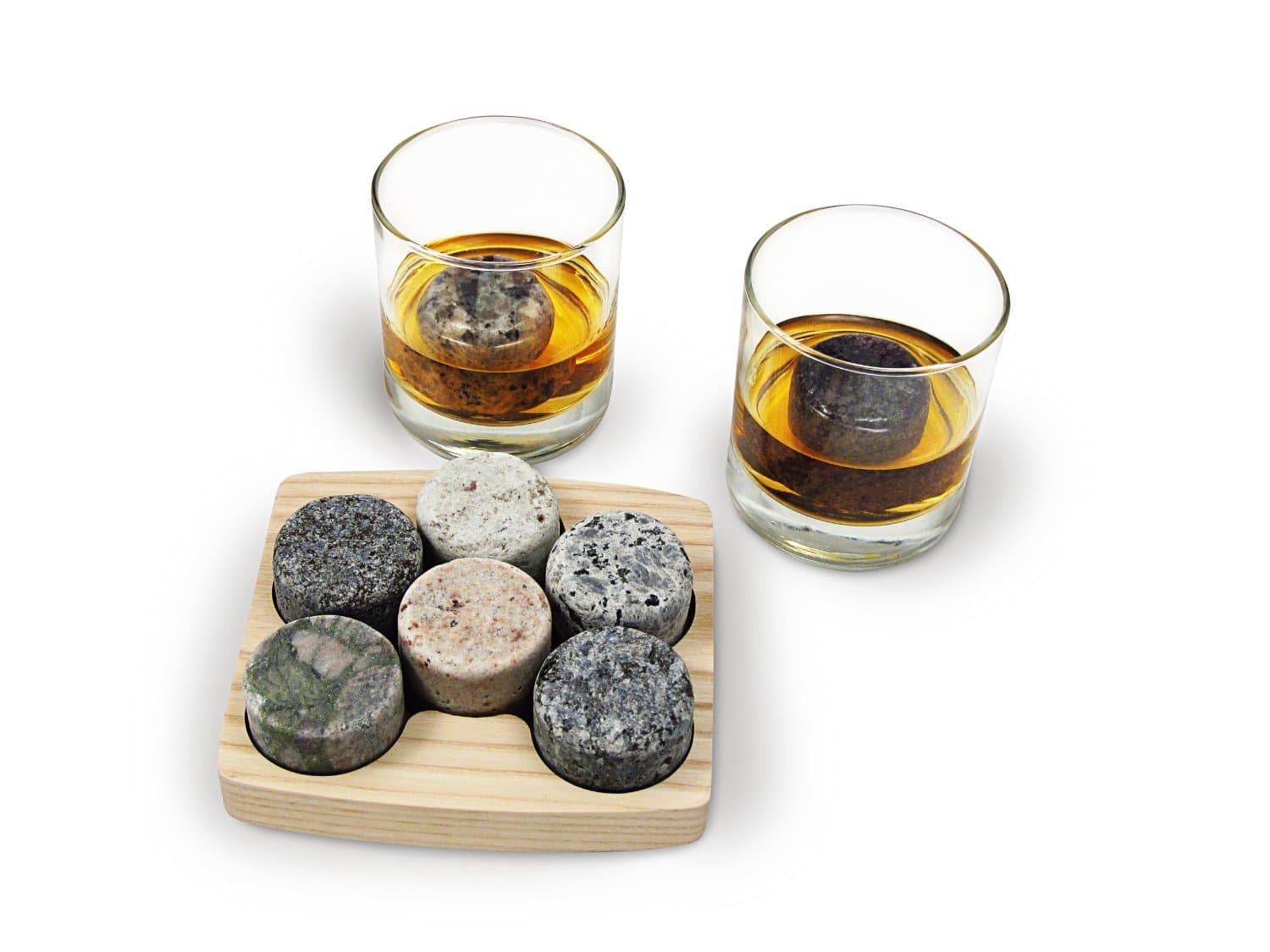 Beautiful granite chilling stones keep drinks cold without watering them down.
Canned Unicorn Meat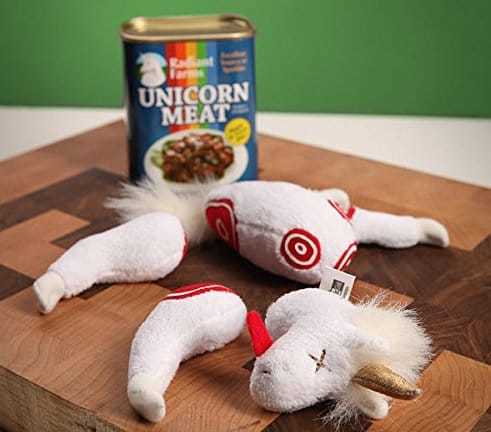 A fun stocking stuffer people of all ages will get a laugh out of. Even vegans – there is no canned meat of any kind inside, they'll find a tiny dead unicorn.
Milk Frother Wand with Stand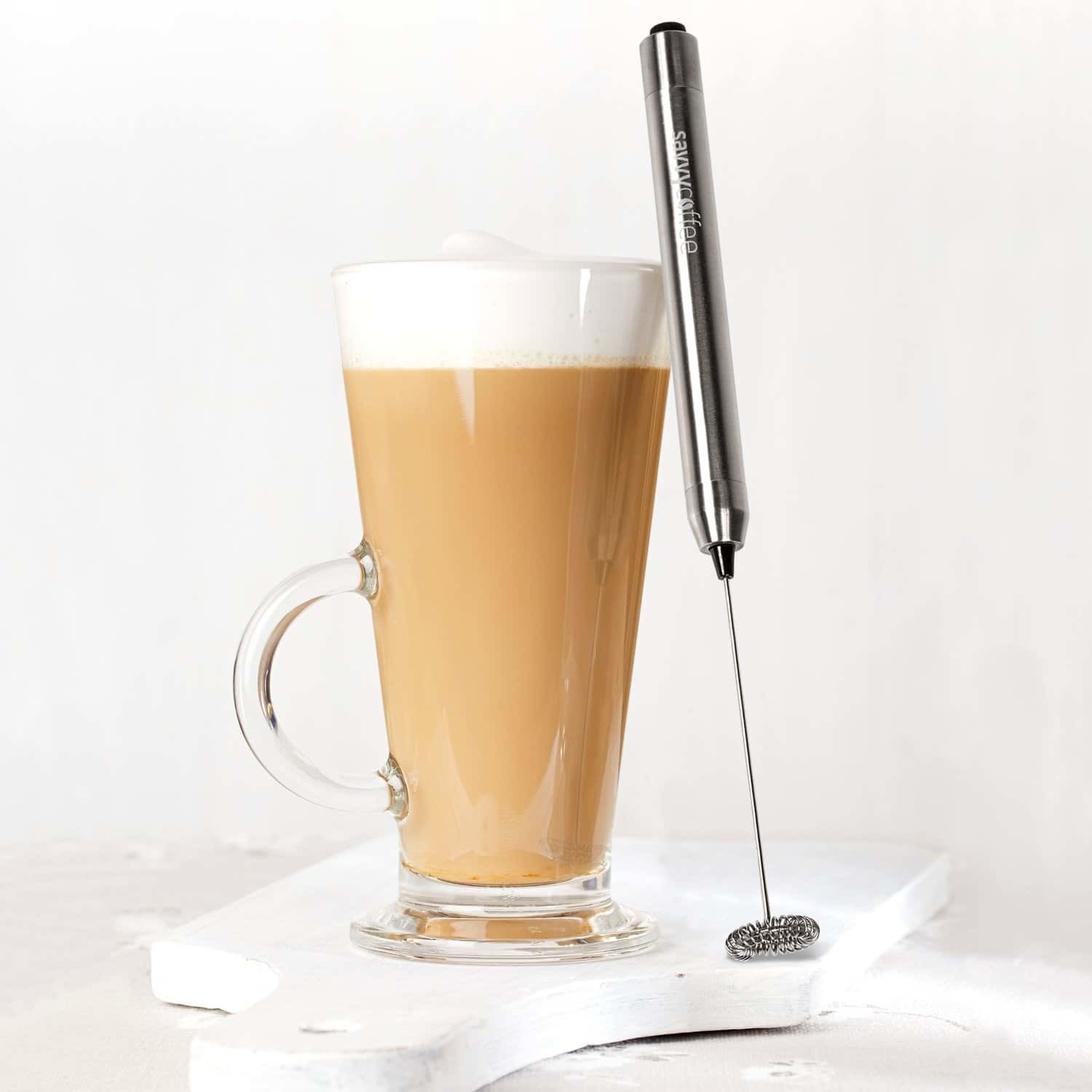 Make every single cup of home-brewed coffee as deliciously frothy as you'd expect at the poshest cafe. This awesomely little handheld frother whips up luxuriously lovely foam in under 20 seconds!
Beautifully crafted in stainless steel and it comes with its own stand.
Mustache Cork Coasters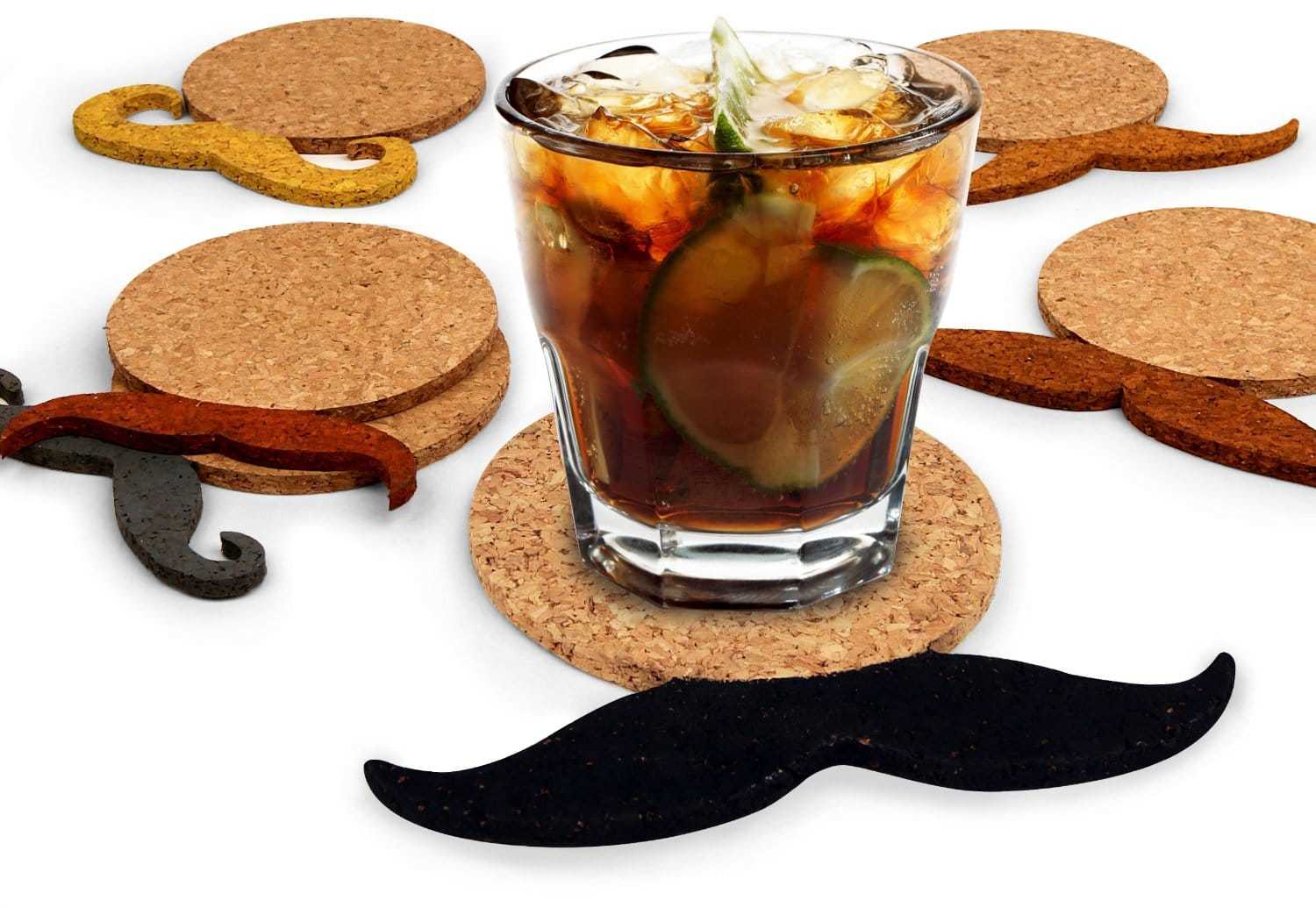 Sip in style with these classy cork mustache coasters.
Keep Calm and Carry On Desk Notes

There's nothing like the holidays to remind everyone that things can get really, really crazy chaotic. Help your friend keep calm and carry on the rest of the year with these handy desk notes.
Minions Tic Tacs
Is there a Minions fan in the world who won't love this? Tiny little tic tacs. Shaped like tiny little minions. Too cute…but not too cute to eat!
Family Dinner Box Of Questions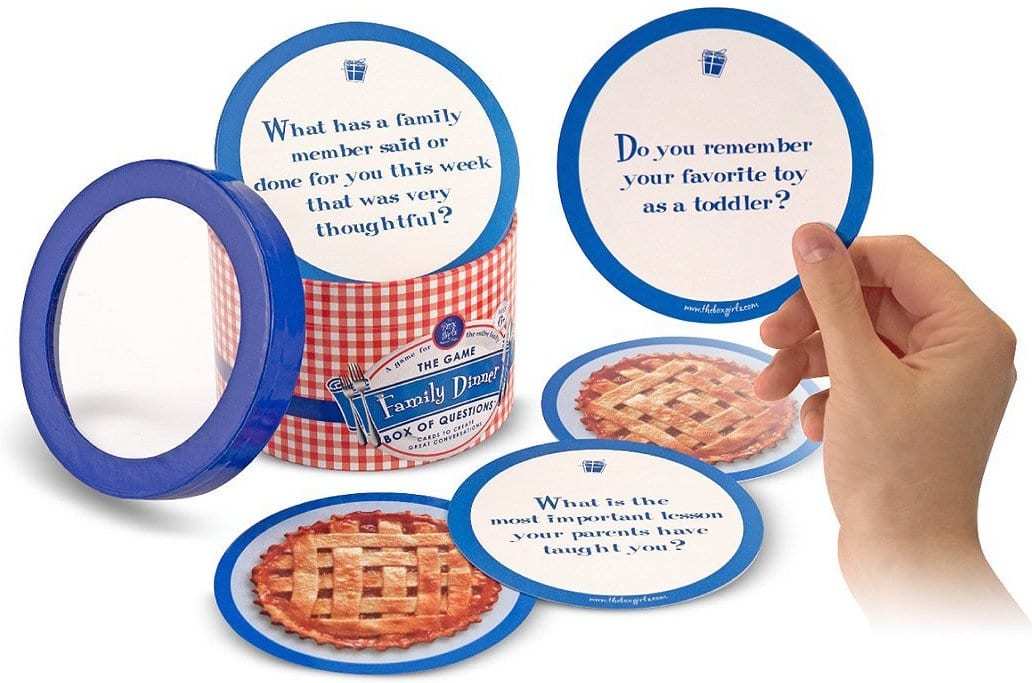 This awesome little box will be wonderfully at home on your kitchen table, where it holds 82 fun conversation starters guaranteed to get your family – yes, even the teenagers – talking, sharing and bonding as a family.
Crocodile Bookmarks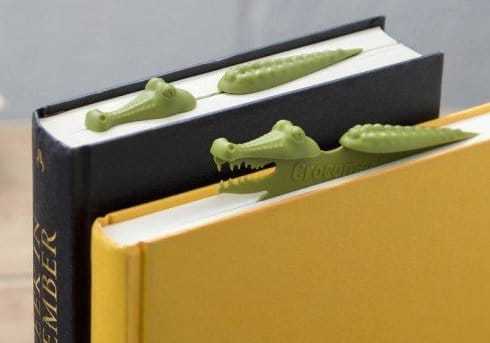 A bookmark. Shaped like a crocodile submerged under water. The coolest thing any bookworm could hope to find in their stocking.
13-Piece Painting Set with Mini Easel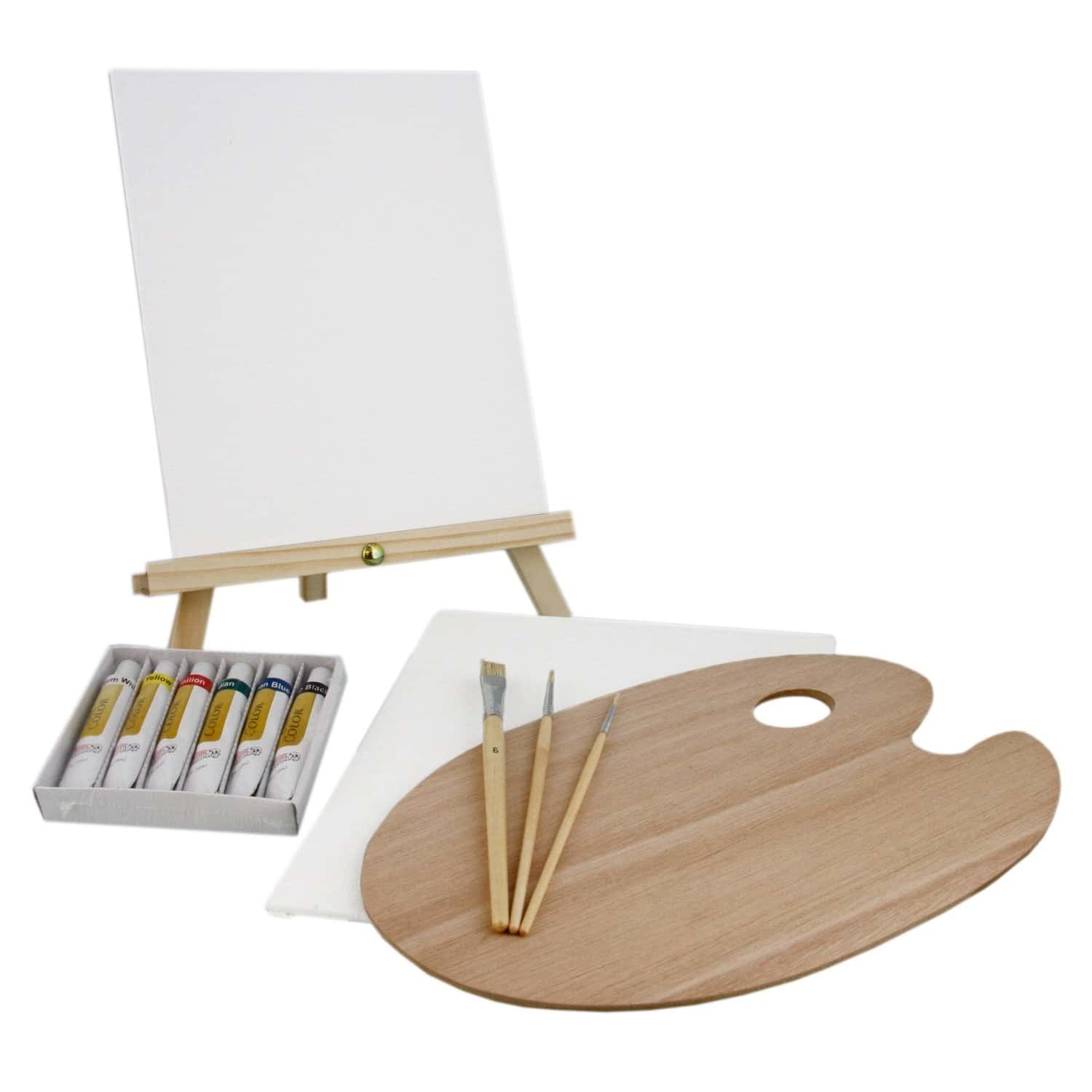 Know a budding painter? Here's a beautiful way to get them started. This 13-piece oil painting set comes complete with a mini table easel and wood palette.
Burt's Bees Hand Repair Gift Set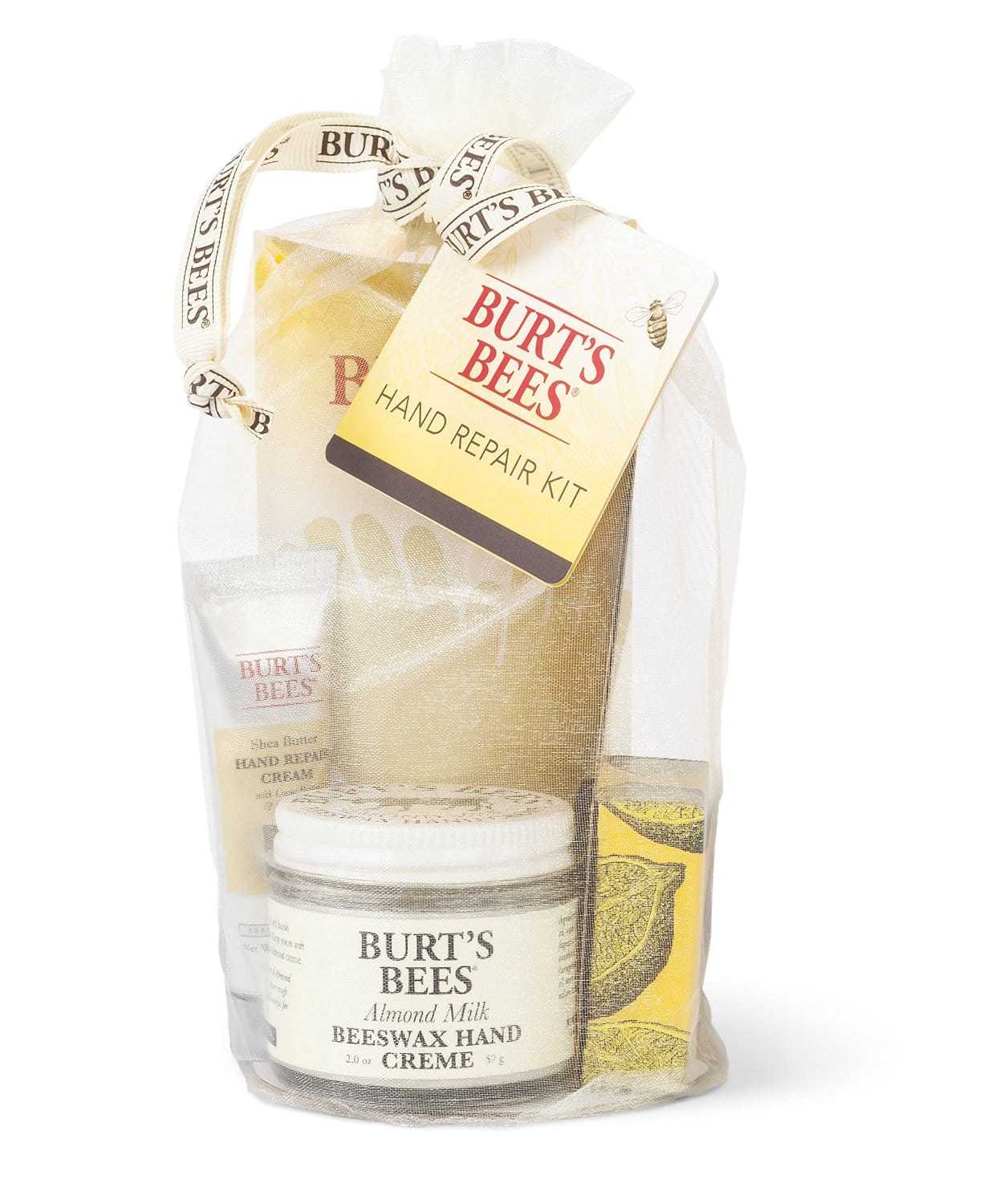 This perfect stocking stuffer comes endowed with everything you need to protect your hands from the harsh winter winds: Lemon Butter Cuticle Cream to soften cuticles and nourish nails, Almond Milk Beeswax Hand Cream to keep your hands soft and smooth, and Shea Butter Hand Repair Cream to help hydrate and soften rough, dry hands.
All packaged in a lovely gift bag with a pair of cotton gloves.
Dammit Dolls for Stress Relief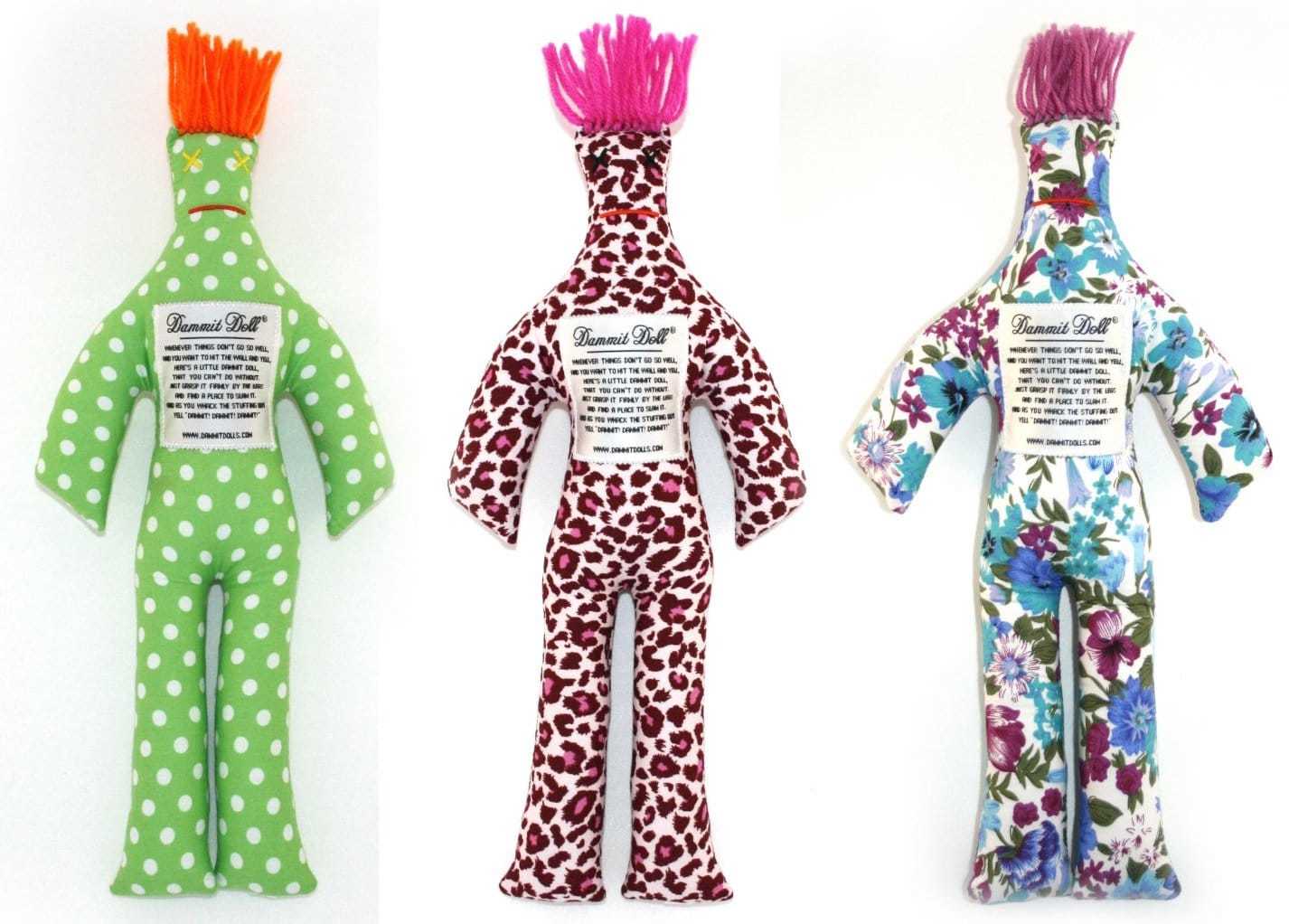 Here's one of the most creative stocking stuffers you can gift to pretty much anyone. After all, who doesn't experience stress, anger or frustration? Each Dammit Doll comes with a note of instructions attached that reads…"Whenever things don't go so well, and you want to hit the wall and yell, here's a little dammit doll, that you can't do without. Just grasp it firmly by the legs and find a place to slam it. And as you whack the stuffing out yell 'dammit! dammit! dammit!'"
Guaranteed to bring laughter.
Rainbow Mini Scratch Art Notes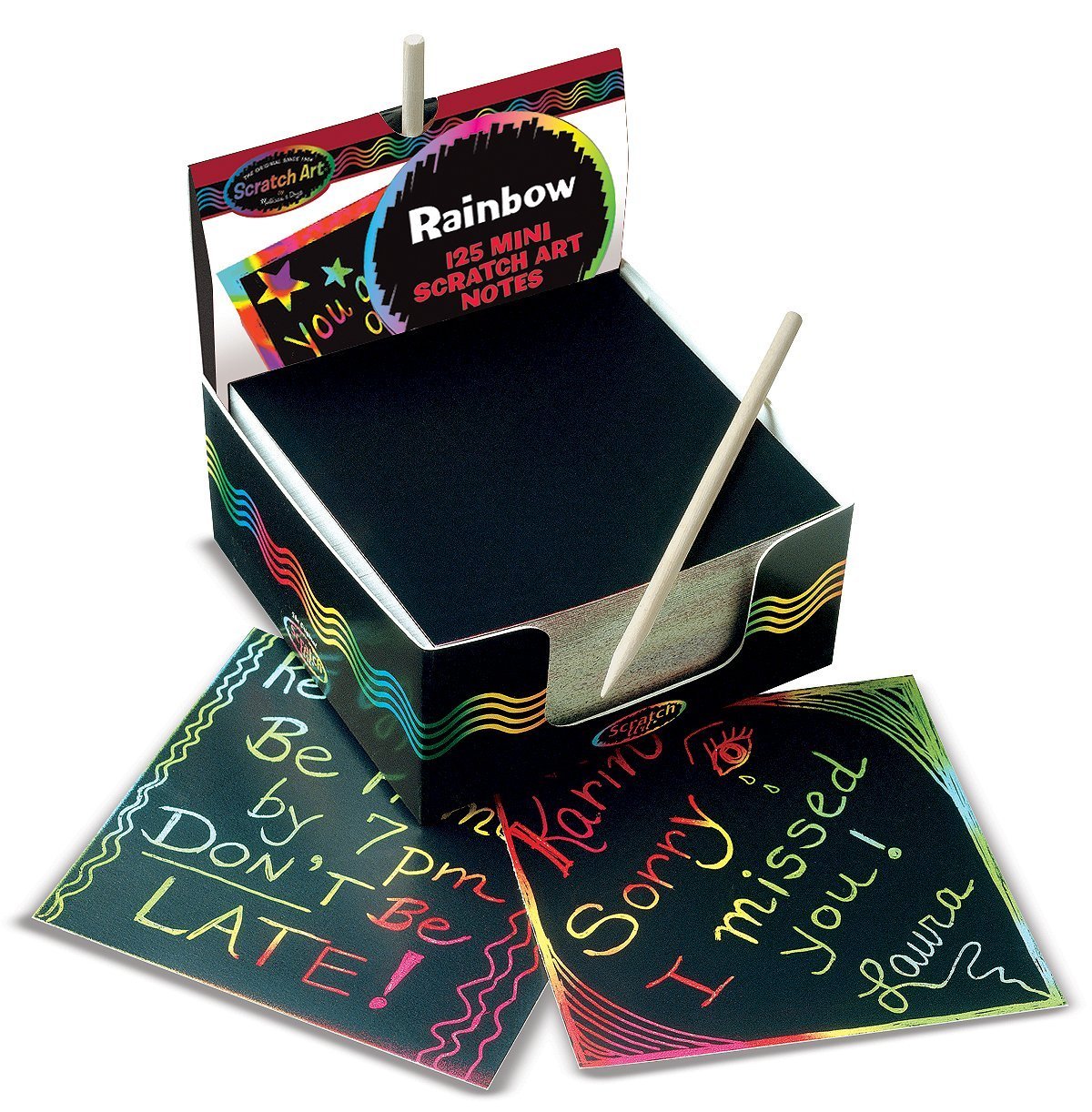 These are just awesome. I mean, we all have our daily to-do lists, grocery lists, reminders, etc…so why not brighten it all up? These great rainbow notes have a plain, matte facade but use the little wooden pen to scratch your message and reveal the beautiful colors hiding underneath. They'll make you want to leave little notes for everything and everyone.
Chocolate Coal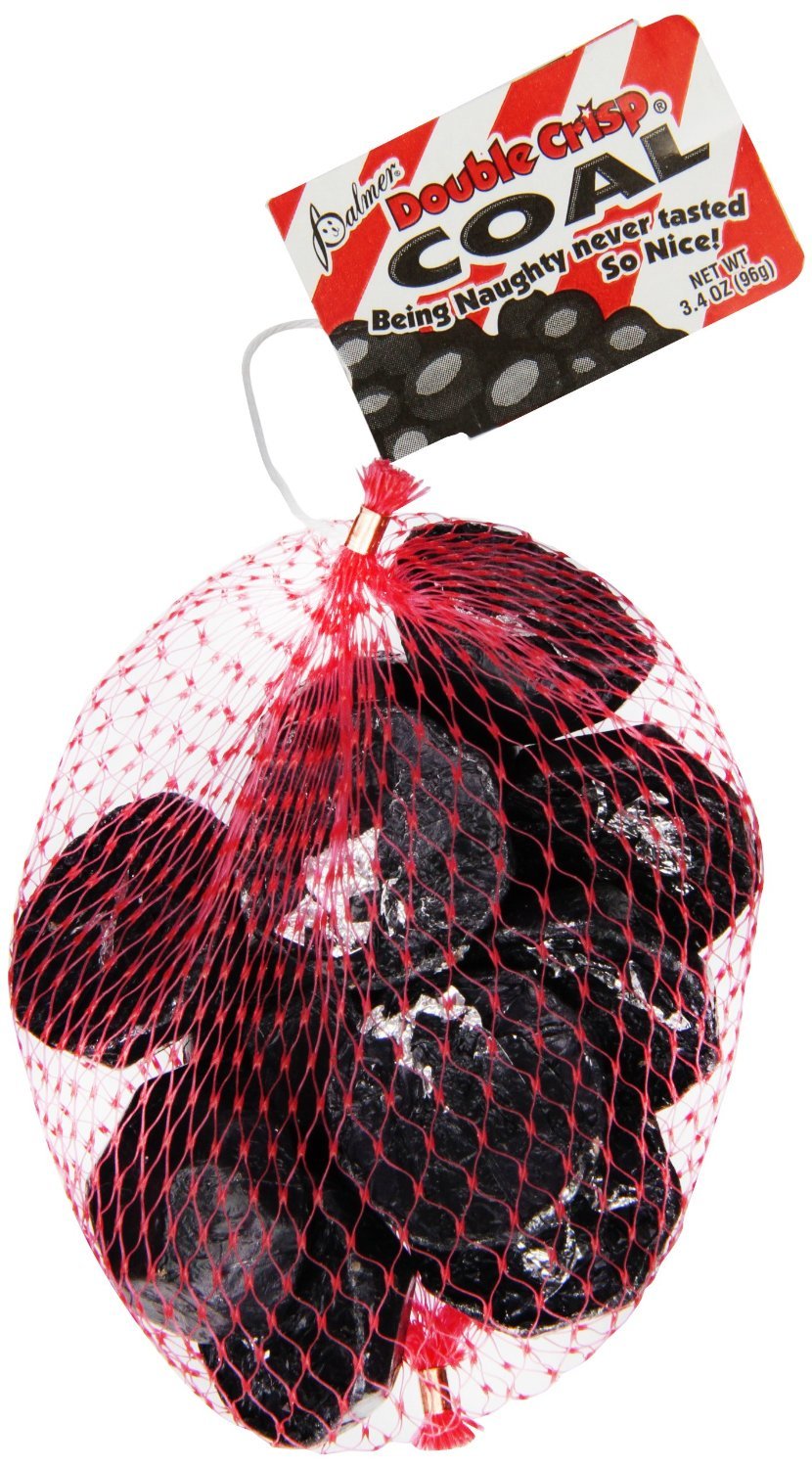 These lovely chocolates make it a pleasure to receive coal for Christmas.
Amco Rub Away Bar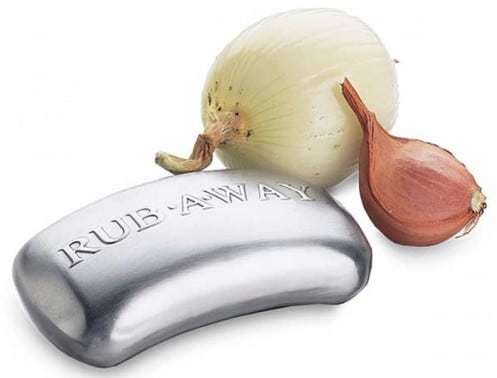 This cool little silver bar is a miracle worker. Especially for people who cook garlic, fish and other things that you don't want to smell like.  All you gotta do is rub this stainless steel bar and voila! No more odor on your hands.
Makes the perfect stocking stuffer for chefs!
Bacon Flavored Toothpicks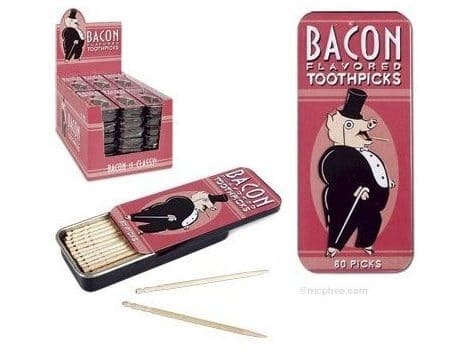 You know what sucks about eating bacon? When you've finished eating it. Oh, and the calories…and the cholesterol…but hey, know what doesn't have calories and won't raise your cholesterol? Bacon-flavored toothpicks! This way, you can have bacon even after you've had bacon :)
Hot Chocolate on a Stick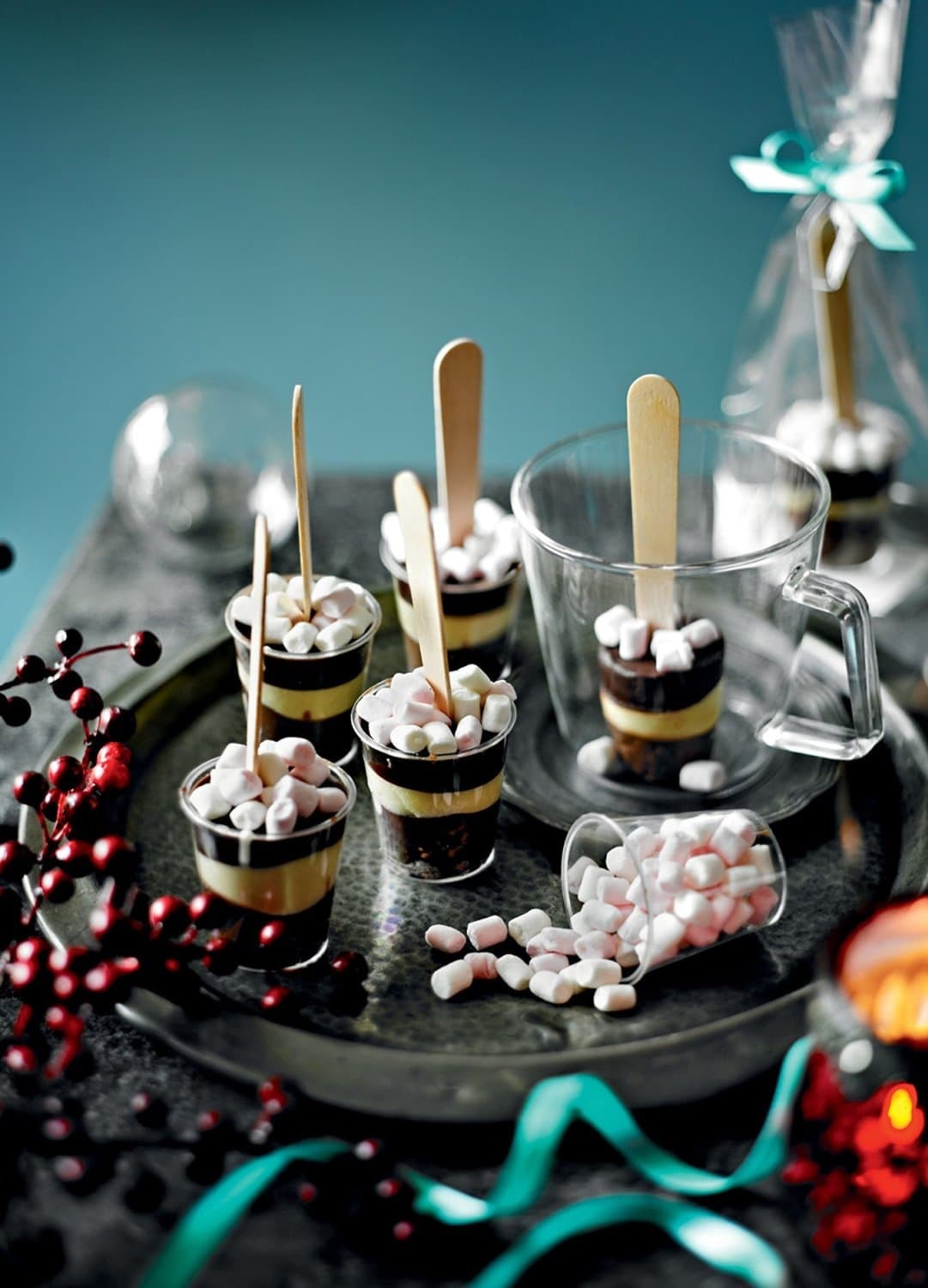 Is there anything better than a cup of hot chocolate on a cold winter day? Why, yes. Yes, there is – gourmet hot chocolate on a spoon. These heavenly delights are made from premium Ghirardelli dark chocolate, premium Ghirardelli white chocolate and a whole lot of marshmallows.
Now all you need is a glass of hot milk to stir it into!
Sonoma Lavender Spa Booties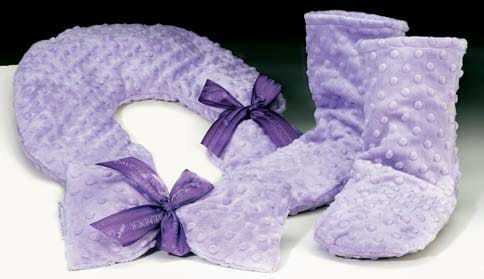 Here's a stocking stuffer they'll want to start using right away! These lavender scented spa booties can be microwaved for warm, relaxed feet.
DoubleKick Energizing Hot Sauce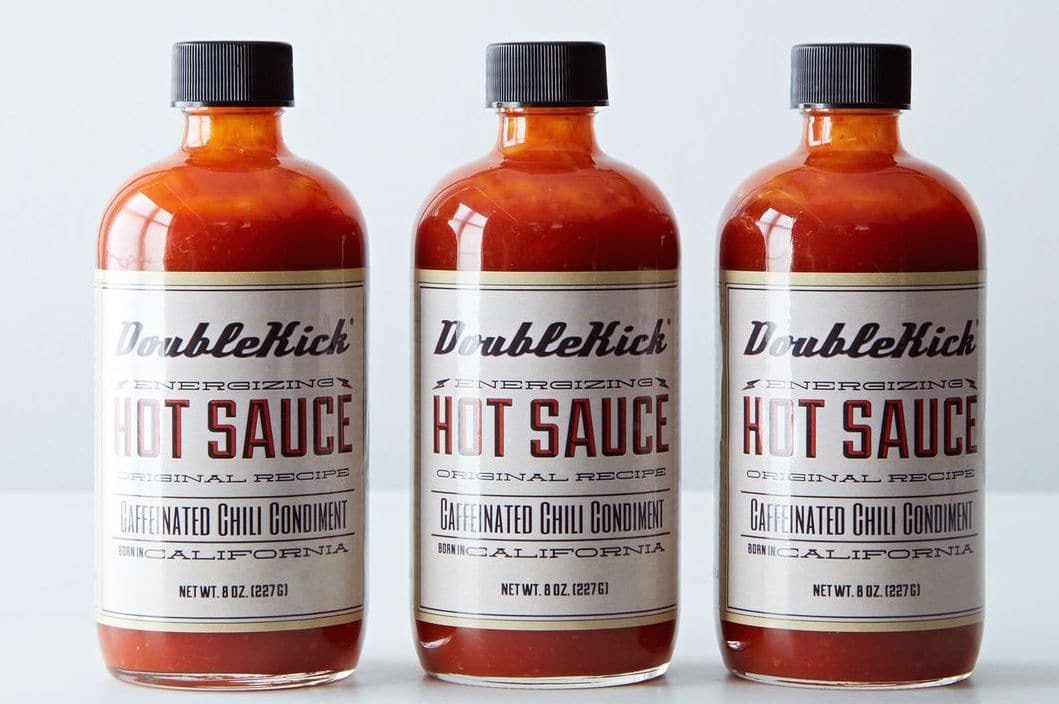 Get your caffeine and hot sauce in one awesome package – these caffeinated chili sauces come with ginger and caffeine for a supercharged energy boost!
Gin and Titonic Ice Tray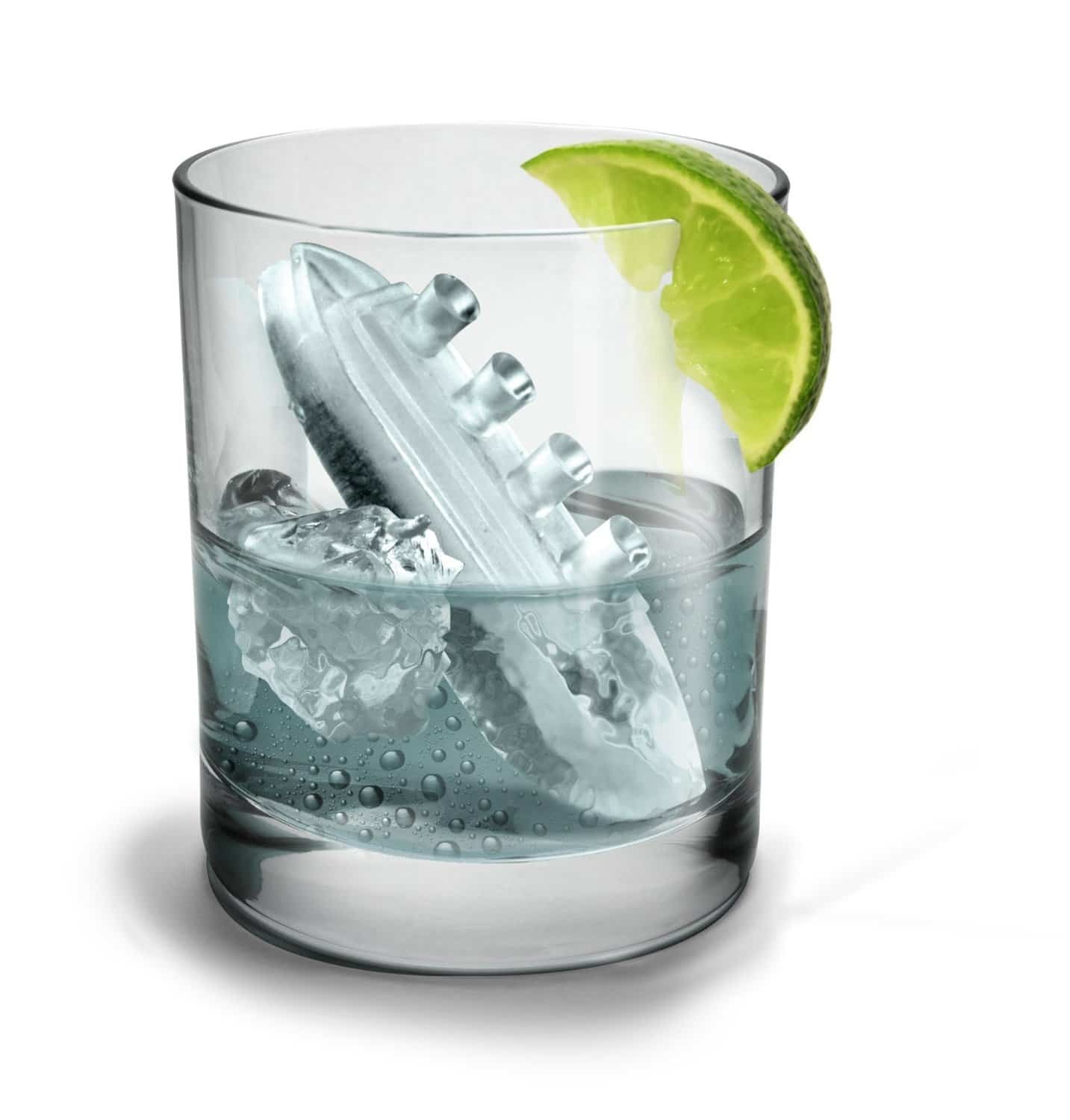 Who doesn't want a bunch of icebergs and ocean liners in their glass? No one, that's who. Make every cold drink a helluva lot more interesting with these fun Titonic stocking stuffers!
Shakespearean Insult Bandages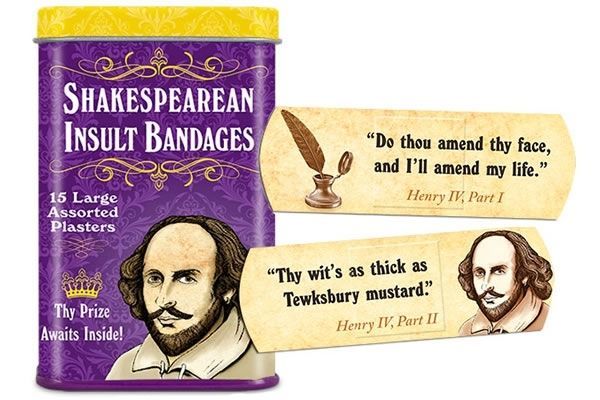 Make every boo boo hilarious with these Shakespearean insult bandaids. Includes classics like "Thy breath stinks with eating toasted cheese!" and "Thou art a beetle-headed, flap-eared knave!"
SUCK UK Drumstick Pencils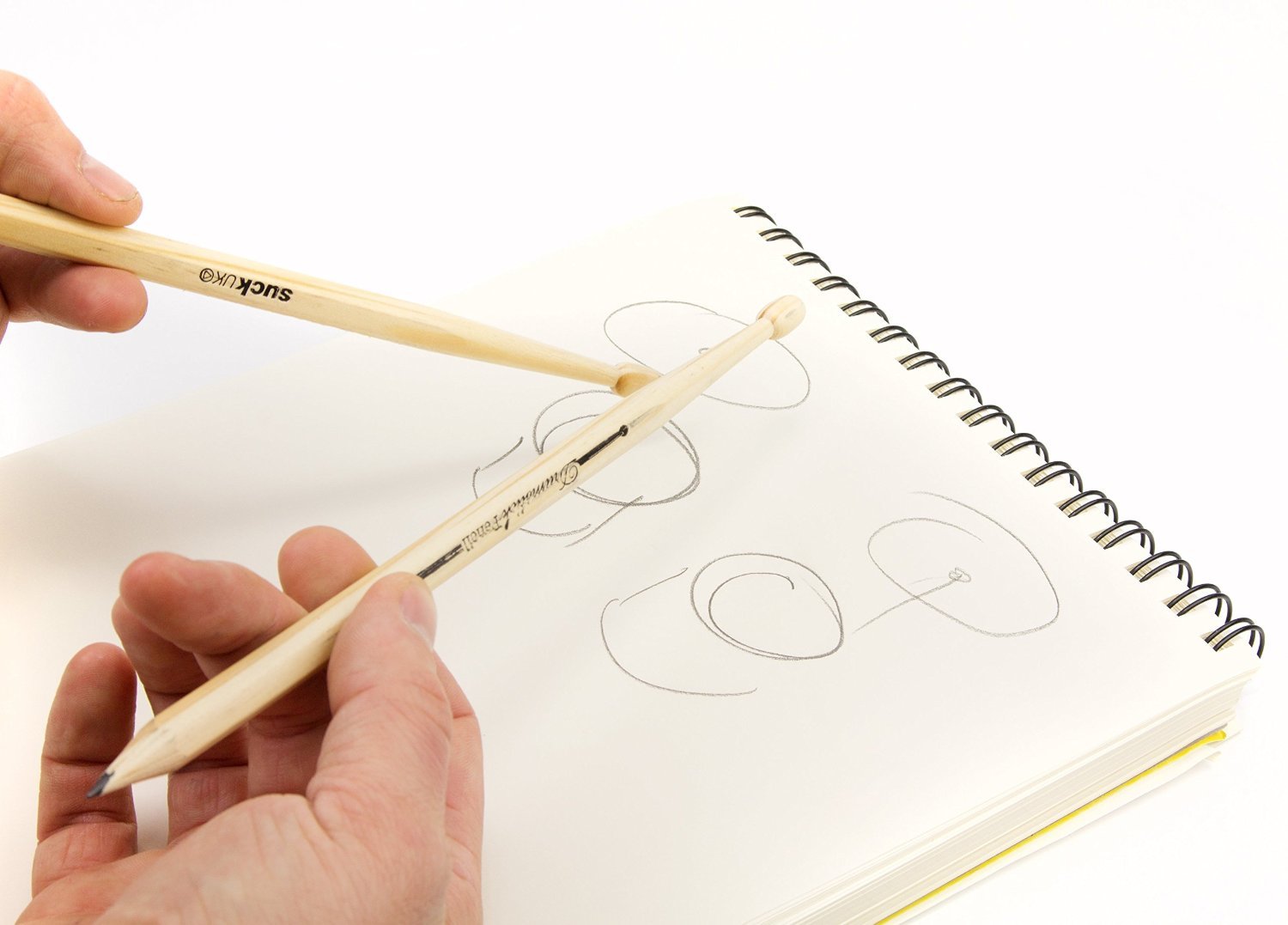 Take doodling up a notch with these drumstick pencils. Makes the perfect novelty stocking stuffer that both kids and adults will love.
Personalized Fishing Lure Hook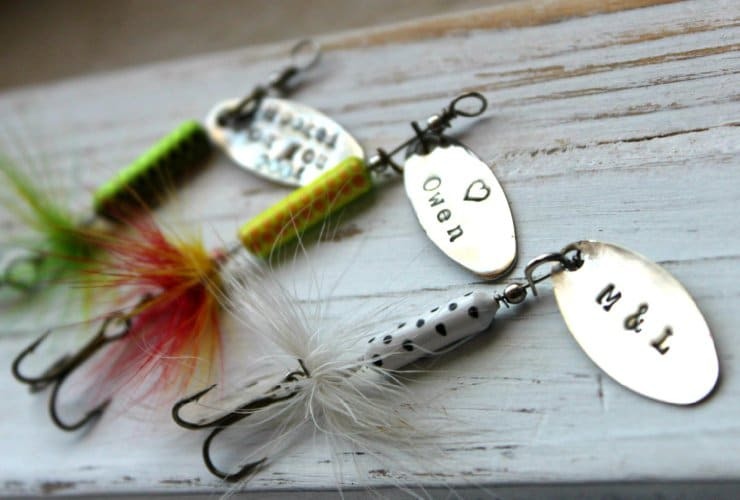 Know someone who loves fishing? Here's a great, personalized stocking stuffer perfect for them! Each lure comes with a hand-stamped message of your choosing!
Adult Coloring Books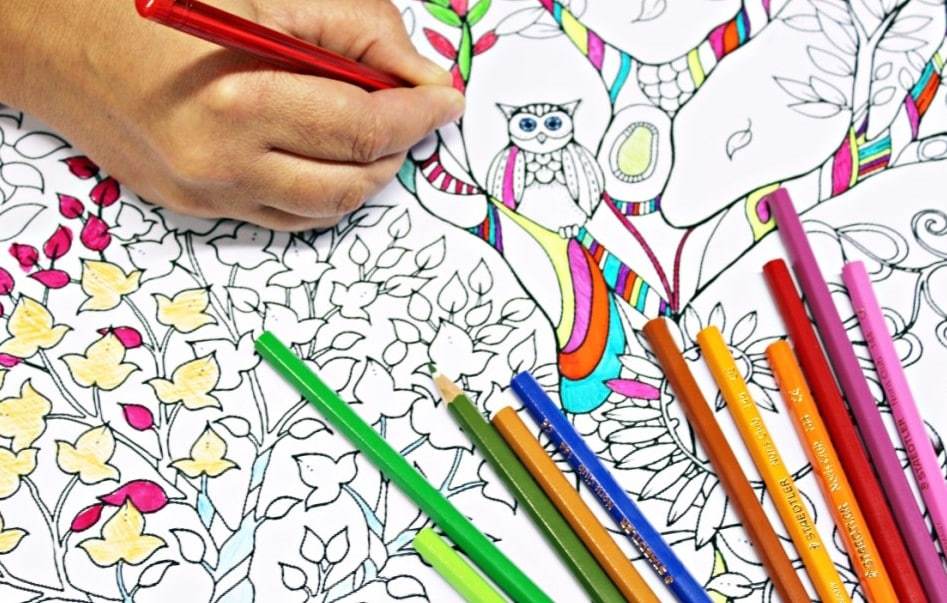 What adult doesn't miss the blissful simplicity of yesteryears when there were no bills to pay and coloring all day? Help them clear their minds and create beautiful works of art with this great stocking stuffer for adults.
iPhone Charger & Cord Lock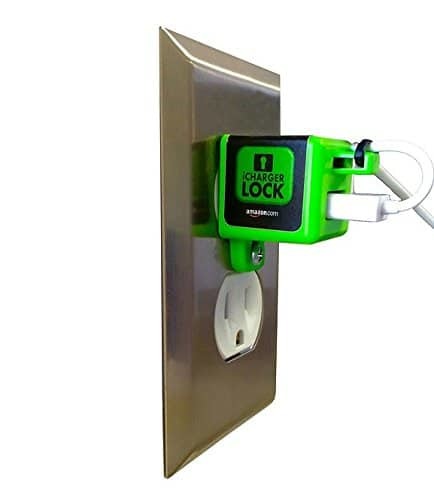 When you live in a family full of iPhone users, you live in perpetual fear that someone will snatch your charger and claim it as their own. Prevent that from ever happening again with this brilliant charger lock.
Screaming Slingshot Sock Monkeys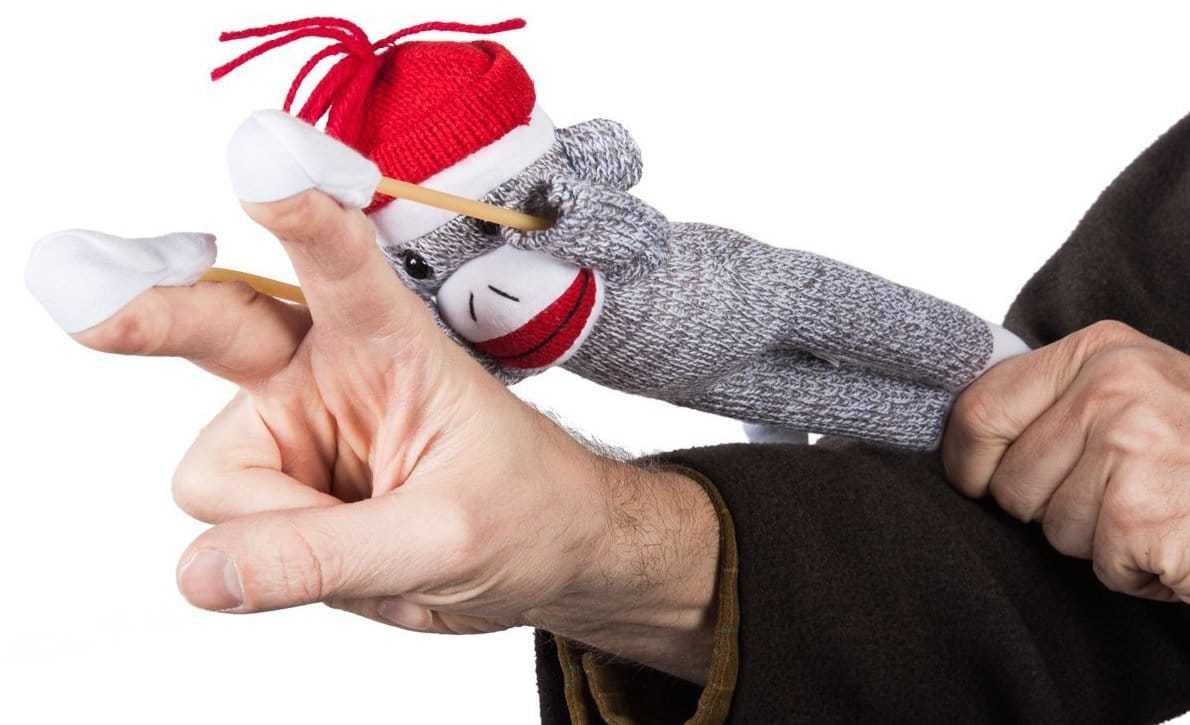 A hilariously fun stocking stuffer for kids and kids-at-heart adults, these slingshot monkeys "fly" up to 50 feet and scream when they hit the ground.
Bath Bombs Gift Set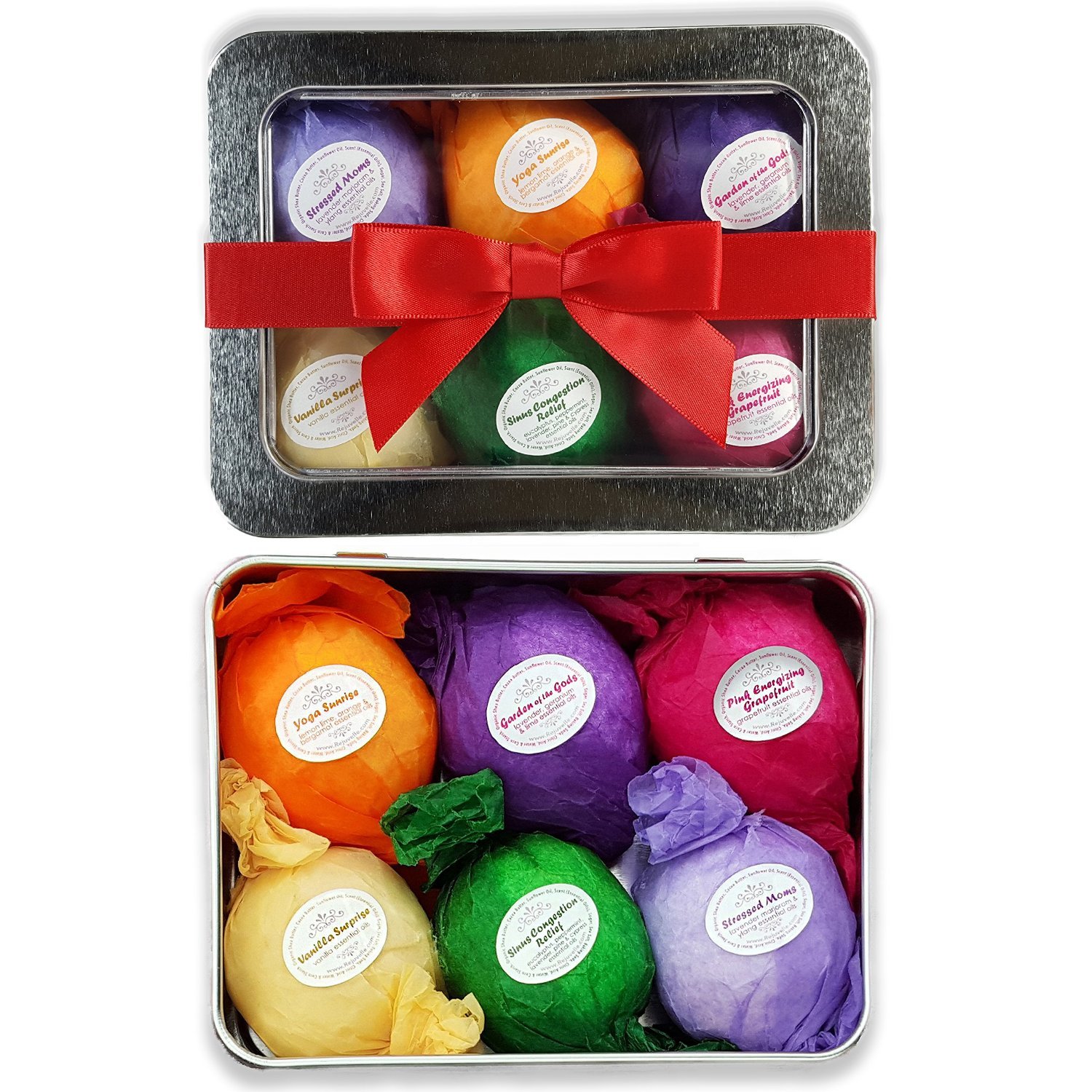 What's the best stocking stuffer to help them unwind from the chaos of the holidays? A spa experience at home. These organic bath bombs are perfect for that. Infused with essential oils, cocoa butter and shea butter, these lovely bombs moisturize while delivering scents that help Relax , Detox, Energize, Destress, and more!
Dude Wipes Flushable Wipes

Unscented and soothing wipes specially formulated for dudes. Makes a funny, useful stocking stuffer for men!
Turbie Twist Microfiber Hair Towels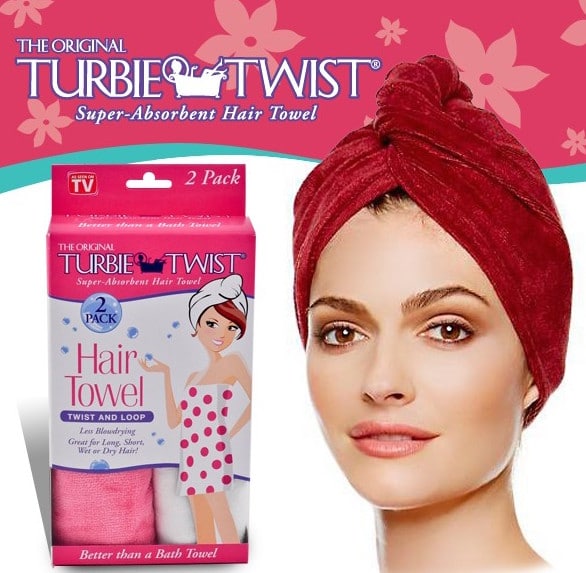 Know someone with long hair? They'll love these – they're super soft, they're super absorbent, they're super easy to use and the best part? They're super gentle on delicate, wet hair which translates to less breakage.
Cleaning Pads for Touchscreens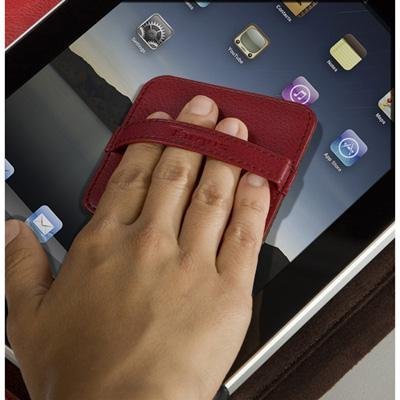 Everyone's got a touchscreen device of some sort and all these devices gets really dirty, really quickly. Help them keep it clean with these leather-like reusable cleaning pads – makes a wonderfully useful stocking stuffer.
Passive Aggressive Notes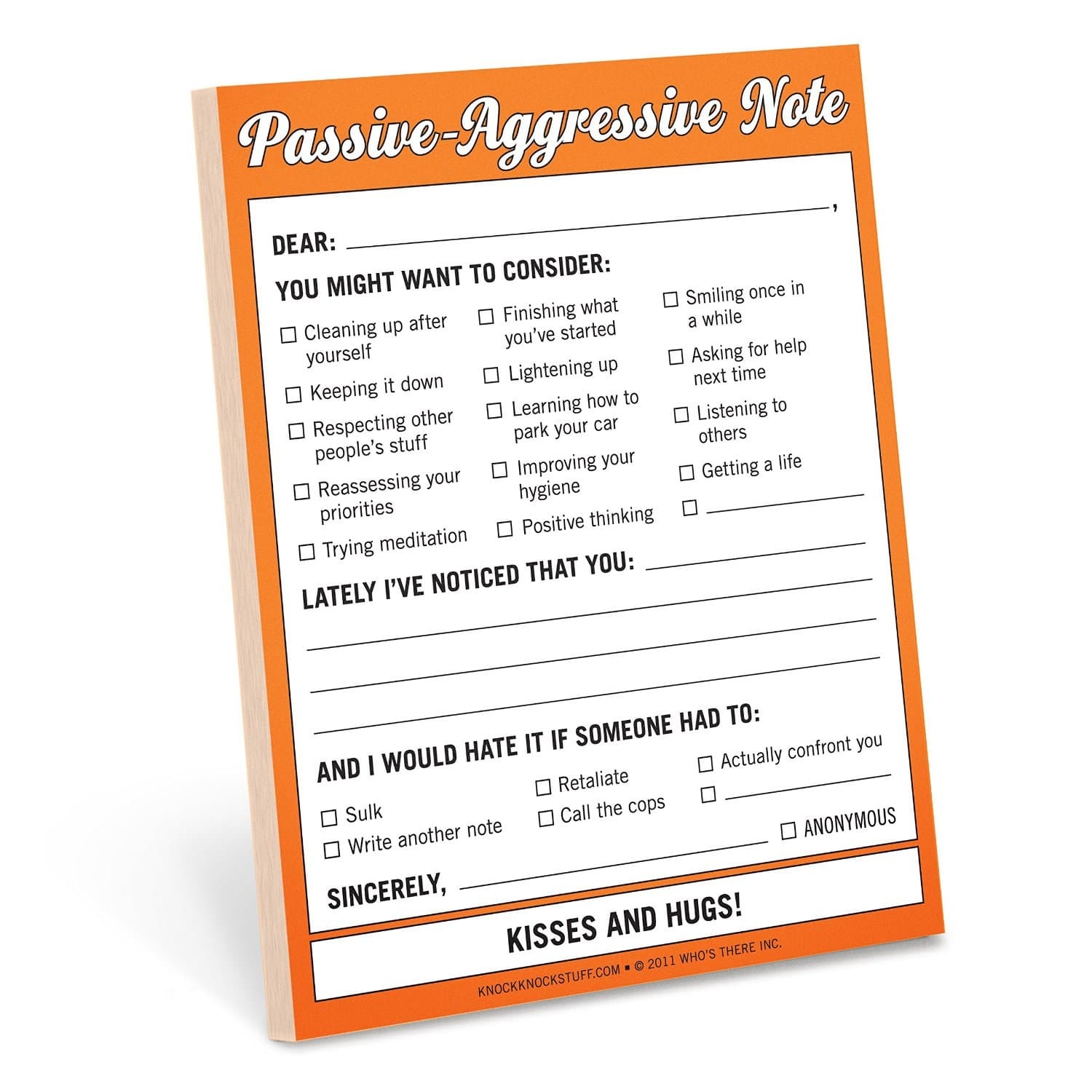 We're all so polite these days…yet some things just have to be said. Thankfully, these passive aggressive notes say it for you.
The North Face Men's Etip Gloves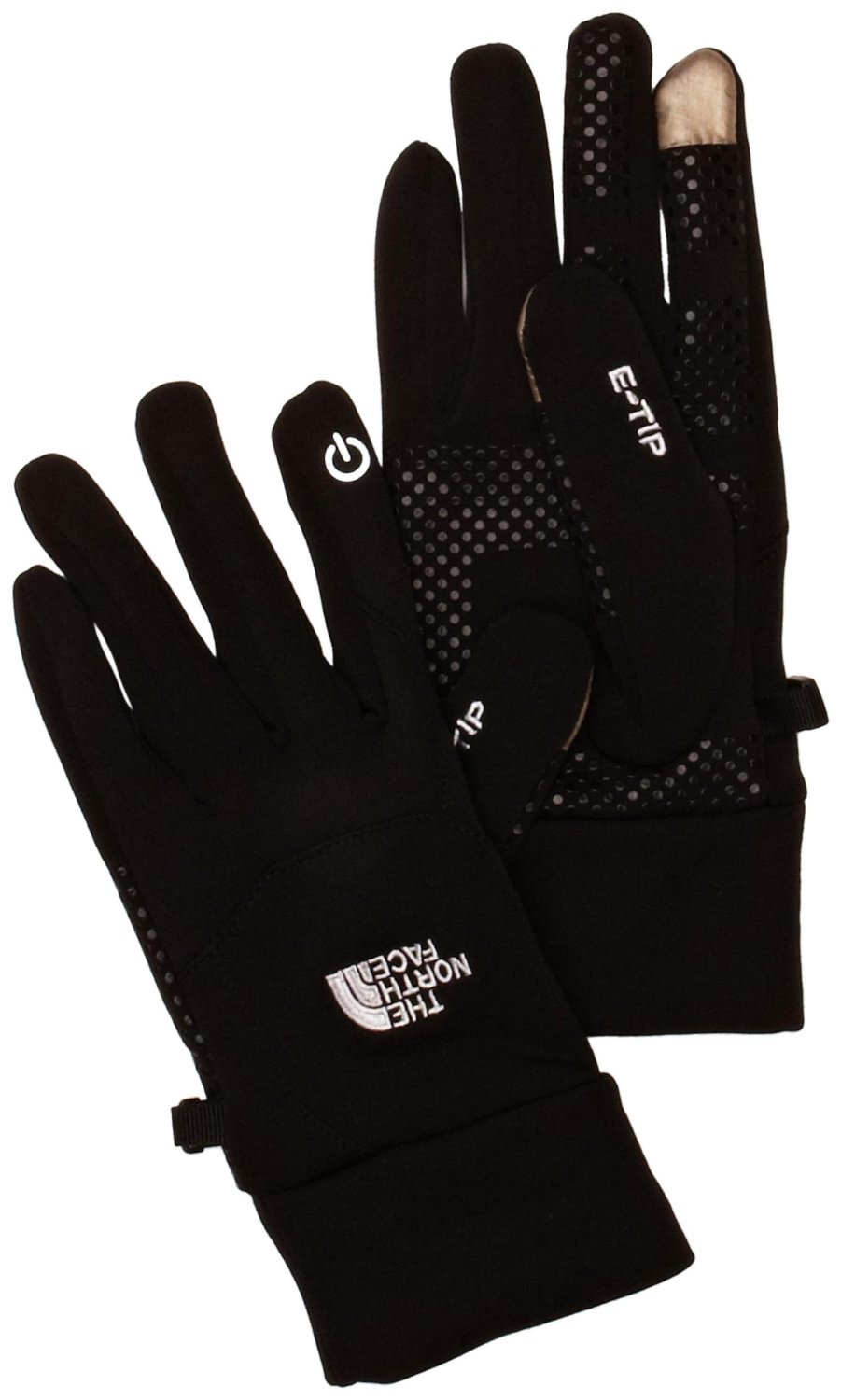 Keep hands warm and use your phone at the same time with these touchtip gloves!
Crystal Skull Shotglass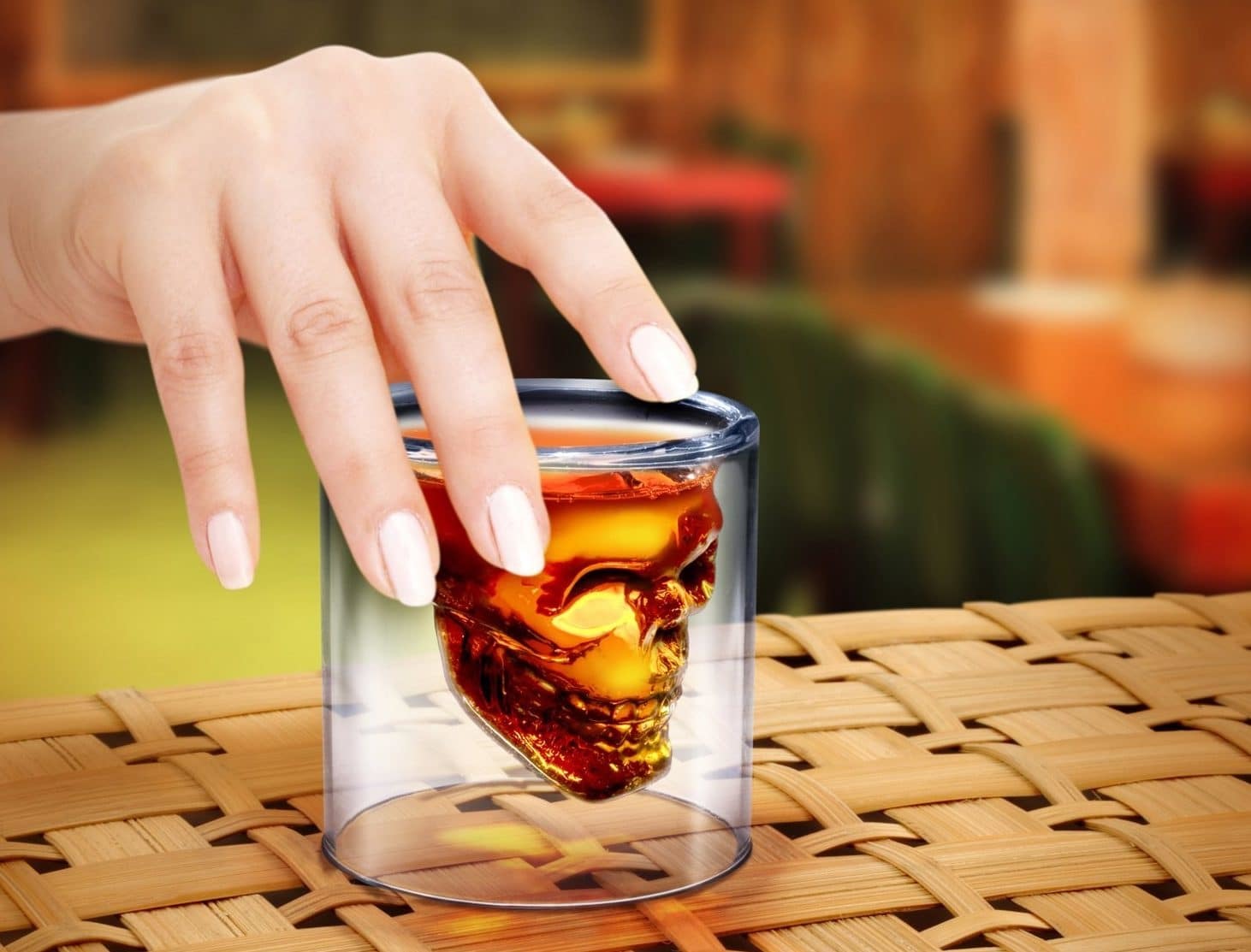 Drinking whiskey neat not bada** enough? Pour it into a crystal skull shotglass.
Temporary Metallic Tattoos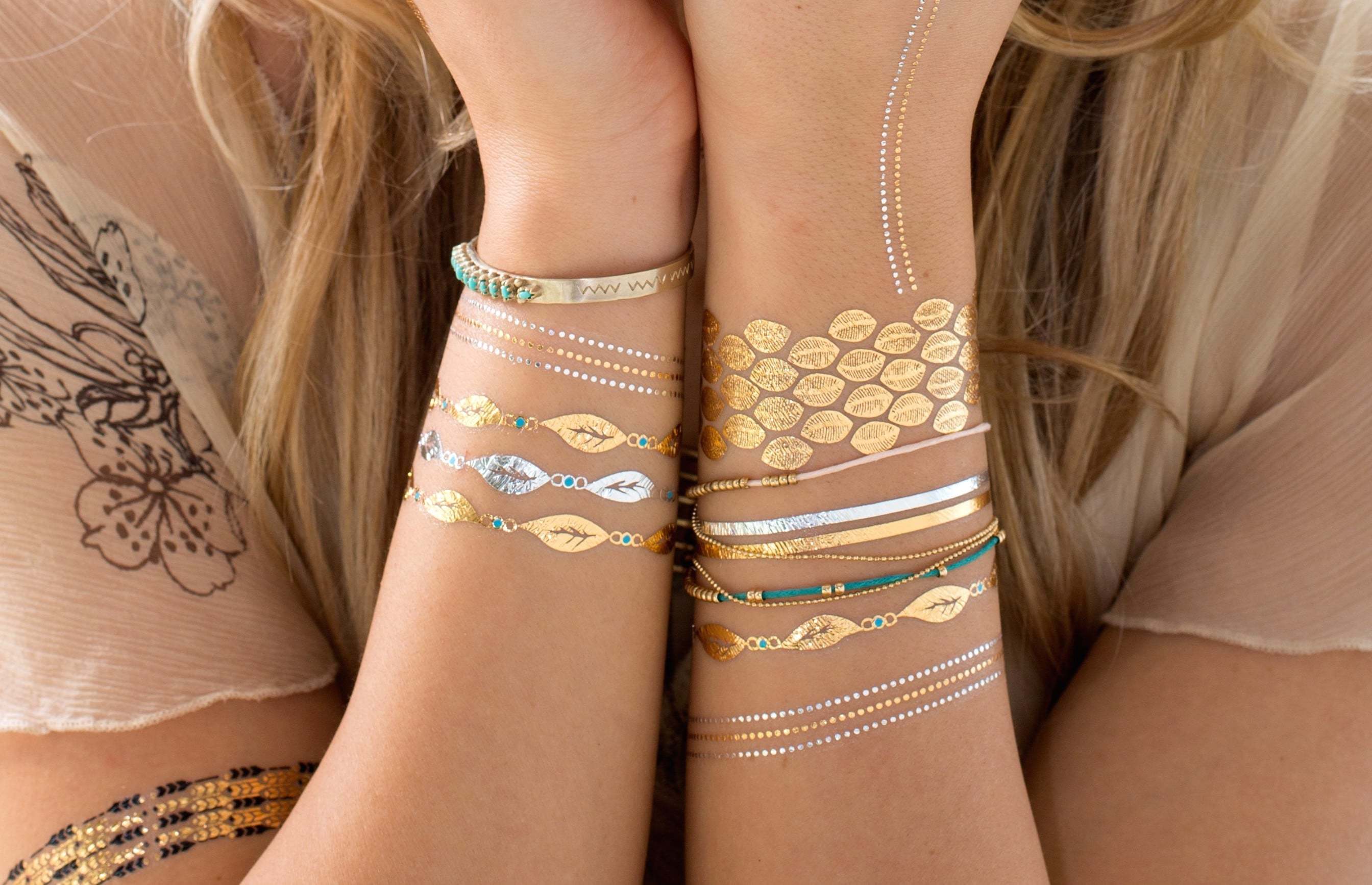 The perfect stocking stuffer for fashionistas of all ages, these metallic temporary tattoos come in a huge array of designs, last several days and are waterproof to boot!
Ben and Jerry's Euphori-Lock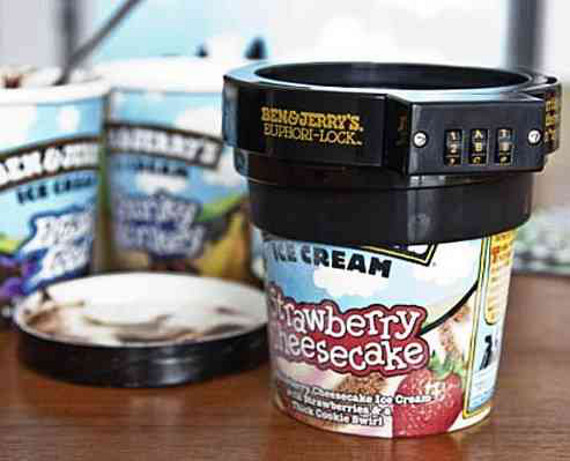 Help them protect what's most important with this brilliant combination lock protector. Complete with taunting note: "I'm terribly sorry, but there is no "u" in "my pint."
Giant 5lb Gummy Bear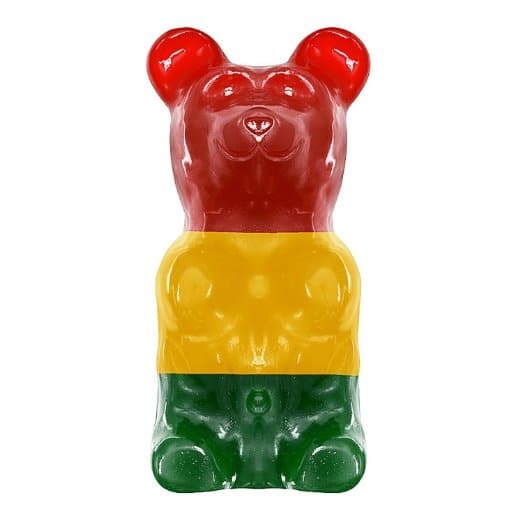 Who doesn't love gummy bears? Especially when it's a gigantic, 5lb., 3-flavor gummy bear!
MANATEA Silicone Tea Infuser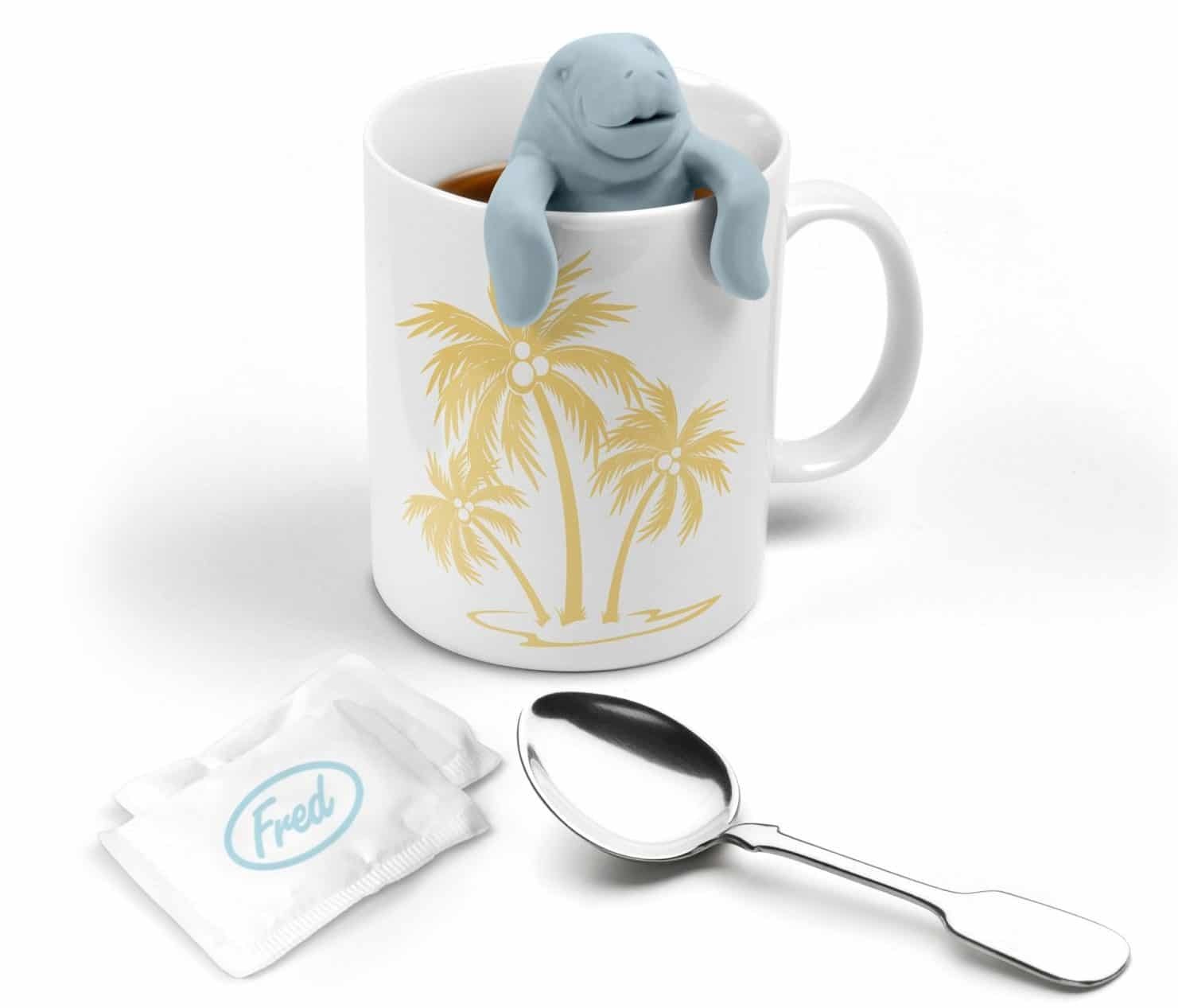 Never had the pleasure of having tea with a manatea? Well, once you have, you'll never want to be without one.
Konjac Sponge Set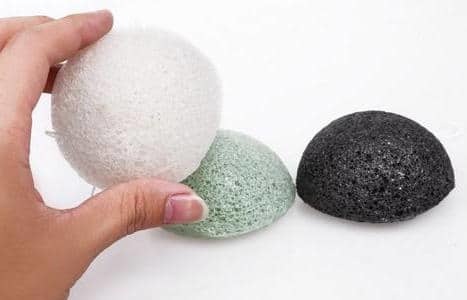 This 3-pack set of 100% natural and organic konjac sponges is the perfect stocking stuffer for women – or anyone who'd love a little gentle exfoliation.
Tabasco Spicy Dark Chocolate Wedges
Any sort of chocolate makes a great stocking stuffer…but spicy chocolate definitely takes it up several notches. A wonderfully unique stocking stuffer perfect for anyone who loves chocolate (so, everyone).
Reasons I Love You Stones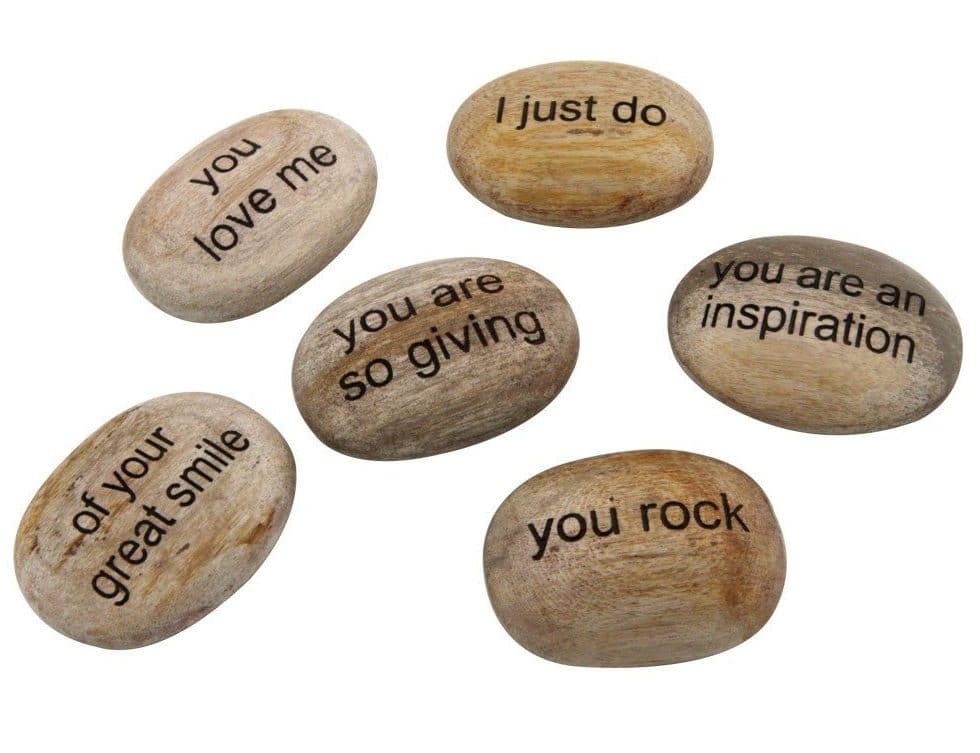 Beautiful stones to remind your loved one exactly why you love them so much every time they look at them. The perfect stocking stuffer.
Fitbit Zip Wireless Activity Tracker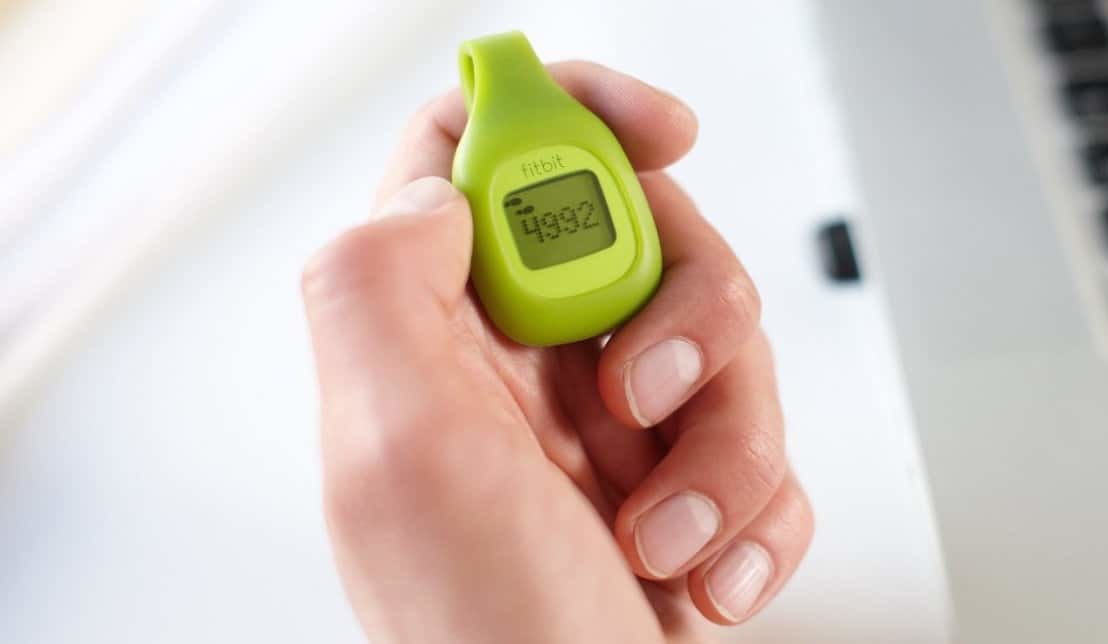 We all know what comes immediately after the gluttony of Thanksgiving and the gift giving frenzy of Christmas…yup, New Year's resolutions. The most popular resolution? Something to do with getting in shape.
Well, help your loved one achieve their fitness goals this year with this handy little FitBit. It'll track steps, distance and calories and allows them to set goals and stay motivated.
Accio Coffee Spoon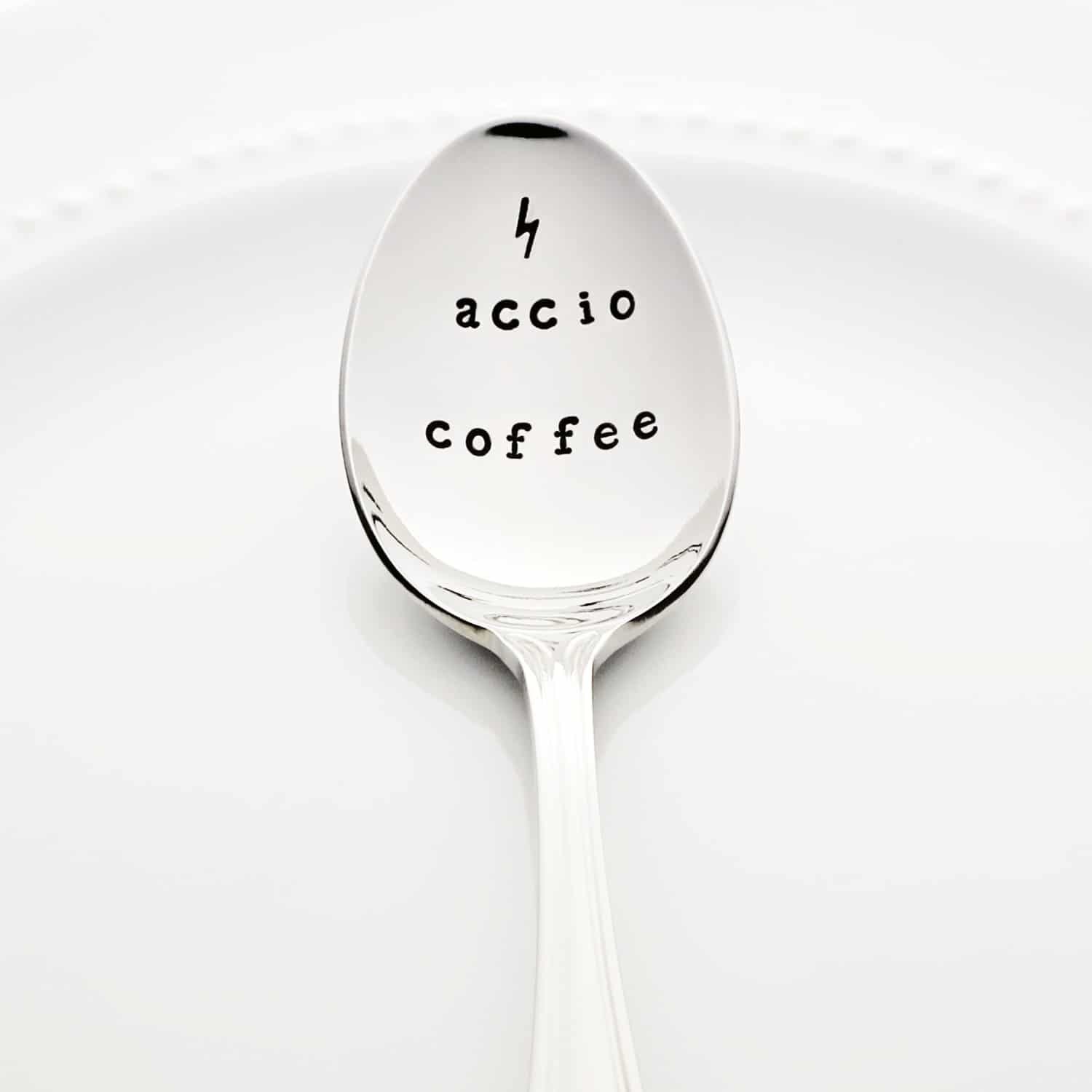 What's better than waking up to a steaming cup of lovely coffee? Waking up to a cup of steaming coffee accompanied by a Harry Potter sugar spoon, of course!
This lovely lightening-bolt inscribed accio coffee spoon will put a smile on your Potter fan's face every single morning. Want more Harry Potter gifts?
Zippo Hand Warmer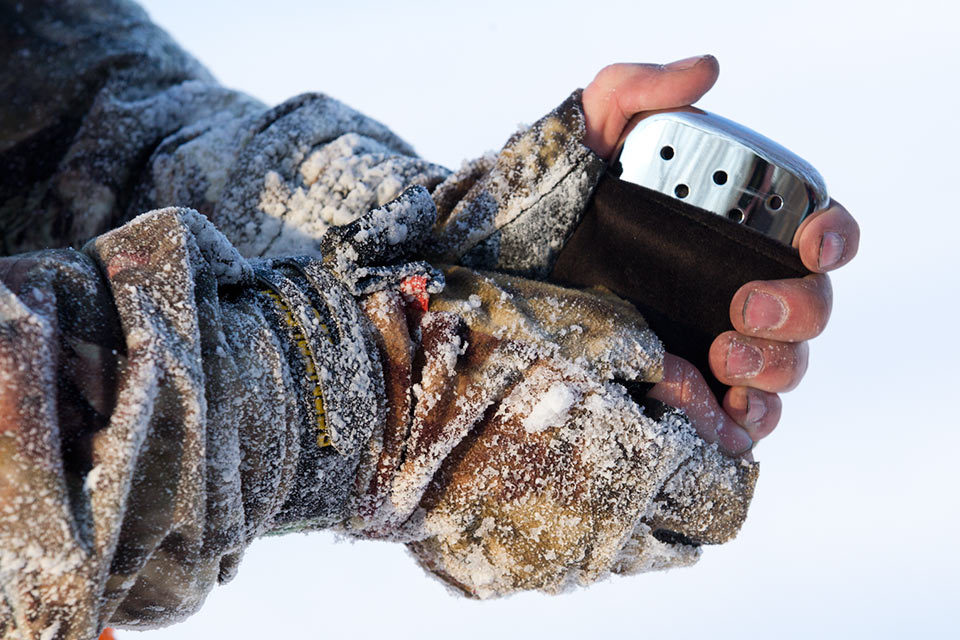 We all zippo lighters but did you know they make awesome hand warmers as well? Bigger (and warmer) than their lighters, these marvelous contraptions provide up to 12 hours of warmth per each filling.
CoffeeSock DIY Cold Brew Kit
Got a coffee lover on your hands? Gift them the gift of making their own cold brew, which is less acidic and doesn't upset the body's delicate pH balance. The CoffeeSock Kit comes in a mason jar and includes a cotton filter. Organic, of course.
Cheven Double Glass Tea Tumbler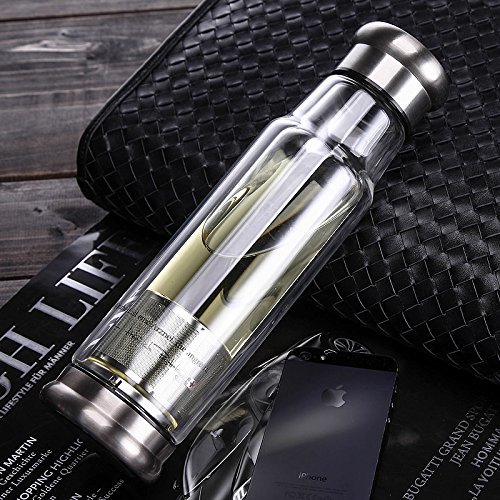 Got tea lovers living in your house?
Help them sip in style with this double glass tea infuser.
Hurraw! Organic Lip Balm Set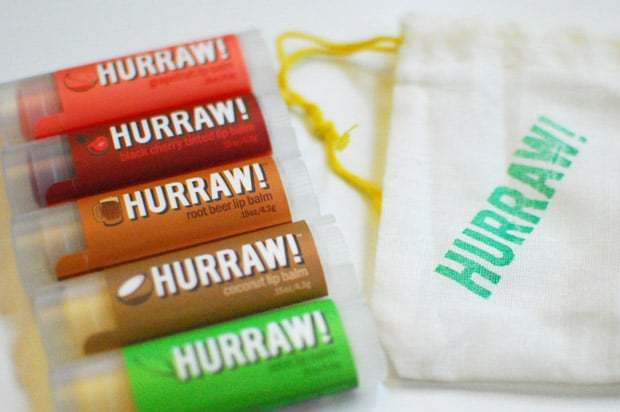 The weather outside is frightful and the first body part to suffer are always the lips. Give your loved ones the always lovely gift of soft, moisturized puckers with a set of Hurraw's 100% organic lip balms. They come in super yummy flavors like Root Beer, Chocolate, Coconut, and more!
Into Focus Mug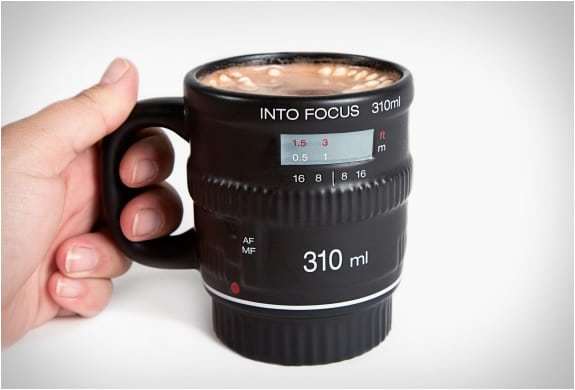 Know a budding photographer? They'll love finding this ceramic lens mug in their stocking…plus, it's a helluva lot more affordable than a new camera :)
Portable Ladybug Vacuum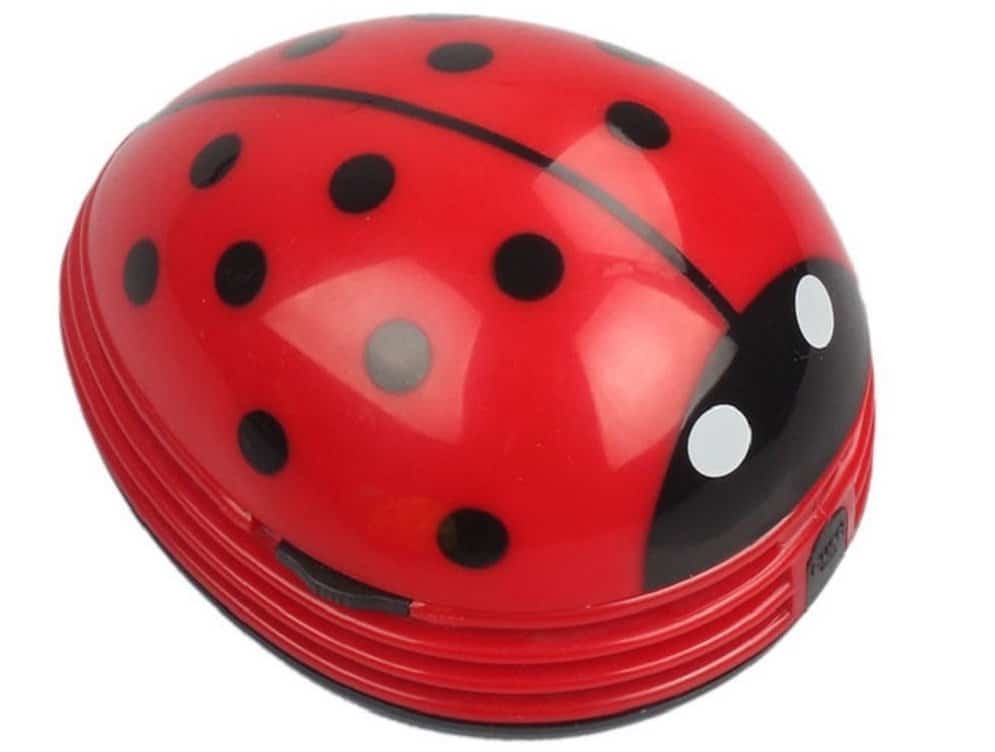 This tiny, portable, and adorable vacuum cleaner gets rid of dirt wherever you take it. For such a small thing, it's surprisingly powerful and will leave no desk uncleaned!
Sriracha2Go Keychain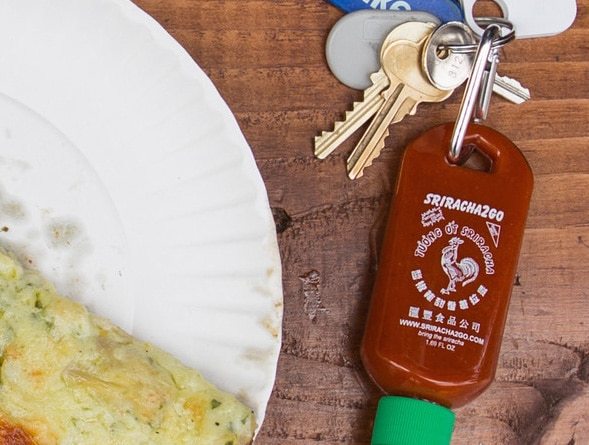 Ever have those horrible moments when you're at a restaurant and you realize they don't have any Sriracha sauce? Prevent that from ever happening again with Sriracha2Go.
Dog or Cat Coin Purse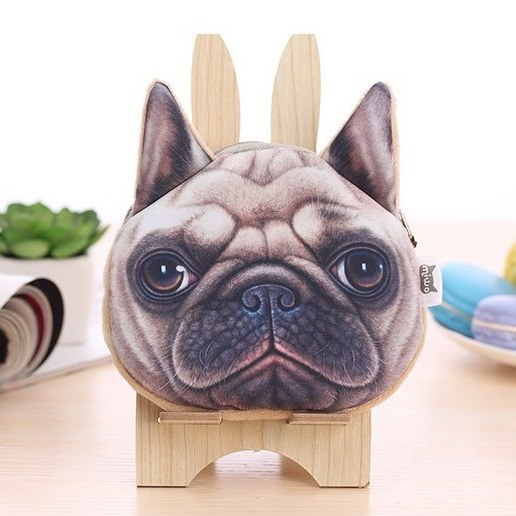 Got a dog or cat person who's stocking is looking a bit empty? Gift them these adorable coin purses – they come in several dog breeds like pugs, Siberian huskies, and French bulldogs as well as several variations of cute cats.
Crystal Agate Coasters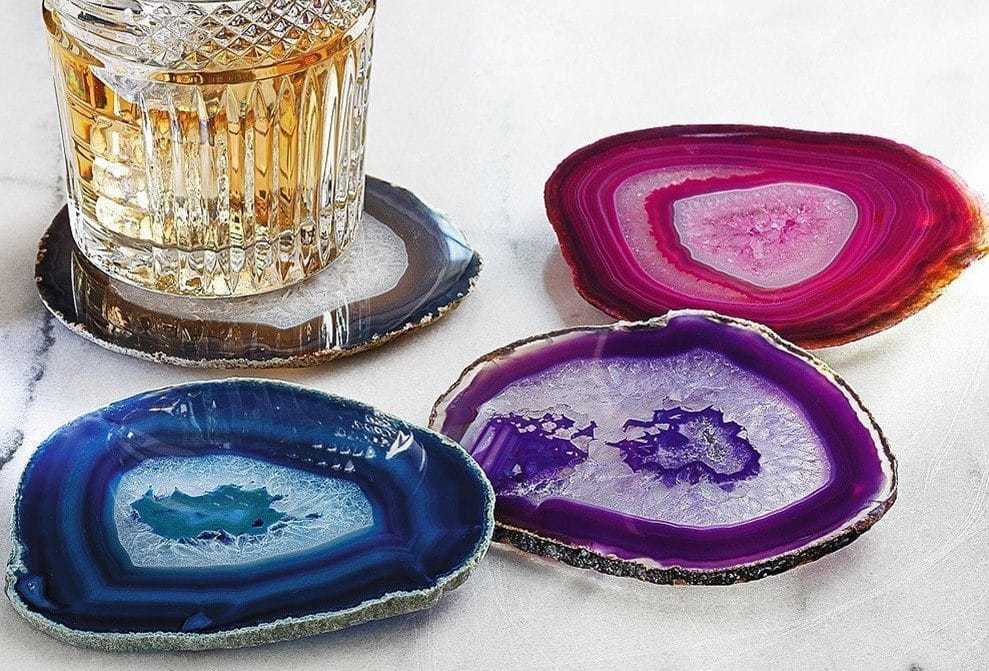 Beautiful and unique, these all natural agate coasters make a breathtaking stocking stuffer.
Benji Portable Travel USB Humidifier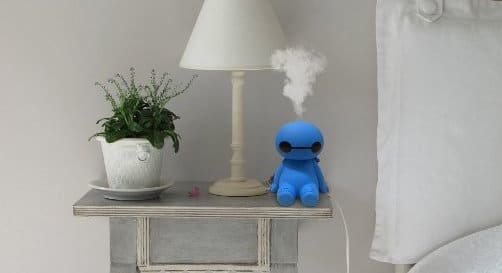 This cool little blue man doesn't just look spiffy, he serves a very important purpose: he creates continuous cool mist wherever he goes! And for such a convenient little humidifier, this one is seriously useful since it comes with a large water capacity tank and can be used for up to 8 hours at a time!
It's also powered with a USB cable so you can take him with you wherever you go!
Zmart Women's Cotton Food Socks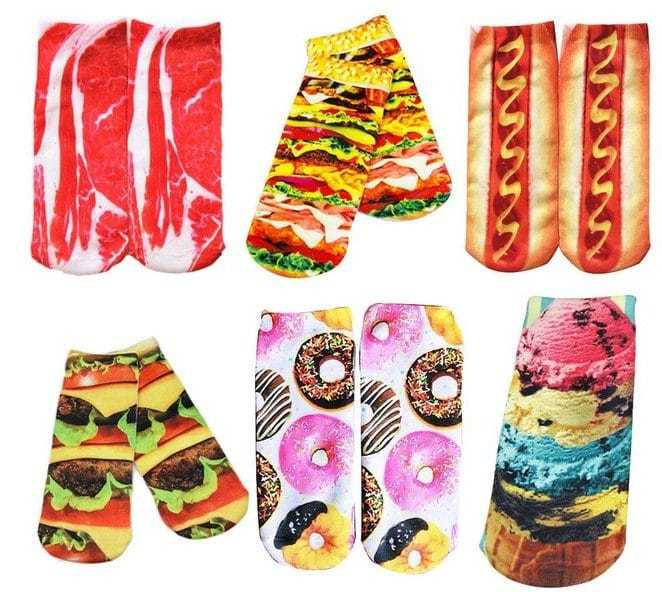 Bacon, ice cream, donuts, hot dogs…yes, these are a few of all of our favorite foods. And now you can wear your food love on your feet! These yummy socks come in a pack of 6.
What I Love About You Journal

This little book is the best personalized stocking stuffer for your loved one. Just complete each line and you can gift them a uniquely personal memento that shows just how much you love them.
Stainless Steel Key Chain Flask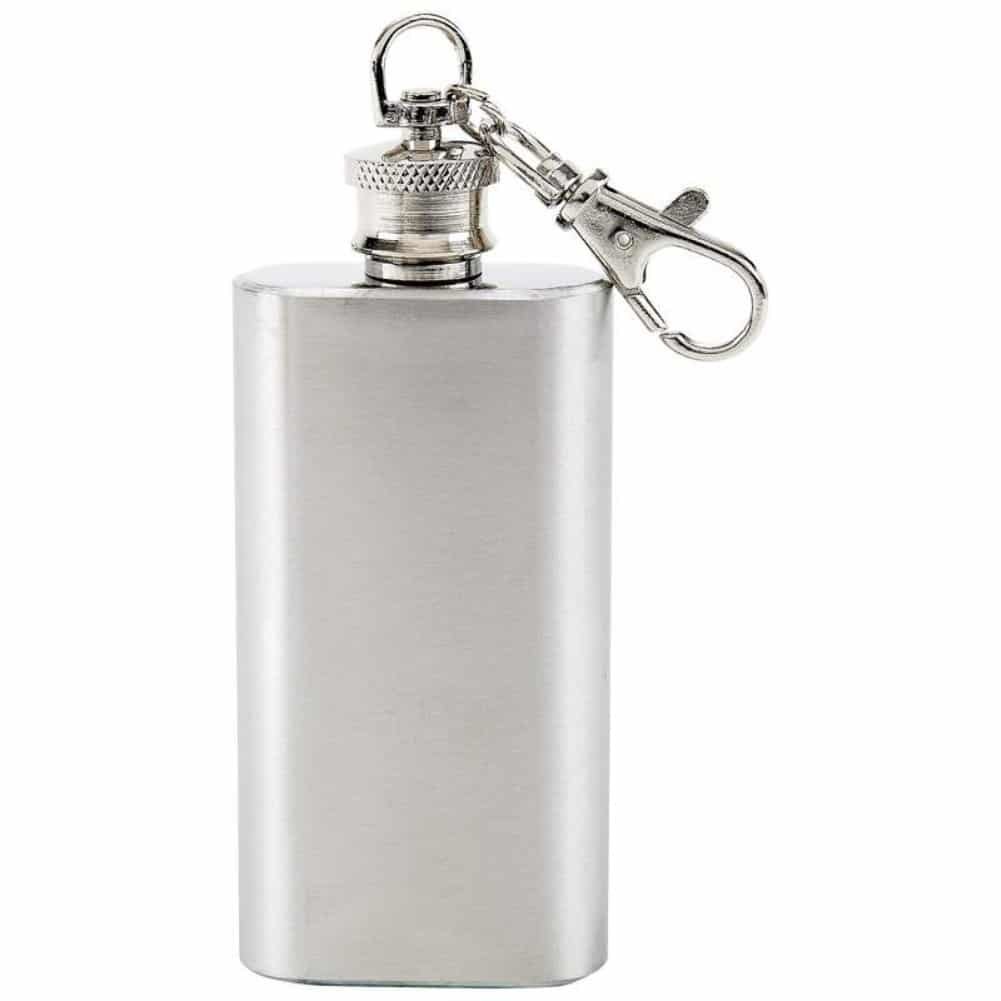 Know what's missing from pretty much everyone's life? A stainless steel key chain flask. Get them one.
Pinch Provisions Minimergency Kit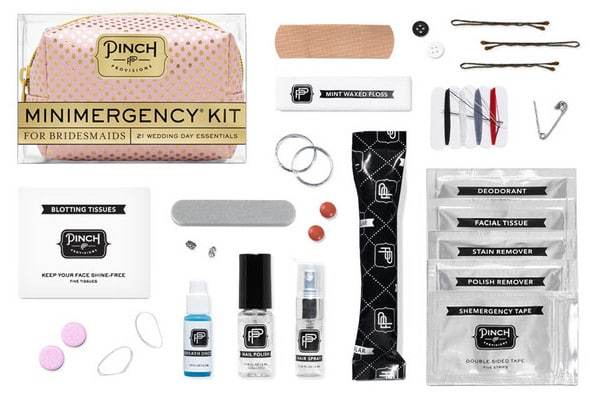 The perfect stocking stuffer for the woman on the go, this minimergency kit comes prepared to handle any and every fashion emergency. Inside, you'll find double-sided tape, a safety pin, a mending kit, 2 earring backs, dental floss, clear nail polish, an emery board, nail polish remover, stain remover, hair spray, clear hair elastics, a tampon, pain reliever, breath freshener, and lip balm.
Packaged in a tiny, metallic zip pouch – these come in a bunch of colors and designs so you'll find something that's perfect!
Flambeau Men's Heated Socks Kit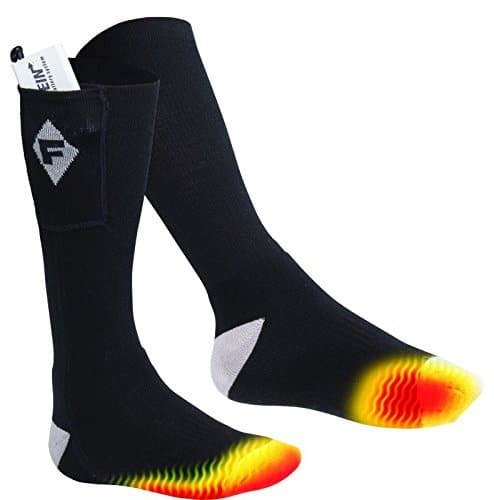 Help keep their toes nice and warm the whole winter by slipping a pair of these battery-powered heated socks in their stockings!
Whale Coffee Mug and Cookie Holder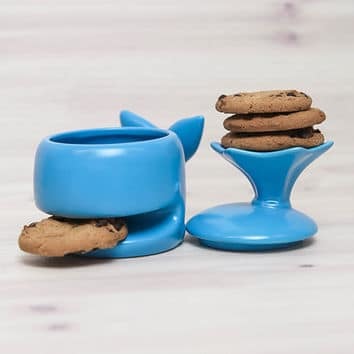 Who the hell doesn't love whales? And cookies. And probably coffee, too. Well, gift them the best of all worlds with this whale-shaped coffee and cookie holder. It's the best.
Umbra Grassy Organizer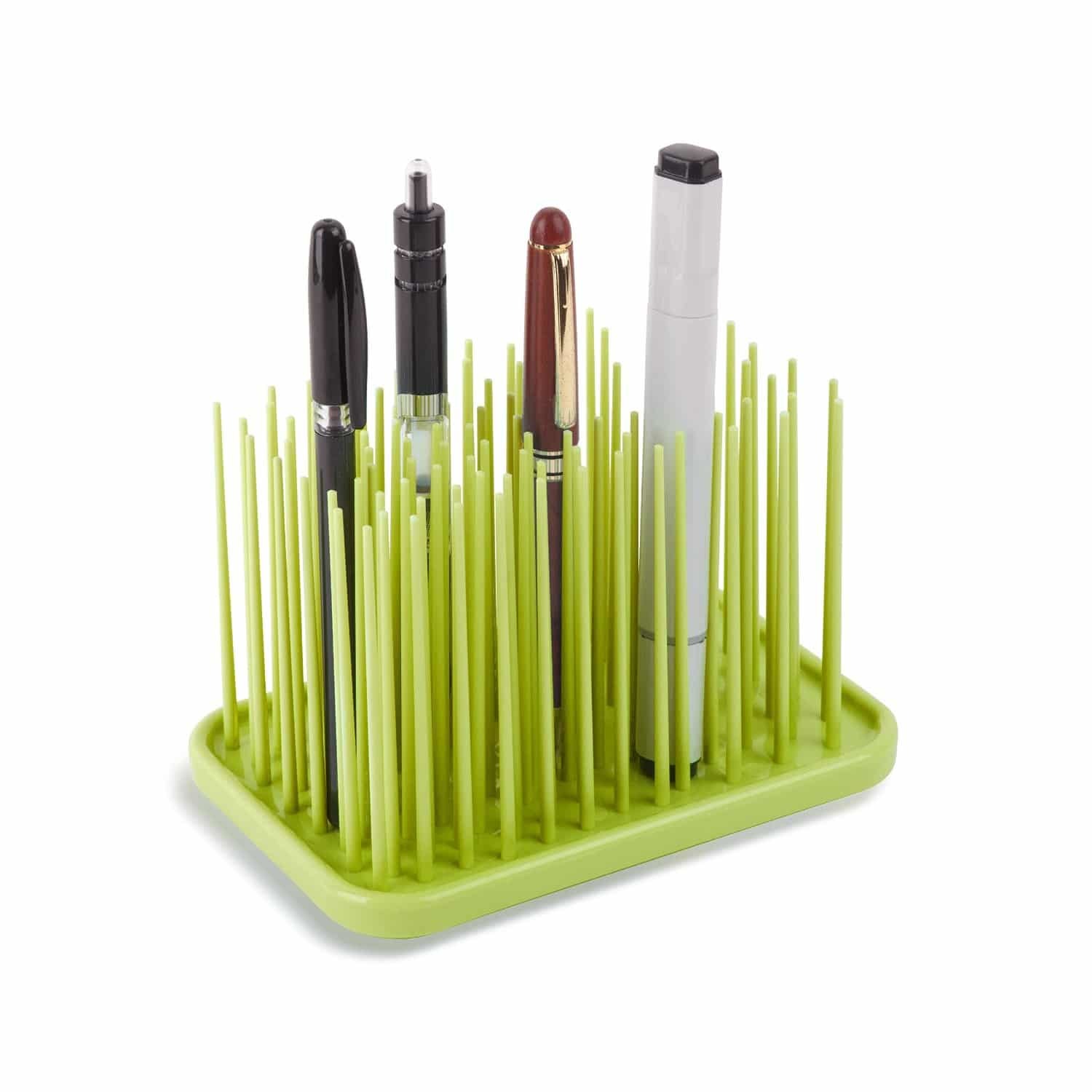 Clean cut and super functional, this grassy organizer adds a touch of green to your desk and holds toothbrushes, pens, pencils and any other knick knacks you have lying about.
Striker Magnetic LED Light Mine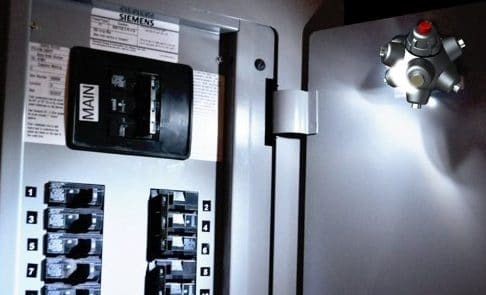 The only portable light you'll ever need, the Striker Magnetic Light Mine is ridiculously handy. Its protruding posts can be used as tripods or quad-pods creating a 360 degree freestanding light and the powerful neodymium magnets located the end of each post allows you to attach and aim the light in any direction.
As for the lights, they're as bright as they get – powerful Lumen Tech LEDs are used in the front white lens (8 LEDs) and back red lens (4 LEDs). Told you it's the only portable light you'll ever need.
Sushi Erasers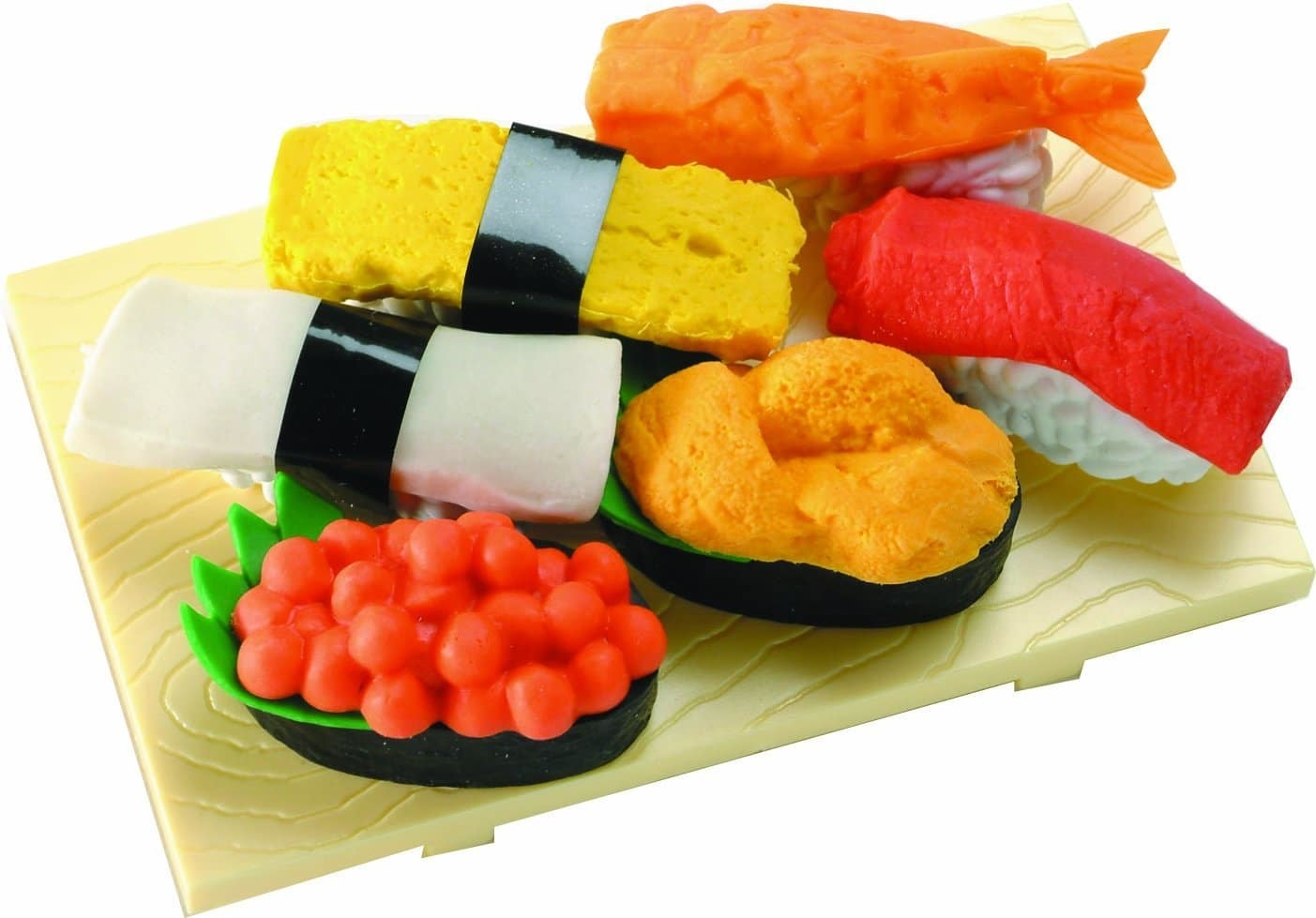 These fun sushi-shaped erasers are calorie-free and come in a set of 6 erasers. Perfect stocking stuffer for anyone who loves sushi!
Elephant Ring Holder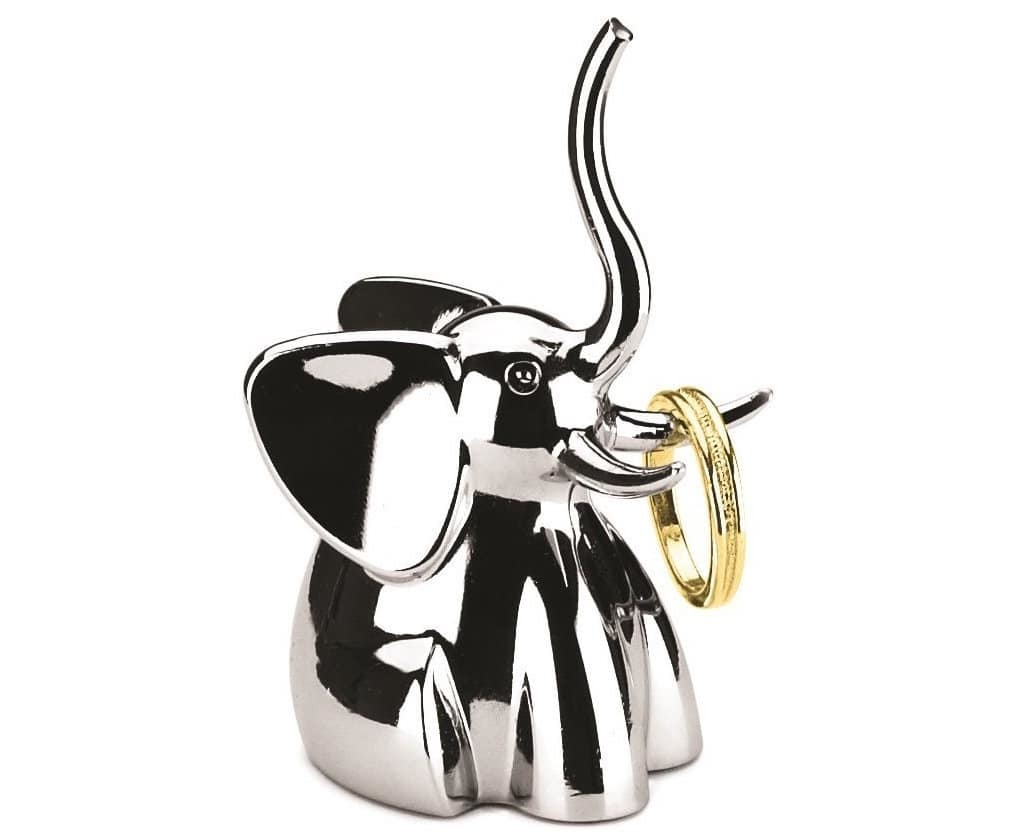 This beautiful cast metal elephant holds all your rings on its wonderfully long and delicate snout and tusks.
Tea Rex Tea Infuser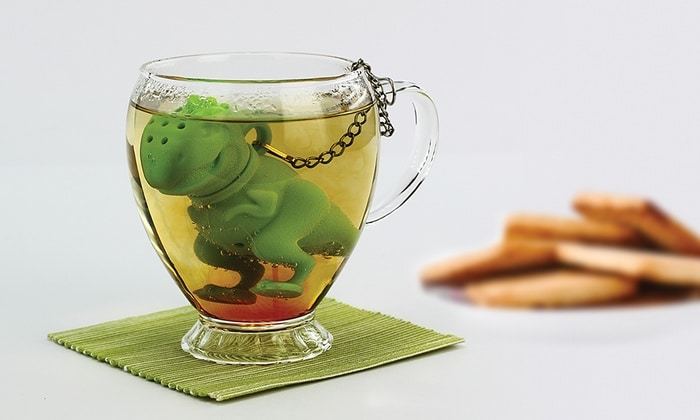 Dinosaur enthusiast or not, this Tea Rex infuser is guaranteed to make anyone crack up. Makes a hilariously perfect stocking stuffer!
Lavender Sleep Mask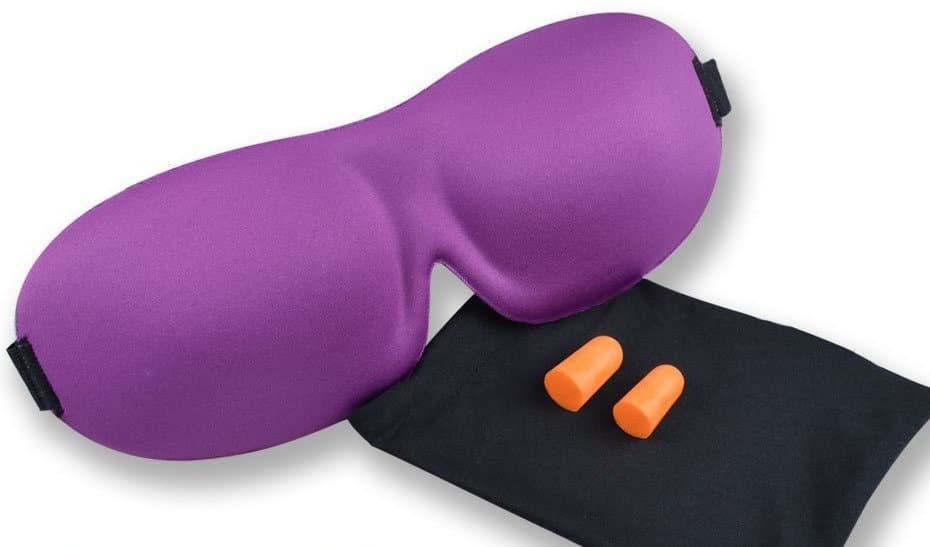 This wonderfully contoured sleep mask keeps your shielded from light without uncomfortably compressing your face, eyelids, and eyelashes while you sleep. You can open your eyes freely yet still relax in the darkness.
Plus, it comes in a carrying pouch of its own with a pair of ear plugs. Makes the perfect stocking stuffer for people who love their beauty sleep. Several colors available.
Stainless Steel Drinking Straws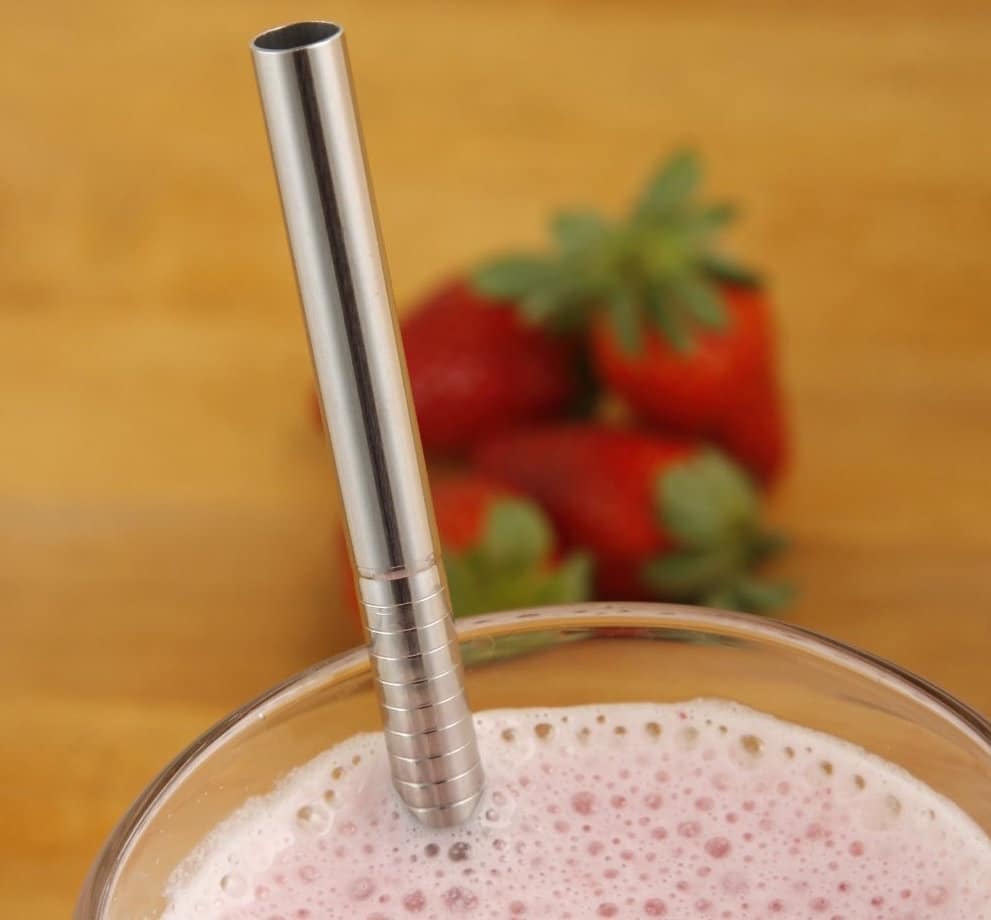 Love smoothies and milkshakes? Enjoy them in style – stainless steel style – with these gorgeous straws!
Animal Paper Clips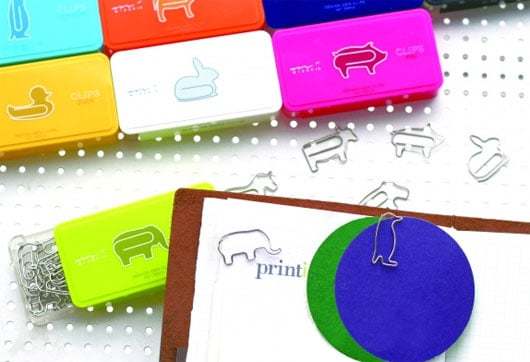 Paperclips seem like a pretty crappy thing to have stuffed in your stockings (both Christmas stockings and otherwise) but these aren't your ordinary paperclips! Nope, these come shaped like some of our favorite animals including the duck, rabbit, pig, penguins…and the list goes on and on. Trust us, you'll find their favorite animal in the form of paper clips :)
Ciaté Caviar Manicure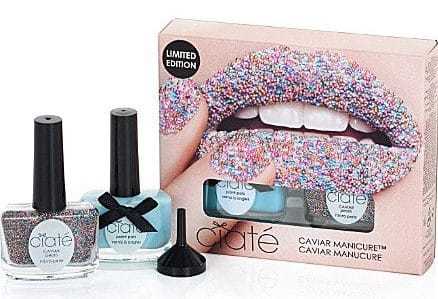 A fun, two-step nail art kit makes the perfect stocking stuffer for the nail aficionado!
Kikkerland II Motorino Pizza Cutter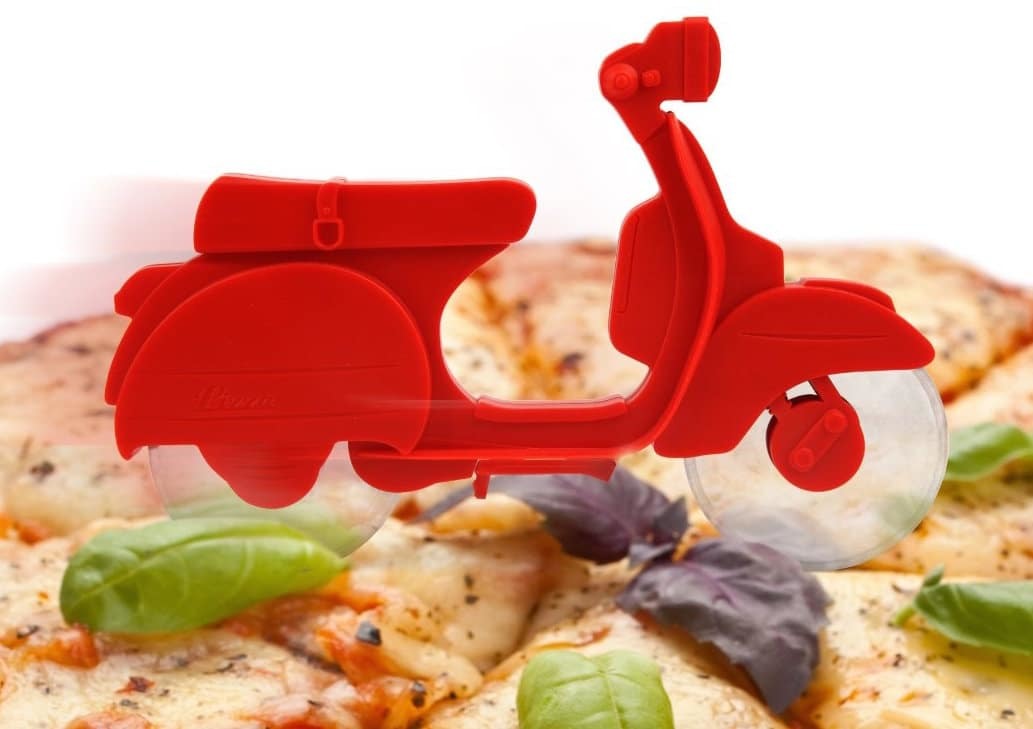 Make pizza time even more wonderful with this motorcycle-shaped pizza cutter. So functional, so cute – a must have stocking stuffer!
Taste N Cook 13-Inch Bamboo Chopsticks


Unique and gorgeous bamboo chopstick set for all the ramen lovers out there. They will truly appreciate the fork and spoon ends that are built in for taste testing while cooking.
Paper Airplane Pushpins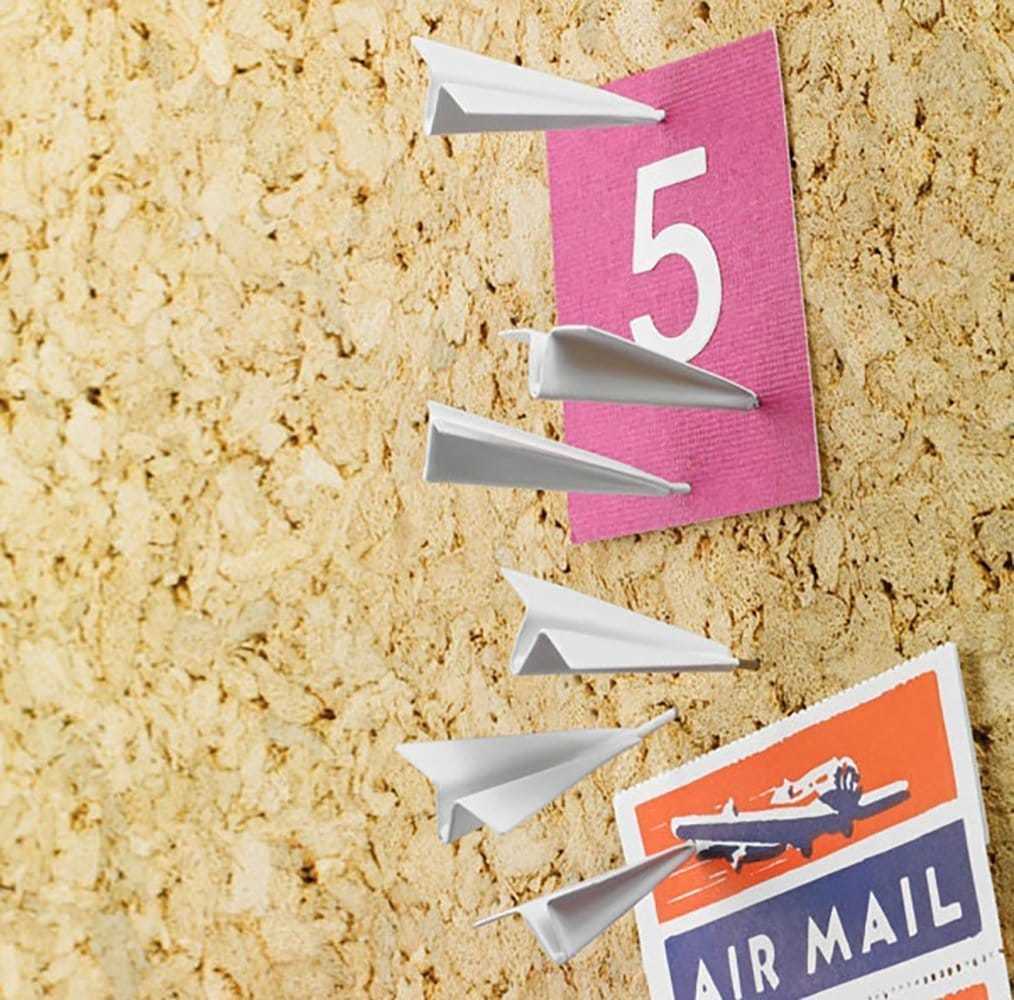 Putting pushpins in their stockings doesn't sound too much fun? Well, normally they wouldn't be. But when it's paper airplane pushpins we're talking about – they'll love 'em.
elago® M2 Smartphone Stand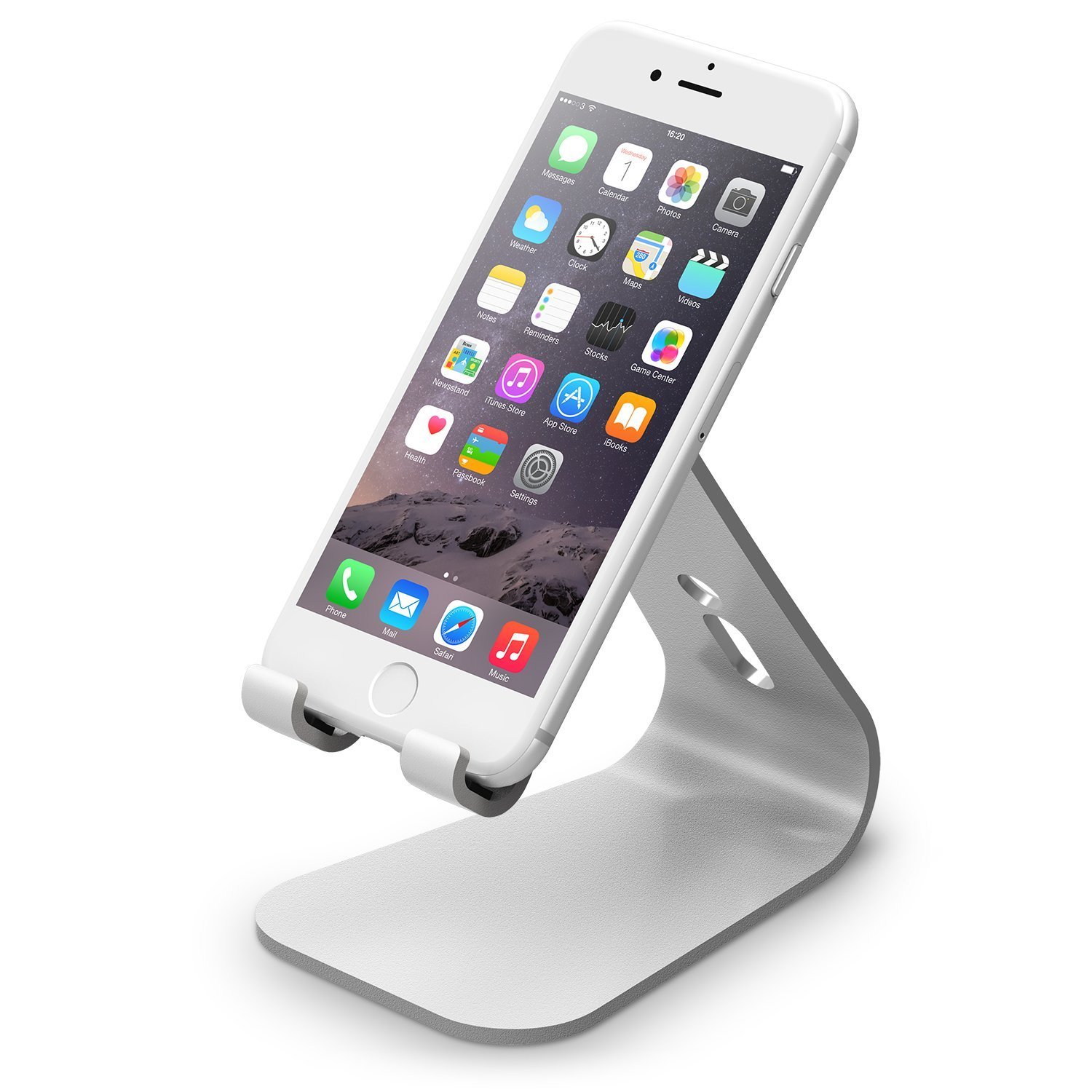 FaceTime, Skype calls…they're all great but what's not so great is having to hold your phone up the entire time. No more of that with this smart smartphone stand. It's designed at the perfect angle so your smartphone will sit in the exact position you need while you receive video calls or watch movies.
Duck Money Soap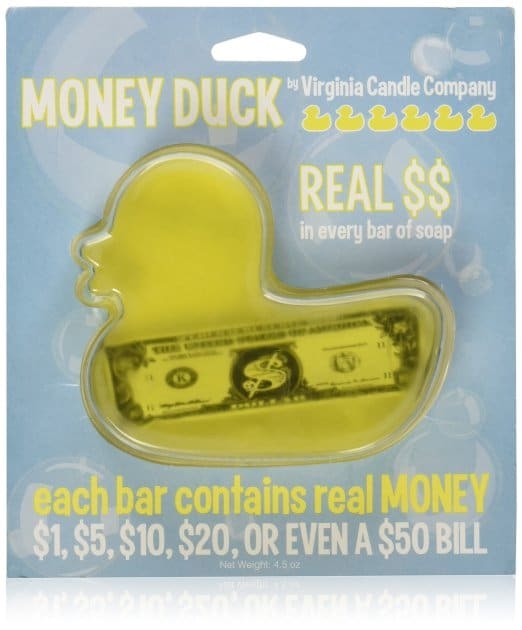 A fun stocking stuffer for anyone you know, this duck-shaped, pearberry-scented soap contains real money – up to $50…in which case, you might want to keep it for yourself.
Animal Toilet Lid Lifters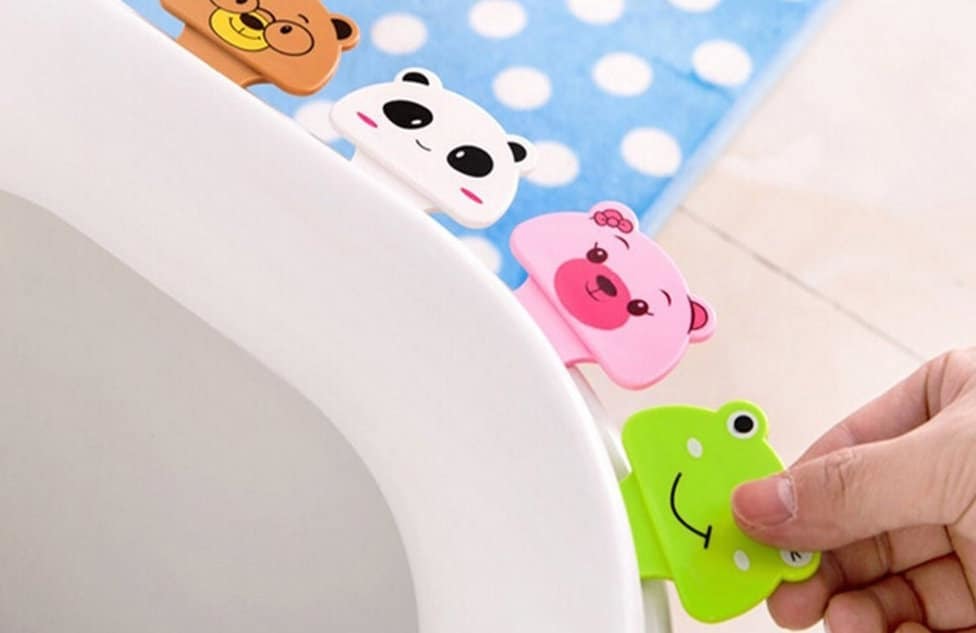 Spare your loved one the disgusting act of having to touch the toilet seat whenever they lift it – these adorable animal toilet lid lifters make the perfect stocking stuffer for all households!
Animal Pot Lids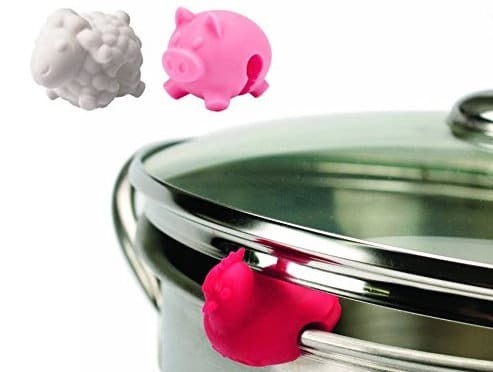 Wait, but it's not just the toilet seat that requires constant lifting…pots and pans do too and these get hot! Gift them these clever pot lid lifters in their stocking and make them smile every time they need to deal with a hot lid!
Hedgehog Dryer Balls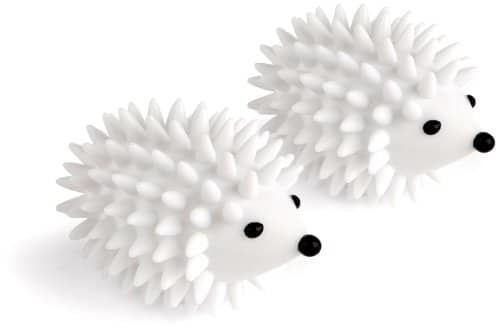 Ever had to toss in tennis balls or regular old dryer balls into your dryer and…wished they all looked like hedgehogs? Who hasn't!
Well, make someone's dreams come true with these mighty cute, reuseable hedgehog dryer balls!
Origami Sticky Notes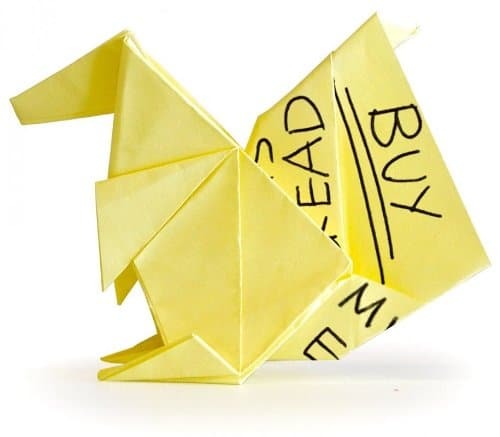 We all use a ton of sticky notes to keep abreast of our daily lives. But what do you do with them afterwards? Just throw them away?! What a waste…especially when you can create beautiful pieces of origami in just a few minutes.