Best Star Wars Gifts For Him
May the force be with you
Every year on May 4th, enthusiastic Star Wars fans around the world come together (sometimes only virtually, and sometimes only spiritually because many of us are grown-ups who have grown-up things to do) to celebrate the legendary sci-fi franchise. While I can't say that I'm a die-hard fan, I did watch a Star Wars movie or two and know a few memes (Solo shoots first) which, hopefully, qualify me to curate these gifts.
Also, we have done this before. Top 10 Gifts released two Star Wars gift guides: a Star Wars gift ideas and Star Wars gift ideas for men, as early as year 2013.

On Star Wars Day this year, give yourself or your Star Wars franchising loving dad or friend a little encouragement for being such a great fan by getting them a little gift. Below you will find a list of 10 unique and affordable gift ideas that are must-haves for Star Wars fans. Check them out and let me know what do you think. A few of these items are somewhat funny, see if you can spot them in the list. May the fourth be with you.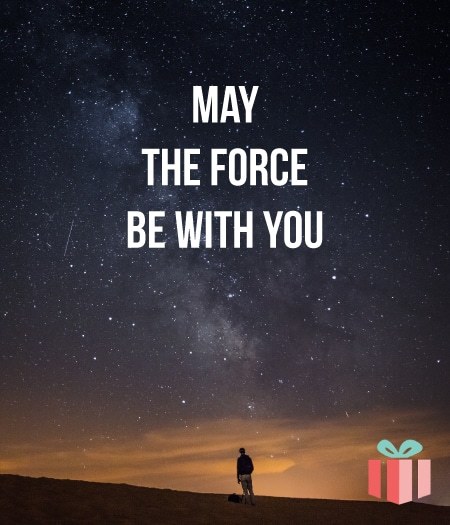 Don't miss these awesome Star Wars gifts any fans of the series will love to get for Christmas or on their birthday
Seriously guys. If you have the budget, get this Boba Fett backpack that is so freaking awesome. If you're a fan of the franchise, you would have known Boba Fett, he's the much-cooler version of Captain Phasma before Captain Phasma. A bounty-hunting badass who dares (dared?) to talk back to Vader and manages to track down and capture Han Solo. Did I mention his armor and helmet are super cool? With this backpack, you'll be inheriting Boba Fett's cool factor, partially that is.
2. Watercolor Star Wars Playing Cards
This deck of cards costs quite a bit more than a regular set of playing cards, but every card is decorated with a watercolor-style graphic of a Star Wars character.
3. 40th Anniversary Darth Vader figure
Love him or hate him. Darth Vader is the Star Wars universe's most successful and iconic villain to date. To celebrate the franchise's 40th anniversary, Hasbro released this awesome set which comes with a 6-inch tall Vader figurine, back display card and stand.
4. Boba Fett Lego kit – 9 inches tall
OK, I'm a big Boba Fett fan, ok? I promise you, no more Boba Fett stuff after this. But seriously, this Boba Lego looks so cool.
5. Star Wars Socks
Various pack sizes and designs to choose from. Some of the designs are: Vader, Stormtrooper, Chewbacca, and R2-D2.
That's right — a practical gift that you can wear every day.
I'm not exaggerating when I say lightsabers are the very foundation that makes Star Wars Star Wars. Imagine Star Wars without lightsabers, it will just basically be Star Trek except with quasi-religious elements. That's how important and iconic this futuristic weapon is for the series. And so a true fan will feel forever indebted to you if you choose to bestow upon him this thoughtful gift.
Become a sith by getting your own Death Star. This Death Star is actually a 24″ inch floor lamp that will help brighten your room at night.
Poe Dameron's trusted companion. The much-loved droid is now at your service, ready to help dispense lotion and shower cream.
9. Darth Vader "Who's your daddy?" Coffee Mug
No gift guide is ever complete without a coffee mug. Sometimes we don't notice them, but mugs are a crucial part of our life. We literal use them every day. This funny mug will help brighten a Star Wars fan's day, every time she uses it. It features a poster-style portrait of Darth Vader with words that say "who's your daddy" — a reference to his relationship to Luke Skywalker. SPOILER ALERT! Vader is Luke's dad.
I struggled with this last gift. I wanted to find a cool t-shirt for this spot, but this keychain is just so much more affordable and so cute. Definitely check this one out.
As I complete this list, I realize that most of the items here feature Empire characters — almost no love for the Resistance. Either I'm secretly a sith (or a lowly stormtrooper), or that Lucasfilm has done a terrific job at designing the franchise's villains (are they, though? Some says the Empire did nothing wrong. Here's a Empire did nothing wrong t-shirt).
DIY Star Wars Stuff – handmade gifts are time-consuming but super cool to receive!
Star Wars ornaments. These are ornaments for the Christmas tree by design, but with a little modification, you can make them into keychains as well.
Death Star fire pits. Not for the faint of heart. This is a DIY project for people with advanced metal handling (what's the correct term to use?) skill only. It does look amazing though.
May the Force be with you eye chart. This is relatively easy to make. You can do it entirely by hand, but it's much easier if you have a printer. I feel that this idea is very creative and that it's a fun gift to get.
Finger puppets! These finger puppets are fun to play with (kids and adults alike!) and look great in a display.
Little creatures known as babies are known for creating a mess when they eat. Star Wars bibs to the rescue. This craft tutorial features a few Star Wars design that will help provide inspiration.
Sure you can buy a lightsaber, but have you seen anyone buying one in the movies? No? Because they all DIY'd it. With the help of this tutorial on eHow, you too can make your own lightsaber. Not just any lightsaber, but a double-blade cross-guard light saber (Kylo Ren). Whether you want to give it out as a gift when you complete it or keep it for yourself is entirely up to you.
Looking for even more Star Wars ideas?
While researching for this article, I discovered, what I assumed, the official Star Wars Gift Holiday Gift Guide on StarWars.com. You should definitely check that out.
ChipChick.com also has a really interesting Star Wars gift guide.
With that said, may the Force be with you.