16 Birthday Gift Ideas For Your Boyfriend's 30th Birthday
Your boyfriend is about to hit that lucky 30 and you're worried about finding him the right gift? Well, its no surprise as the 30th birthday is a huge milestone in any guy's life. It's the 21st birthday but better. It can be excruciating trying to find the perfect gift, but don't worry, we are here to help!
Best Birthday Gift Ideas >> Your Boyfriend's 30th Birthday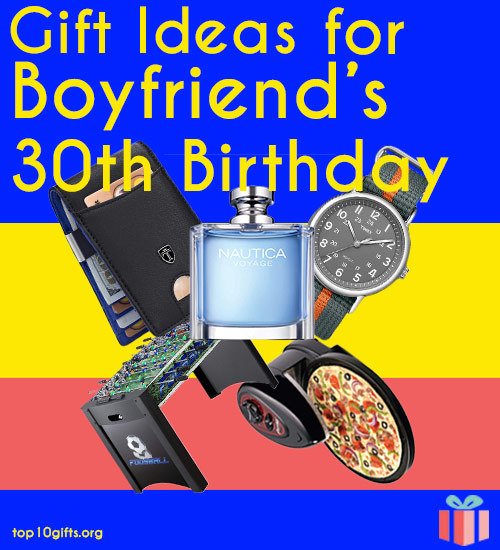 Fragrance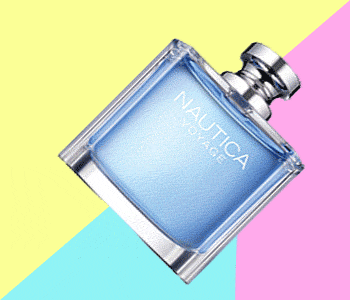 Who doesn't love a good smelling man? And with this enchanting Nautica Voyage, your boyfriend will smell more masculine than ever. The cologne is made with a unique blend of mimosa notes, green leaf, water lotus, amber, musk, cedarwood, and apple. Unlike other fragrances, this one will last from the morning he sprays to the time he retires for sleep. You simply can't go wrong with a sweet fragrance. He'll absolutely adore you for this thoughtful birthday gift.
Wireless Headphones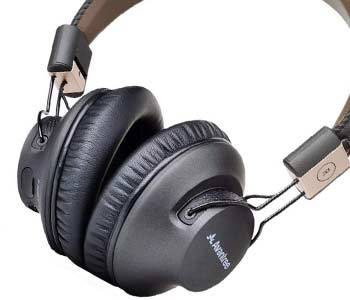 Is your boyfriend a music lover? Then this wireless headphone is a must-have. Thanks to its superior hi-fi sound, your boyfriend's audio experience will be elevated to the next level. With its amazing battery life, he'll enjoy impeccable audio up to an impressive 40 hours. It also comes with an easy to adjust the headband and super soft earpads, so don't worry — maximum comfort is also ensured! It's simply hard to resist for all the music lovers.
Wallet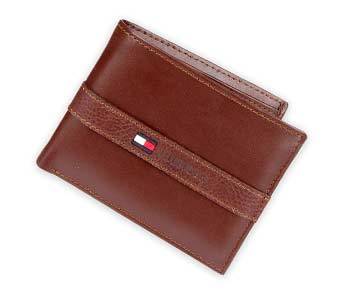 Most men carry a wallet, so it's a great idea to upgrade his old one with a premium quality genuine leather wallet. It's available in a wide array of colors, so you're sure to find one in his favorite color. Not just that, but it's also manufactured with the highest quality 100% cow leather. It's sure to last a long time. A simple and classy way of showing that you care on his 30th birthday.
Tool Set
Repairing and upgrading machines are some men's weak spot. If your boyfriend is like that, you have to go for this toolset. It's one of the best-selling toolsets and comes with a huge variety of tools that will suit most mechanical, industrial, and consumer applications. Everything comes in a sturdy case for portability and storage. This toolset will be a handy and wonderful gift for him.
Shot Glass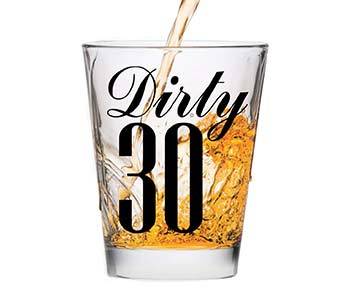 If he's about to hit that amazing 30, he'll surely love a shot now and then, and this high-quality shot glass with 'dirty thirty' imprinted on it is an amazing way to tell him that there's more fun coming his way beyond drinking shots. Looking for naughtier ideas? Check out these NSFW gift ideas guys love.
It can hold a full 2-ounce of liquid and is made with premium quality glasses. It's a fantastic way to celebrate this one-of-a-lifetime occasion.
Clip Wallet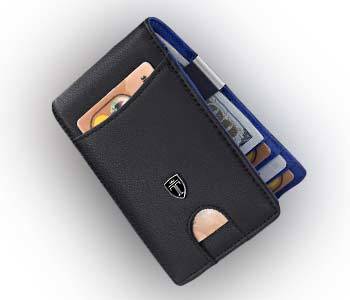 What makes a wonderful gift? Something that he'll be using every day and a nice money clip fits every bill. This clip wallet is not just functional but it's also sleek and stylish. The clip is available in a wide array of trendy colors. It has a magnetic enclosure to ensure that all his important stuff is locked tightly. It also comes with an integrated metal money clip for extra security. A perfect combination of convenience, elegance, and quality.
Bluetooth Speaker
You simply can't go wrong with a portable speaker. Whether it's romantic date nights with you or party with the boys, this portable speaker delivers immersive 360-degree noise-free sound. You can take this anywhere you want. It is also waterproof and can play music for an impressive 15 hours. This speaker also comes in 5 popping colors and is made with stunning two-tone fabric.
Vacuum Tumbler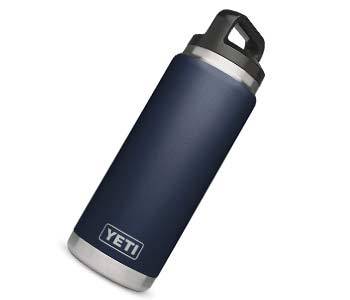 This portable stainless bottle will make a wonderful gift for your boyfriend's 30th. Whether it's filled with water or his favorite drink, it's completely spill-proof thanks to state-of-the-art leakproof TripleHaul Cap. It features a double-wall vacuum insulation design, so cold drinks remain cold, and coffees remain deliciously hot. This bottle is also available in various youthful colors, and with its DuraCoat Color, there will be no cracking, peeling, or fading. It's a trendy and functional gift for your other half.
Wristwatch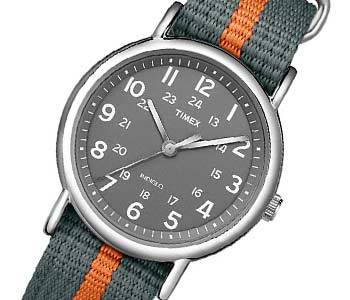 A stunning watch is a classic gift for any occasion, and for your dude's 30th b-day, you simply cannot give him any ordinary watch. This analog watch, with its trendy and eye-catching design, will make an excellent gift. The straps are also interchangeable, so your boyfriend can change up his watches to go with any look. Not just that, its also water-resistant up to 30 meters, supports backlight, and sports premium quality scratch-resistant mineral glass. It's a timeless gift that tells time.
Grooming Kit / Trimmer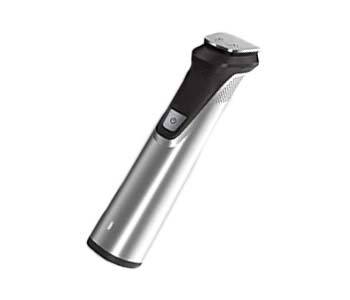 They say there's nothing more attractive than a man who takes care of himself, and with this grooming kit, your boyfriend will look dashing every single day. This all in one trimmer has everything your man needs for his beard, face, body, and head hair styling. With the state of the art DualCut technology, he'll have maximum precision for all his styling needs. The premium stainless-steel design gives it a classy and expensive look that every man would love to have.
Manicure Set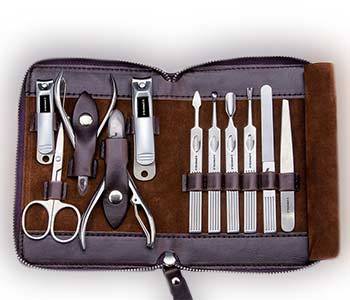 This luxurious grooming set comes with everything your man will need to ensure that his nails are clean and in perfect shape. It comes packed with 11 top-quality stainless-steel tools for a salon-like manicure experience along with a luxurious portable leather case so that he can carry it anywhere he wants. Even NBA players love getting their nails done, so your boyfriend is sure to love this manicure set.
Foosball Table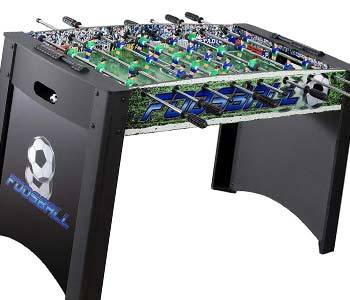 This foosball table is the perfect item for your boyfriend to spend some leisure time with his friends or even with you on his weekends. The intricately designed molded players and surrounding soccer stadium design give it another level of fun. If he has a game room, this will be an excellent addition. Any newly-minted 30-year-old will love to have this fun foosball table.
Pint Glasses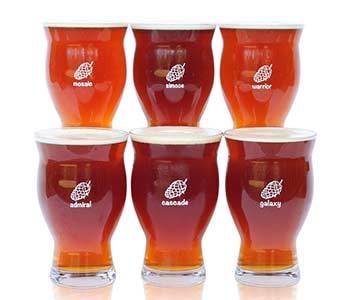 Pretty sure your boyfriend loves boy's night out with some tasty tasty beer. If so, this six-pack beer glass set will make the ultimate present. It's made with the highest quality materials and also comes with an etched bottom and unique hop names making it easier to identify the glasses. Thanks to its classy and expensive design, any 30-year-old man will want to get some drinks with their friends with these glasses.
Back And Neck Massager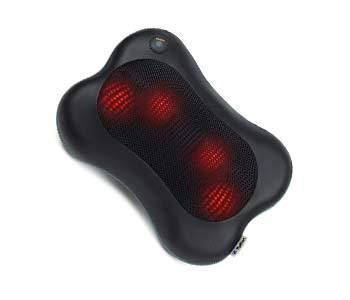 Does he often feel tired? Does he complain about a sore shoulder? If yes, this massager is a great way of showing exactly how much you care. It features advanced heating to soothe aching muscles and offer maximum comfort. It can perfectly massage behind the neck, calf, thigh areas, abdomen as well as lower and upper back. It fits comfortably with any chair or car seat. This massager is easily the best gift for someone who's a workaholic.
Rotating Pizza Oven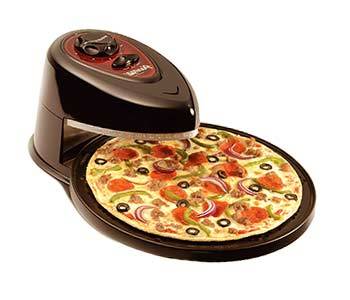 Is your boyfriend a pizza aficionado? Then this pizza oven is an excellent choice for his 30th birthday. The rotating tray ensures a uniform and seamless baking experience providing delicious pizza regardless of whether he's at home or away at a picnic with his friends and loved ones. Your boyfriend will absolutely love cooking yummy pizzas in this oven.
Valet Tray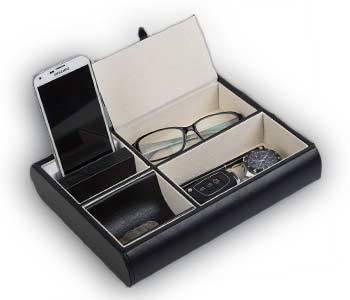 Men are known for being messy, but this with valet organizer, your boyfriend won't be one of them. This tray's smart design allows easy charging of smartphones and comes with four compartments, so he'll have no trouble storing his valuables. Its constructed with top-grade synthetic black leather that oozes class from every angle. It's a must-have for every man.
30th Birthday Gift Guides
Boyfriend / Best Friend / Wife's Gift Guide #1 / Wife's Gift Guide #2 / Female Friend / Sister
Related Gift Ideas
29 Birthday Gifts for Women Over 50