Best Gifts for Workaholics
Because workaholics are too busy to buy anything for themselves
Workaholics like to work. Do you have a workaholic friend or family member? Some of them are driven by working a lot. Some of them feel alive through working. Whatever the reason you're shopping for — birthday, appreciation idea, Christmas… the workaholics in your life will appreciate these gifts below for sure.
Don't be fooled by their looks. Although they may look like they have been consumed by demanding project and OTs, deep down they are proud by working long hours and feeling tired all the time. But hey! Everyone has their own way of life, am I right? The last thing you want to do is to judging. Instead of making judgment, how about getting a thoughtful gift that will help them excel at their work?
Below are several recommendations from Top 10 Gifts.
Disclaimer: this post contains affiliate links from Amazon
Help improve a workaholic's work in terms productivity and comfort with these superb gift ideas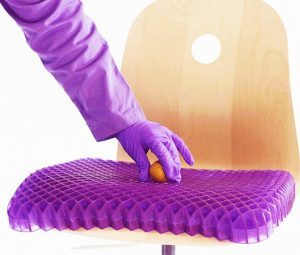 Here at Top10Gifts, the home of practical gift ideas, we understand that there are many kinds of workaholics. One group of workaholics — my suspicion tells me that it's the majority — spends more time sitting than they should. Some professions sit more than others. People in professions such as taxi drivers, software developers, and writers are more likely to sit on their chair for a prolonged period of time. When you spend so much time sitting, you better make sure that you're doing it right.
Perhaps the most important aspect of sitting properly is keeping the right posture. But keeping the right posture requires you to be aware of your body — adjusting and tuning the way you sit constantly. It's much easier if you have something physical in that place that will help reduce your mental burden, for example, the Royal Purple cushion seat.
The Royal Purple's distributed-columns design provides the support that your back needs. If you experience back pain, hip pain, or shoulder pain regularly due to prolonged sitting, this cushion will be a game changer. Made of hyper-elastic polymer, the 18″ x 16″ cushion is the perfect companion for the office chair, driver's seat, and even stadium seat. In addition to being comfortable to sit on, the cushion also provides the cooling effect for your bottom thanks to the material it is made of.
---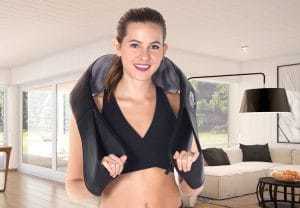 The number one rule to avoid shoulder and neck pain is correct posture. However, even with the help of the cushion that we strongly recommended above, good posture can be hard to maintain at all time. People who stare at the computer for a living, such as yours truly, periodically find themselves moving closer to the screen — squinting at the texts and other details that are too tiny to see from distance. One thing leads to another and you get yourself a neck sore when you leave office.
This massager is a savior when you have a sore neck or shoulders. Battery powered, this massager provides professional Shiatsu massage that is enhanced by its ability to heat up. The heated massage calms down your muscle and improves the blood circulation. There's truly no better way to wind down after a long day at work than get a massage from this trusted massager.
---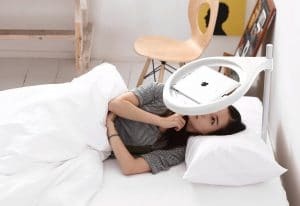 Workaholics check their emails…all the time. The only thing is…it can be a real pain in the butt to have to hold your tablet up to reply while you're lying in bed.
Introducing the iBed tablet stand – this awesome little contraption makes it super easy to do a whole bunch of work, all from the comfort of an adjustable stand that holds your device up for you!
---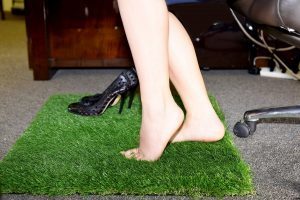 When do workaholics ever get to kick off their shoes and wander through the fresh grass? Umm, never. So why not bring the grass to them?
It's a simple way to get some instant relaxation and grounding – all without the risk of stepping in dog poo. All they have to do is lay the grass rug down and step through it, barefoot, for immediate stress and sore feet relief.
---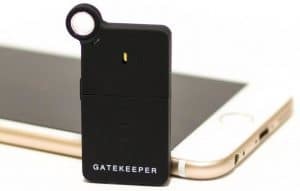 Having to type and re-type a bunch of passwords just sucks. So does having to worry about someone accessing private information on your gadgets when you're not around.
You'll never have to worry about any of that bullocks again with the GateKeeper. This nifty little gadget uses Bluetooth technology to secure your computer from unauthorized access each time you leave your desk.
It's able to sense each time you leave and automatically locks and unlocks as you return, eliminating tedious password management.
---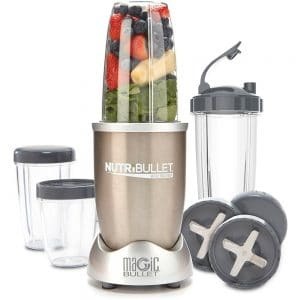 Takeout and deli sandwiches are the sad diet of many workaholics. They may want to eat more fresh fruits and veggies but who has the time?
With this awesome blender, everyone has the time. It liquifies fruits, veggies, seeds nuts into delicious smoothie form in just a few minutes and is small enough to be kept at the office. The perfect healthy gift for the workaholic in your life!
---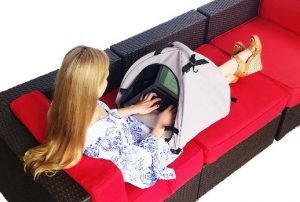 The true workaholic never goes anywhere without his trusty laptop or tablet. Help them do their work in style with this super lightweight, collapsible laptop case that opens to shade and protect your laptop from the elements.
Possibly the most useful gifts for workaholics of all ages!
---
More gift ideas for compulsive workaholics
Zazzle.com – Funny workaholic gifts.
InStyle.com – 17 Gifts for the Workaholic
Trendy Cars – Car gifts for workaholics.